The Archive
Big thanks to our sponsor Neil !

For information on today's festivals see eFestivals.co.uk
---
Buxton. Derbyshire. 1969-1974.
Last update April 2019
New photogalleries of Airforce and other bands from Buxton Nov 6th 1970.
click on the images to see larger versions of the articles and posters below
A series of festivals were held at Buxton by promoter Steven Robinson . Initially these were indoor events, but the success of these promotions tempted Robinson to move to staging larger outdoor festivals. Unfortunately the Peak district is not known for the kindness of its weather and , true to type , almost all of the outdoor festivals were marred by constant precipitatious elements , resulting in a universal dampness quotient for the unlucky participants.

In other words it rained like bloody ell !
| | |
| --- | --- |
| | A short history of the festivals can be read by clicking on the left hand image , which is taken from the 1974 program , kindly supplied by Steve Hambleton . |
---
The Buxton Pages
---
---
Any info to add ?-well don't just sit there , Contact us
---
Back to the main Archive.
---
The Indoor festivals .1969-1971
---
9-26-69. Pavilion Gardens. Buxton.
Courtesy Jim

Fleetwood Mac

Family

Third Ear Band

East Of Eden

Edgar Broughton Band

Stackwaddy

Spirit Of John Morgan

Glass Menagerie

Grsiby Dyke

DJ John Peel

(some of these bands may not have appeared on the night )

Organised by the local rugby club , this was billed as a Progressive Blues festival. 10,000 were rumoured to have attended.
I went to an all night 'festival' in Buxton, I think in 1969. The concert was held indoors, in a Victorian pavillion of some kind. I don't remember the complete line up, but stand-outs for me were Fleetwood Mac (with Danny Kirwan), The Edgar Broughton Band and Glass Menagerie. It was a great night, but freezing cold when we left the next morning!

MJ Lindsay

right:

This Zigzag article about Stackwaddy mentions their Buxton Festival gig , click to read .
---
I went to the indoor festival in 1969 and I remember that Family and The Third Ear Band also played. Family's set was incredible with Roger Chapman at his best. I agree with our friend, when we left the next morning, it was absolutely freezing. But we had a great night, an amazing atmosphere with brilliant music.
Best Regards
Mitch Mitchell
Mexico City.
---

Hi there:
I was just looking at your site with information about the Buxton Blues festivals. I was lucky enough to attend the first one. I had met Fleetwood Mac's Jeremy Spencer a few times (his father and mine both worked for the RSPCA) and I wanted to see him perform. It was my first full immersion experience with freaks and I had a great time. Family were wonderful, and Fleetwood Mac did a good set. I had to go outside while they were playing Albatross, and the sky was alight with lightning, which added to the atmosphere. I visited the small stage a few times and I thought Atomic Rooster played there that year. I also remember seeing "Charge", a local Derby art college band play, but
maybe that was the next year. They went down to London to find fame and fortune, got one write up (in Melody Maker perhaps?) and then faded. But I still have a single they produced. Ah, the nostalgia.

John Pepper
---
I'm delighted to have found your site - I went to what I now see was the '69 Buxton Festival (on my Norton 'chopper', thankfully no photos survive), but was previously struggling to remember what year it was. I have no memory of Stackwaddy and Glass Menagerie - and had thought that the line-up included East Of Eden. Oh dear.

Family were indeed terrific, as was Peter Green's Fleetwood Mac (saw him in Shropshire with The Splinter Group recently and would love to see him play Buxton again). The Edgar Broughton Band got everyone stomping as ever; I seem to recall that they played Out Demons Out, but again, my memory may be deluding me.

I also recall that John Peel was master of ceremonies, and told long and not entirely funny jokes. Everyone laughed though. For their own reasons.

One other recollection; in the early hours of the morning it got very cold outside in the ornamental gardens. But it was nice talking to the rhododrendrums.

Hmmmm.
Luv, Steven Myatt
---
Hi,

Really glad to find this site. The '69 Buxton Blues Festival stands out in my mind vivid as yesterday. Can't comment on the small stage, but full facts on main stage.

Sat incessently smoking Gitanes with my mate Tim. Sat on the hard floor (used amongst other things for roller-skating in the '50's).


Bands were:
Glass Menagerie - did a cracking version of "All Along the Watchtower", with Hammond L100 taking the lead. I believe they did two sets. Bass player with floppy hat, black Fender Precision bass and two angled Marshall cabs side by side. Organ player looking like Ian Anderson.

Spirit of John Morgan - also did two sets, with John Morgan variously playing Hammond L100, Piano and Accordian. Nice version of the humorous "Yorkshire Blues" by "Fagan" Whittaker, the lead guitarist, playing mean licks on cherry red Gibson 335 through Carlsboro stack. Rest of band played through Simms-Watts gear.

Family - absolutely blew me away - opened with "The Weavers Answer". John Weider on bass, Jim King on saxes/ flute (must have been one of his last gigs with the band). That gig converted me into a lifelong fan. Rob Townsend on huge bright yellow Ludwig kit with 28" bass drum - superb solo with tympani sticks. Band still using their Marshall set-up, including PA - sounded bloody good. Got a well-deserved and genuine encore - easily the best band of the night.

John Peel DJ'ing the whole evening. Initially using a Marshall 100 watt PA, which broke down. The organisers substituted a pathetically small rig. Eventually John did a Pete Townshend, hurled the speakers across the stage, shouting "That pissing PA" - uncharacteristically uncool for him! Not to worry, the Fleetwood Mac Orange PA was soon set up, which John used during a very long wait while the band were "tuning up". We were told to be quiet while some roady took a tape of middle C on the piano to enable the band to tune. The joke (shaggy dog variety) that John actually told ended with the line "People in glass houses shouldn't stow thrones" - get the rest of it from him!

Fleetwood Mac - initially a little nervous, then launching into some raucous boogie, with Green playing through a really weird stack - Fender Dual Showman amp perched on top of a variety of ageing Fender cabs of different shapes and sizes. He wore these tight orange cord/ velvet trousers. which really accentuated how thin he was. What impressed me was how LOUD Mick Fleetwood was - this was before the days of drum amplification. Seemed to be a dual between Spencer wanting the audience on their feet and Green wanting them to sit down. Excellent, doing a load of stuff from "Then Play on". I met the band (minus Peter) two years later and they told me how much they had enjoyed this gig.



Time line courtesy Jim
Last band on were the Edgar Broughton Band (still a 3 piece then), with Edgar playing a battered red strat through Marshall stack - loud and totally Beefheart like through their WEM PA. Remember them doing "Out Demons Out" and "Drop Out Boogie".

Neil Griffin
---
I went to the Buxton Blues Festivals of 1969 and 1970 which were intimate events, with everyone crushed into the Pavilion Gardens. The metal pillars of the Pavilion obscured the view if you were unlucky.

Although Fleetwood Mac topped the bill in ' 69 I was there to see Family (following their performance at the Isle of Wight in August?). Great vocals from Roger Chapman (who never disappointed) and I also enjoyed East of Eden. Names I noted on the back of the ticket were Family, East of Eden, Fleetwood Mac, Glass Menagerie, Edger Broughton, Spirit of John Morgan and Grisby Dyke?. Festival started 8pm, finished 7:30am and cost 25/-.

Regards,
Graham Wadelin

---

Went to Buxton with my mate Neil mainly to see Pete Green but was amazed by Roger Chapman & Family – brilliant.
Also loved Watchtower - Glass Menagerie - whatever happened to them and who was on the Hammond?

We drove back to Brokbottom -- New Mills Neil's Dad ran The Fox – we snuck in and had a couple of pints of Guiness at
8am and fell asleep it was freezing.

David Horry - Shanghai

---

The buxton festivals were first held on the 3 indoor stages of the pavilion gardens, well, gardens, even though it was a park. But due to it being in the middle of town it was eventually closed due to complaints about the noise and extra traffic having nowhere to park. It was then resited way out of town up on the moors using the roof of a WW2 air raid shelter type of thing as the stage. Access was difficult and parking almost non-existent. There was also only the one stage and it was in the open. These restrictions caused it to be shut down in the end. Not to mention, again, the noise. I do not recall the weather being a problem.

I lived within 8 miles of buxton and the festivals really were amazing and a shame those with a lack of foresight caused them to move out of town and in the end stop.

Most of the bands who played there became legends, the same cannot be said of bands who play the festivals now. I am not saying they are not good, just that in 10 years time they will mostly be forgotten.

Kevin.

---

I went to the Buxton Festival in 1969, I remember me and my girlfriend sitting quite near the front of smallish, half-full theatre thinking we've got a great speck here. There were dancers perforning behind a screen to music by Fairport Convention. Eventually we realised that this wasn't the main performance area and eventually found our way to the much larger Pavillion Gardens and needless to say we were much nearer the back. However, it was an amazing place to have a festival and we did get a good position behind a pillar and eventually were able to slip around to the front and have a good view of the stage.

I remember what I thought was the John Morgan Blues Band and their song "Yorkshire blues" - "Eh up, t'Yorkshire blues, aye, happen" very funny. Family seemed to go down very well. Rick Gretch had left by this time and had just been replaced by John Weider who I hadn't seen before and was very impressed by. The band were excellent as always but I remember Roger Chapman pissed me off a bit because he was constantly smashing up Shure microphones and a roadie would come scrabbling out to replace them. I was in a band at the time and a secondhand Shure mike cost me a weeks' wages...

It was 3am by the time Fleetwood Mac played and everyone seemed very subdued after Family. I remember Peter Green coaxing people to get up and dance, it took him about five minutes to get everyone up on their feet and just as he'd done it (for a joke) Jeremy Spencer said "No, this is silly, all sit down again!" - the look that Peter gave him. They were excellent with, as I remember it, a very good sound - I particularly recall them doing "Oh well" which I don't think had been released at the time and which sounded fabulous. I thought that Fleetwood Mac should have been on earlier, there is an optimum time to top an all-night bill and 3am isn't it!

I remember going for a walk round outside and it being very cold in the middle of the night, ditto on our journey back to St. Helens in the back of an old van. We came across the ticket for the festival the other day and thus came to this website, great to read all the accounts, whatever happened to "progressive blues"?!?

Cheers,
Graham Harrison.

Courtesy Graham Harrison.
---
1970
Until Tomorrow

6th June 1970

Overnight concert in Buxton, finishing 6am,

Colosseum, Taste,

Atomic Rooster,

Liverpool Scene ,

Barclay James Harvest *,

Matthews Southern Comfort,

Brinsley Schwartz,

Strawbs ,

Daddy Longlegs .

Compere John Peel.
* Group did not perform.
Music press review
courtesy Jim

The normally quiet country town of Buxton was shaken to its foundations by the sounds of Colosseum, Taste and Savoy Brown at the "Until Tomorrow "all night musical festival on Friday at the Pavilion Gardens .

The festival organisers had to struggle from one problem to another . First the Liverpool scene broke up a week before and then on the night stand Savoy brown were delayed , Barclay James Harvest failed to turn up at all and the last minute stand in group Daddy Longlegs didn't arrive until 4-30 am .
It would have taken a genius to sort that lot out ,but somehow they managed to get the bands onstage without long delays – though not necessarily in the right order.

The Strawbs , playing the second session of the night , gave many people a pleasant sur[prise with some really good sets – ending in a parody of Cliff Richard and the Shadows which had the audience standing and shouting for more .

Matthews Southern Comfort were also superb but didn't get the reception they deserved . Playing their own brand of heavy rock Atomic Rooster followed the country style of Matthews southern comfort and got the place bopping again,.

The trouble with all night festivals such as this is that by the time the big name bands come onstage everyone is too tired or too drunk perhaps, to appreciate the music . That's probably why Taste fell so dead and even Colosseum had a hard time reviving the inert bodies in sleeping bags that formed most of the audience.
Even the inexhaustible John Peel slipped away to catch a couple of hours sleep in the back of his land rover.

Came the dawn and Savoy Brown followed by Daddy Longlegs, brought the show to an end at about 6am.

---

Also remember going to a Buxton Festival 1969/70 I was going around with the Liverpool Scene at the time and went to see Jon Hiseman's Colosseum which the LSs ex roadie was personal assistant to JH ! Anyway I remember the Strawbs with Rick Wakeman doing a classical set on the piano !! also the great act of Matthews Southern Comfort with Ian Mathews brilliant, plus there was a gig by a band name I can't remember but they actually bought a hit single !!!(JUST Remembered Brinsley Schwartz) ... very big in NME at the time.
Many regards

Stuart Colkin.

---

Geoff Partis

I can add only a little to your fascinating site: I went to a couple of the early Buxton gigs, the one in 1970 and one the following year which was headlined by Ginger Baker's Airforce and included Barclay James Harvest promoted from the newcomers hall the year previously.
I also believe there was an early Genesis performance in the beginners hall. I believe the festivals were entitled "Until Tomorrow"..... and my mate had his Mini nicked while we were there!

Cheers,
Geoff

---

Thought I'd try and take a wander down memory lane and what do I find the Buxton "all-nighter" of 1970? We (my mate Fitzy and me) caught the bus from Derby bus station to Buxton, well it was pretty close compared to Bath and the Isle of Wight (what line ups, another story) so we just had to go.

Can't remember much about the gig really, except Taste, who despite the reviews completely blew us away. I'd seen them on some BBC2 late night show which I'm sure wasn't the Old Grey Whistle Test and just had to see them live so I suppose we were a bit biased from the start. Until I'd seen this site today I was convinced Liverpool Scene had appeared – just shows what happens to the memory over time.

We ended up in one of the minor theatres watching a band, no idea who, trying to impress some of the local ladies. We didn't impress them much at all by the way. We must have got away around 7am and managed to hitch a lift back to Derby from two guys in a mini
All for the love of music
Heady days
Nig Green

---

courtesy Jim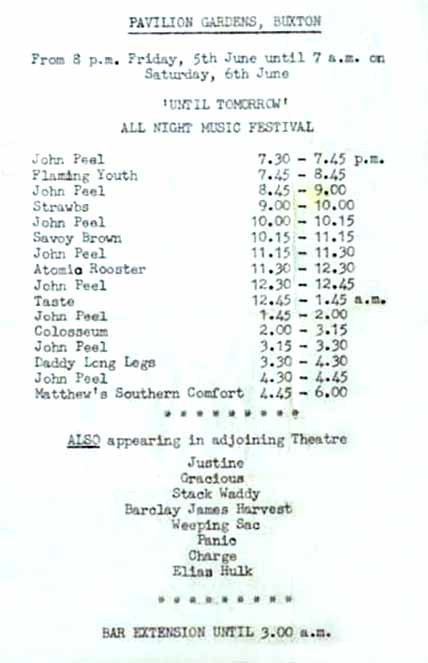 ---
Sound 70

A second all nighter was held on August 7th with the following lineup

Keef Hartley Big Band

Manfred Mann Chapter 111

Mungo Jerry

Climax Blues Band

Tea and Symphony

Rock Rebellion

Elias Hulk.

Compere Pete Drummond

courtesy Jim
I've just discovered your site and adjusted my failing memory, although I was reassured to find that Liverpool Scene didn't appear as I was sure I would have remembered them. However, I do remember hearing Flaming Youth with the then unknown Phil Collins on drums. They don't seem to be mentioned.
Best
Dai Jeffries
---
2nd Sound 70

November 6th 1970

A third all nighter was held with the following lineup

Ginger Baker's Airforce,

Marmalade,

Fat Mattress,

Black Widow

Paladin

Strange Fox

Elias Hulk

thanks to Marmalade Skies for the artist and date info , now all we need is more eywitness reports.....

Compere Pete Drummond
Hi,
I attended the 1970 November Festival. I lived in Buxton then, and remember being there with my girlfriend, don't quite know how she persuaded her parents to let her stay out all night - but we had a really good time!
Marmalade were seen as 'mums' group, and despite playing a good set, were really out of place - seemed such an odd choice for a 'progressive' rock night.
Ginger Bakers Airforce arrived on stage, surrounded by Hells Angels. The audience were all sitting down, whilst the 'Angels' blocked the view by standing around the stage. I remember beer cans being thrown to get them out of the way - and one hitting one of the 'angels' on the back of the head (great shot!). It might have been nasty, but don't recall any real problems.
I did think that I might be one of the last people to Ginger Baker alive - he looked so ill - but he's still around in 2011!
Black Widow were amazing - one of my favourite bands at the time - with great coloured lighting effects.
And Come to the Sabbat' was just stunning.......
Can't remember Pete Drummond at all - so he can't have been too impressive - nor any of the the other bands... perhaps someone else might?
But do remember that the Gardens were very cold that night!
Great website, thanks!
Jim
---
i was there and remember it was so new for buxton ,stayed all night and remembered ginger baker ,he played a drum solo that seemed to last for at least half an hour ,there was plenty of big fags ha ha ,was to scared to try them,very hippy and there was people selling platted head bands ,i wore mine for years after,yes the hells angels was there ,they policed the crowd ,no trouble ,there was also a few groups in the paxton suite ,i stayed awake all night as it was cold outside as i got pushed out by a new crowd that arrived late and was a devil to get back in.
Brenda
---
September 10th 1971
Sound 71 Festival
Edgar Broughton

The Groundhogs

East Of Eden

Paladin

Juicy Lucy

Gentle Giant

Eggs Over Easy

Bees make Honey

Brewers Droop.

Compere Pete Drummond
---

Festival held on Friday night,10th or 17th. Held in two halls inside the Pavillion Gardens. I remember seeing Edgar Broughton,but can best remember The Groundhogs,with Tony McPhee, if I remember correctly,headlining and bringing the gig to a close.There is no way the Festival would have gone ahead these days as it was very crowded and I can only imagine what the Fire Authorities would make of it today.
Alexender
---
I was at Buxton in 1971. I thought it was August but maybe I was wrong.
Temperature was just above zero and whole place was shrouded in fog - but apparently that's normal in Buxton for 11 months of the year.
I remember being greeted by a gang of Hell's Angels, standing in the road opposite the queue to get in threatening to kick shit out of everyone.
Inside it was so crowded it was dangerous. A couple of times the crush between the two halls was so scary we went outside. There was no Health and Safety in those days!
I remember seeing Edgar Broughton (always exactly the same set culminating in 'Out Demons Out'), Groundhogs (always played their hearts out), and a few lesser groups -Eggs Over Easy, Bees Make Honey and Brewers Droop.
Things came to an end earlier than expected (2.00 am?). We tried to get some kip on the floor but it was impossible.
Set off at about 04.00 to drive back to Leeds.

This is what I remember best.

On the way back, in the fog, I slammed the brakes on as a little kangaroo hopped across the road in front of me. It buggered off into the bushes. Naturally, no-one believed me and I have had the piss ripped out of me for years.
I have since discovered that there is a colony of feral wallabies living in the Peak District which escaped from someone's private collection.
So there - Chris Swindells and Steve Tomkinson!

Pete
---
It's hard to believe that my Mum & Dad let me and my best mate Nigel go to the Progressive Blues Festival at Buxton's Pavilion Gardens in 1971. We were only just barely 14 years old but I guess I bugged the shit out of them until they agreed to let us go under the supervision of my big brother Martin and his mates. Of course he told us to shove off as soon as we got there. My clearest memories are of boring old Edgar Broughton in the smaller auditorium and The Groundhogs in what I'd always known as the skating ring. It was all very overwhelming and we spent most of our time just wandering about trying to avoid certain individuals who scared us for one reason or another.

Does anyone remember a show at The Pavilion Gardens about a year later - 'Status Quo' put on by the Buxton chapter of the Derbyshire Young Farmers Association (The YFA had underestimated general interest in their annual "Do"). It was brilliant, the place was overrun by the Afghan coat & Patchouli oil mob, as well as Grebos from all around the region. Then there was this dejected looking brigade of about 100 young farmers in their Sunday best, all scrubbed up and pink, wondering what the hell was going on.
John Allen
---
Regarding the post above from John Allen ,I too remember this show well. The Young Farmers put a dance on every year and they always tried to put a "name" act on. Quo had had a hit with "Pictures of Matchstick Men" and had been on Top of the Pops. This must have prompted the committee to book them thinking they were a Pop act. By the time the dance came around Quo had hardened up and released their much acclaimed Dog of Two Heads album. So as John Allen says', the girls in their best ball gowns and the lads in their Tuxedos were nailed to the wall of the Pavilion Gardens by a blast of rock. I thought it was great and it was my first head banging gig.
Best regards for a great site…
Mick Lampard
---
Hi

Its late and I cant remember a great deal, but here goes

Paid £1 per spliff from a cool dude who had a top hat with a sign on saying "charge here" I remember standing up to cheer Mungo jerry absolutely stoned out of my head fell down and woke up just as they were finishing. I have vague recollections of the Strawbs playing maybe 69/70 ish and Ginger Bakers Air Force they were so cool; think Free put in an appearance around that time as well. Wow what a fab time coming from Buxton it was fab to see all these cool people in town. Gosh it was wet when we moved up to the moors the following years and I think those nasty Hells Angels spoilt it one year; but I would have been out of my head so who gives a fuck dude.

Have a respectable job now but your fab site has opened doors I have kept closed for decades, most bizarre thing is my 14 year old daughter Laura listens to Cream, Hendrix et al and does not realise that I was there

Thanks so much for the memories

Kind Regards

Keith S
---
One of the first festivals I went to as a wide eyed 16 year old from Burton-on-Trent.
First band on in the main hall was 'Strange Fox' featuring a hammond organist wearing a black monk's habit and a moustached or bearded fair haired singer, doing suggestive stuff with his mike stand.
I thought they were quite good. Next on was 'Flaming Youth' never mentioned in the ads, but I think they replaced the 'Brinsleys' whom I'd swear under oath did not play.'Flaming Youth' a two keyboard no guitar band, included a young Phil Collins on drums and vocals and John Mayall's brother Rick on organ.The Album 'Ark 2' on the 'Fontana' label became their only very collectable offering.
I can't remember who was on next but I think it was the 'Strawbs' with a very young Rick Wakeman on keyboards. 'Matthews Southern Comfort' next who were really excellent. 'Atomic Rooster' with Jack Parnell's son Rik on drums followed the 'Comforts' dreamy pedal steel laced harmonised country, with a bombastic funky butt rock miasma.No bass player ,but boy, did Vince Crane work those hammond pedals underneath John Cann's growling rock guitar riffs.
The bedenimed Taste took the podium after Rooster. Rory's Vox ac30 as loud and stinging as any of the fashionable Marshall Stacks. I got to shake his sweaty hand, after being blues rocked into an idiot dancing frenzy. Do you remember 'Idiot Dancing'? it pre dated pogoing and moshing as the uncoordinated youngster's dance of choice.
I recall John Peel gently removing an afro'd reveller's on stage attempts to get every body to chant 'out demons out' while said record was playing.
Over by the refreshment complex [an old lady, a tea urn and, not one but two kinds of flavoured crisps, ready salted and cheese and onion, plus polo mints and polo FRUITS]. I stood next to Rick Wakeman and Ian Matthews while gasping for a cuppa.
Colesseum preceded Taste with Dave Clempson stepping up to the bar raised so high by Rory Gallagher. Events after that are somewhat faded. But I did wander into the small theatre to witness Stackwaddy perform the best version of Bo Didley's 'Road Runner' ever.
Got to talk to Moe Armstrong, the singer from Daddy Longlegs, who was quitting the band to run a puppet show in New Mexico. He signed my copy of Zig Zag with the Edgar Broughton band on the cover with 'squeak demons squeak Moe Armstong'.
Ah the memories!
All the best
Angela & Kevin
---
Hi - I went to the 1971 Buxton Festival and whilst I may be hallucinating, I thought that East of Eden were also on the bill.
Groundhogs and Edgar Broughton were brilliant!
Tony Siddons.
---
I was also at Buxton in '71. Hi, Tony ! Yes, East of Eden did play and they were very good, so good that one of my friends felt unwell and had to be taken outside for some fresh air. Result - we couldn't get back in! I forgive you, mate. I seem to remember that Gentle Giant also played, or am I having a senior moment?

Andy McKinnon, Nottingham.
---
The buxton festivals were first held on the 3 indoor stages of the pavilion gardens, well, gardens, even though it was a park. But due to it being in the middle of town it was eventually closed due to complaints about the noise and extra traffic having nowhere to park. It was then resited way out of town up on the moors using the roof of a WW2 air raid shelter type of thing as the stage. Access was difficult and parking almost non-existent. There was also only the one stage and it was in the open. These restrictions caused it to be shut down in the end. Not to mention, again, the noise. I do not recall the weather being a problem.

I lived within 8 miles of buxton and the festivals really were amazing and a shame those with a lack of foresight caused them to move out of town and in the end stop.

Most of the bands who played there became legends, the same cannot be said of bands who play the festivals now. I am not saying they are not good, just that in 10 years time they will mostly be forgotten.

Kevin.
---
Hi,

This is a great site, great times had at the all nighter now realising it was June 1970 when experiencing ? Ginger Bakers Airforce at the Pavillion Gardens. I seem to recall Ginger yelling out that if people in the audience did not shut up, they would leave the stage, or what he actually said they would F**k off'

Remember Marmalade playing acoustic numbers which was a quieter set, and yes it was cold in the morning, hitching back to Derby, instead of waiting for the Trent bus.

I see two names I remember, Nig Green and John Pepper surely not from Derby Art College Printing ? Please contact me.

Now live in Melbourne Australia, growing old disgracefully, well only a bit.

Cheers

Steve Woolley
---
1971 Buxton Festival of rock? I wuz there. Seem to recall a bunch of Hell's Morons getting on stage with East Of Eden and two 1950s Mister Universe bouncers chucking them off with a wag of their fingers! Good.
Anybody remember a band called 'Tea and Sympathy'? They were on the small stage. Gentle Giant made an appearance as I recall (Simon Dupree?). Excellent.
Very crowded and badly stewarded – in fact I don't recall any stewards! A few guys who shouldn't have taken drugs walking about offering to break people's legs etc. Idiots; put me off this kind of gathering for life. Various girl friends being handed over the crowd to St John's people to deal with. Outside very cold and people huddled in sleeping bags not bothering to watch the bands. Weird.
Groundhogs were best band there by some way.

Howard Morris
56 and a half !
---
I went to the 71 festival on my newly acquired BSA Bantam!
Seem to remember the first music was in a field which was like a natural amphitheatre.
We then moved on into the winter gardens where it was absolutely freezing!
I thought Wishbone Ash played as well but maybe I'm confused!
steve kelly
---
---
---
Any info to add ?-well don't just sit there , Contact us
---
Back to the main Archive.