The Archive.

View at 800 x600 min res

For information on today's festivals see eFestivals.co.uk
Last update May 2009
---
August 14th-16th 1970
The Yorkshire Folk, Blues & Jazz Festival.
Krumlin, Barkisland ,Yorkshire.
---

"The view from the Mud "
Eyewitness reports from those who attended the Krumlin festival
---
Garry Bodenham
Krumlin started it all for me (and nearly finished me off too), being near to my hometown of Huddersfield. Going with my older cousin, I set off as a fresh faced 16 year old with my RAF greatcoat, my 30 bob ticket, and not much else. My favourite band The Who were billed, along with Pink Floyd, and The Groundhogs. Friday was sunny, but the music low key, until Elton John, (yes really) who with just drums and bass played a stormer, and was the hit of the festival. Atomic Rooster followed - I thought the bassist was hiding until I realised that Vincent Crane was playing bass on his foot- pedals whilst playing incendiary Hammond. A very drunken Pretty Things finished off the evening.
| | |
| --- | --- |
| Saturday continued with folk music,much to my disdain, but the storm clouds were gathering in more ways than one. None of the major acts materialised, but there were wild rumours that Ginger Baker was on his way from London with a very special guest guitarist - Hendrix or maybe Peter Green. (Oh how naive we were...) The Groundhogs injected much needed bluesy rock as the temperature dropped, the best I've ever seen them. The photos for the Split album cover were taken here. At this point my memory hazes over, due to a large container of cheap cider doing the rounds. Black clouds scudded over the site and we bought plastic sheets to ward of the inevitable (see press photo). | |
Determined to stick it out, I glugged more cider as the rain sheeted down. At some point a stream of water trickled into my plastic bag and was gradually soaked up by my greatcoat. By midnight I was a shivering drunken wreck, aware only of the sound of the rain on plastic and Sandy Denny's beautiful voice echoing around the moors as Fotheringay bravely battled with the elements. I realised I had to move or I would die. I staggered to our tent, to the fantastic news that there was a spare DRY sleeping bag. Discarding my wet clothes and getting into the sleeping bag was like sinking into warm cotton wool, and I slept the sleep of angels.
In the morning we woke to devastation, it was all over, and apparently fans were being treated for exposure. As I walked up the road home with a muddy blanket over my shoulders I felt like a survivor from the Somme. But did it put me off? No! For the next six years I revelled in the delights of English rock festivals - a mixture of togetherness and triumph over adversity.
Lovely. (My wife thinks I am mad.)
Garry
---
Tony McPhee, lead guitarist of the Groundhogs, contacted us and had this to say about Krumlin.....
Photo courtesy John Wharton - contact him if you can contribute to his book on the festival

I remember the Krumlin festival very well, firstly because of the location of it and the fact that, as I recount on a new EMI re-mastered 'Split' one of the organisers came up to us straight away and said we should have been there the day BEFORE (Friday) but he said he would fit us in if he could.
We went to the back-stage area to be met by Joanne Kelly, who told us about the forged tickets and the local Yorkshire Mafia demanding 'protection' money from the food kiosks etc.(I don't know if that was true) she also said nobody was going on stage because they wouldn't get paid.

I looked out on the soaked audience and, as we have always disliked the playing pop-star' politics that goes on at festivals,we went on not really bothering if we got paid (£100.00!!!) because it is so unfair on people who have paid for their tickets,forged or not, especially in those conditions, to stare at a stage with nothing going on.
In the end, we were rewarded with the pictures that were taken there becoming such an integral part of the 'Split' album and for their part in it's success.
Thanks for the site.it's great!!
Tony McPhee
Tony is currently working with a writer to produce a book on the history of the Groundhogs, if you have any recollections or photos of the band please contact Tony
---
Richard Thompson , former guitarist of Fairport Convention had this to say about Krumlin ( taken from a transcript of a conversation during a live show )
We were talking about a festival we did, , Danny ( Thompson ) used to be in the P Angle ( Pentangle ) and we were all doing a festival in Britain . Someone had the great idea of doing a festival on the Yorkshire moors !. Youv'e read Emily Bronte " Heathcliffe . Heathcliffe ( makes thunder sounds )" Cathy, Cathy ". Buckets of rain you know, festival was in July . Midsummer festival. what a great idea ! , lets do an outdoor festival on the Yorkshire moors !. They were carting the audience away with exposure, everyone was dressed in those bin liner things . It was geat fun .
For some reason or other everyone was totally legless backstage. We all got very silly. Fairport were doing their set and we noticed Simon Nicol our rhythm guitar player. We were doing a very sensitive old Irish ballad. ' A Bonnie Bunch Of Roses" . Charming ballad. Simon was playing an Indian Raga in a different key. Very strange, that's funny Simon . He was in his own world , he was sitting cross legged in front of his amp in another world . So we had to sort of kick him and unplug him. Simons still playing those ragas ( with Fairport )
Richard Thompson
http://www.richardthompson-music.com/
( comments on stage Fox Theatre Boulder 3-17-94 )
---
Mick Haigh
Thousands of fake tickets bought through an advertisement in the music press, as well as dreadful weather made this a memorable washout. The headliner Saturday band Pink Floyd and others never showed. Those that did turn up did extensive sets: Elton John , Fairport Convention , Pretty Things , Ralph McTell and Alexis Korner I remember, and Billy Connolly's band The Humblebums were there too.
A collectors item for the next few concert seasons was the orange Krumlin plastic bag, a bag the size of a half pig, which gave away its original purpose, sold by a local entrepreneur to those who stayed over Saturday. That bag saved hundreds from exposure. Sunday never happened.
The massive Scamanden Dam and the cross Pennine hills M62 motorway were being built nearby at that time and any visitor to those miserably exposed sites could have told organizers that a concert on the Yorkshire Pennines was not a good idea.
Thanks for the memory.
Mick
---
Dennis Poole
I canít recall the time of year but it must have been school holidays in 1970. I went with 2 guys from school. We couldnít actually credit that someone was organising a festival in the North of England. I canít even remember how we got there but it did involve a free bus from somewhere near Halifax.
As far as the bands are concerned, again age has dimmed the memory. I thought Pentangle were on, but I had gone to see Fotheringay. Remember them?
What I do recall was the quantity of alcohol and drugs. My friends had this theory that because I had an elder brother at University, I knew all about dope. It was true to an extent so I was charged with finding some. All around the site were "plain clothes" cops all wearing the same army and navy combat jackets and 5 stone heavier that anyone else. As they passed you could hear the radios. Talk about "excuse me sir I have reason to believe you can help me score."
We avoided the fuzz and spent the evening before the storm drinking a gallon of beer each and smoking dope. I remember lying on my back looking at the stars and grabbing hold of clumps of earth because I thought I was going to take off. It was just as well we were out of it because when we woke up the next day the stage had mostly blown away, the crowd had split and we were left with the task of trying to get home.
What I canít mention is the state of the "facilities." Perhaps I should. They were basically a set of oil drums cut down in large tents. The choice was not Ladies or Gents (they were unisex. The choice was top of the hill or bottom. I will leave to your imagination which one was best.

Dennis
---
Geoff Dibb's account gives the impression that quite a good part of the festival had resonable weather ....

We (4? 6? of us) turned up at the festival on Friday afternoon or early evening. I only had a ticket for one night (Sunday, I thought) which I had bought because I wanted to see Pink Floyd. Looking at the programme (see the scans of the front and back cover), Pink Floyd are advertised as appearing on Saturday night. However, by the time I bought a ticket they must have been rescheduled for Sunday night. Anyway, faced with the fence etc. and a desire to see all the bands, I exchanged my ticket for a full weekend one. The scan shows it in all its glorious crumpledness (it got a bit wet!)

Friday night:
I have vivid recollections of Elton John playing (seems a bit bizarre, now) and Atomic Rooster. The best band was Pretty Things: I remember them doing "Old Man Going" from "SF Sorrow" and Twink walking into the crowd holding a cymbal on its stand in one hand and bashing it with a drumstick in the other.

Saturday:
A nice afternoon (weatherwise) as I remember it. The afternoon was very folky and I remember Fairport Convention, Ralph McTell and Pentangle playing. The abiding impression of Saturday was the frequent tannoy announcements that "Pink Floyd are fogbound in Paris" which didn't bode too well. (This makes me wonder if they were due to play Saturday and I am mistaken about Sunday). I also remember Groundhogs playing in the afternoon and watching Tony McPhee – "Thank Christ For The Bomb" period, I think, which I had just heard that week. During the evening the music was all electric and I remember Alexis Korner, Juicy Lucy ("Who Do You Love") and Graham Bond (which we hated and it went on and on). I think it was during this act that the rain started. My Dad (bless him) had given me a big sheet of thick polythene "in case it got wet" on the ground and we huddled together holding this above us. At some stage the whole thing must have ground to a halt and some of us went back to the tent whilst at least 2 of us got into the polythene bags which appeared and stayed on site. All the time, people were coming round checking you hadn't asphyxiated!

Sunday morning
we woke: my feet were in the bottom of the tent where there was a puddle which had soaked up my sleeping bag. However, 2 of our friends were still on the hillside! We drove home, passing a massive line of bedraggled teenagers walking back to Halifax…..presumably Pink Floyd were still fogbound in Paris.

Geoff
---
Bill Brooks
The festival was notable for a few events, it poured with rain for most of the festival and ruined the organiser, said to be last seen walking off to oblivion on the rain soaked spectacular Dales. Another notable incident was the arrest of the festival DJ. for slagging off a police DS officer repeatedly 'on the air' - there was a lot of records being played because it was so wet that the bands couldn't play. He disappeared for a while and then came back to make what I remember as a pretty grovelling apology - probably an agreed form of words - to stave off chokey.
The very early Elton John played up a storm (the bastard, he should have kept it dry) on Friday night, in my mind doing an number of really rocking Stones' covers.
Then it rained...
...and rained...
...and rained...
...and rained...
And about 5 on Saturday Fairport came on - Simon Nichol came up to the microphone and said " 'ello, 'ello we've been in the beer tent since 2 and they said your on in half an hour so we thought we'd better get them in and then they said your on in half an hour so we thought we'd better get them in then they said your on in half an hour' then someone pulled him away from the mike and put his guitar on and then stormed it with Walk awhile and some outrageous jigs from Swarb - the I think Richard Thompson was in the band still. I'm sure it wasn't just the sun coming out or the fact thatat Fairport's had agreed to play on the promise of being paid rather than actually being paid (bet they lost out on that one) because no one had put any money through the gate because of rumours the festival had been cancelled because of the weather and because the fence was down somewhere.
I can only recall that it seemed to rain after the Fairport's.
I left when the festival was eventually cancelled at 6 am. on Sunday.
All the best.
Bill
---
Dave Pegg from Fairport Convention , from an interview posted to me recently

If I could be remembered for one thing - Well I did have a nasty accident at the Krumlin Festival in the 70's when I was wearing a pair of white trousers. I had rather too much to drink and when I got on stage I actually shat myself which was very embarrassing as the back of my white trousers changed colour very quickly. Behind me were all the other acts that were on, including Elton John who wasn't very famous at the time and The Move who were people that we knew from Birmingham. I was a laughing stock. It was incredibly embarrassing and I couldn't turn around to adjust the volume on my amp because the audience would have seen the brown mass that was attached to my arse and would have know for sure what had happened.
Folkmaster - So they never knew?
The audience never knew. In fact the Festival was a complete disaster, it all went terribly wrong for us. Dave Swarbrick didn't actually shit himself on stage but was desperate for a tiddle and there was this hole in the canvas on the stage. He went over to the side of the stage, stuck his chopper through the hole and had a waz. Unfortunately the press area was on the other side of the hole and consequently we've never been popular with the Melody Maker since 1970, which I think was the last time they gave us a review.
---
Stewart Wainfor


As I said my memories are a little hazy but I can remember setting off with my mate, Tony, now sadly no longer with us, by bus to Halifax town centre and another bus over to the festival site. I seem to remember that at this time - early afternoon - the weather was warm and sunny. This was good because all we had were sleeping bags - no tent. We paid - yes, we actually paid - for our tickets at an entrance £5, a fortune in 1970 for a 17 year old and went down into the main arena. The site itself seemed the ideal location, for a music festival- a natural bowl shape .
After a few beers it seemed even better. I think Ralph McTell did a set and a couple of other folky bands, Pentangle maybe. Not my cup of tea but we were enjoying the whole scene. We moved around the site and saw a few friends who we decided to stay with - they had a tent. This proved to be a very shrewd move.

The Groundhogs, who were a headlining band at that time, played a great set as the weather threatened during the early evening. Incidentally, does anyone know if the picture on the rear of the Split album was taken at Krumlin? ( yes it was :Ed )

Due to the mixture of alcohol and stuff, I don't really recall much until I woke with my head outside the tent, which was flapping madly in the wind, with only one pole standing. After extracting myself from the remains of the tent and my sleeping bag and try to stand up in a Force 10 gale, I looked at the scene of total destruction - it looked like the corporation rubbish tip.
Luckily, we were all in one piece and the friends we had met up with had come in a car and gave us a lift all the way home. On the way home I was offered a lift to the next week's Isle of Wight festival which because of Krumlin I had to refuse - I had spent too much of my limited resources. I'll regret that decision till I die - Jimi's last official performance.
Regards
Stewart

Photo courtesy John Wharton - contact him if you can contribute to his book on the festival
---
Michael Hobson
Thanks for your web-site. I was at Krumlin as a 20 year old student. I got there from home on the Friday abt 30 miles away on a Honda 50.
Never took my crash helmet off all weekend (weather!). Bandmemories : Sandy Denny (Fotheringay by then?) looking out from the stage and saying "God, it`s really pissing down out there isn't it?" and other band member telling her to "sit down, Sandy. You're pissed"
I think The Johnstones (Irish folk trio) were on. Autumn 1970 I was in the bog at Leeds Polytechnic next to Paul Brady? of the aforementioned (they were doing a college gig) and asked him if they had been paid for Krumlin. He said they were one of the lucky ones who had got their money up front. Were the Maynard Ferguson Jazz Band on? I saw them somewhere at a festival at that time and they were great.
Also that autumn, I went to see Woodstock at the Hyde Park Cinema in Leeds (terrific, small old-fashioned place and still there) and the entire row of people in front of me had all been at Krumlin. So we had the festival we missed right there in the cinema.
I remember the Rochdale civil aid coming round on the Sunday morning. I was very annoyed at them at the time for waking me up - (I was just in a plastic bag - no sleeping bag or tent) but maybe they saved my life! After a ride home (bike was fine despite it having fallen over) boy did I sleep
Best wishes,
Michael Hobson.
---
Peter Nickson
Hi
I was there as one of the stage crew for the whole weekend but I don't remember any of the bands listed as appearing on the Sunday. Was the whole day rained off? (yes ! - the Archive ed )
I still have my 'official' stage crew badge. Main memories are Fairports, Groundhogs, Graham Bond and Elton John (well Nigel Olsen with the heads so slack on his Premier kit that the dampers showed through).
I've just been reviewing my 'archives' (small tin box) and have found 3 items from the Krumlin festival. Two of them are staff 'passes' printed on card with the festival logo at the top. One is blue and says 'Staff' the other is pink and says 'Steward'. The third item is a cicular red badge with a yellow star in the middle upon which I have written Pete, Stage Crew.
Security was a top priority.
Me and my mates were 'employed' to assist the bands in getting their gear from their vans, parked below the stage at the rear, up onto the stage. As I remember everything had to come up on a small electric hoist. Looking at the pictures of the bands on stage I must be one of the people standing at the back.
Before the start of the festival we made shutters out of sheets of polythene and pieces of 2x1 batten which were rolled up and attached to the PA scaffolding to be unfurled 'in case the weather turned'. Somebody must have seen a weather forecast!
Regards
Pete
---
Hi
I have in my possession a packet of Festival Memorabilia for Krumlin Festival. Including tickets, pass-outs, programme and press cuttings. There is also a forged ticket, (I worked at a printers where some were put together).On closer looking at the so called forged ticket, I find there is an advanced weekend pass and a weekend pass, these are priced at £2.10s for the advanced and £1.10s for the normal weekend pass, which seems a bit strange. The forged tickets were reputedly £3.00. I also have a pass out ticket. I cannot scan the cuttings because the scanner is bust.
When the festival was on I only lived down the road, and we used to go up to the site the days before it was due to start. There was a lot of jammin with the roadies and odd musician who had arrived early.
I also remember the corporation charging the poor fans more than the normal fare from Halifax to the site, on the special buses. You could have used the usual service for less. My mates all worked on the turnstyles so all the locals could get in for nothing.
regards
Paul
---
It was definitely the worst of times. I'd never been Up North before, what with being a Londoner. So we got out of the train station at night to discover that it site was a ten mile hike. Luckily we got a lift some locals that had been recruited to work the concert. The entrance was guarded by a tough crew that were shaking down the week end hippies for an extra charge. One of the bouncers was mocking the folkie crap acts and preaching the merits of jazz. So I managed to make friends after saying that I''d seen Ornette Coleman at the Royal Albert Hall and that Trio were a better band than Cream. It was a terrible week end. The port a sans were set up on a hill, and they were toppled and rolled at some point. The site was evacuated each night to a muddy camping field. A fine Yorkshire gale swept through on the Saturday and the police came through Sunday morning shouting through bull horns to leave immediately. I hardly remember the bands; Jeff Dexter trying to keep things going, rumors that the band vans could not get to the stage area, Juicy Lucy, Pentangle, the Groundhogs. It was a line up of the second stringers and they looked cold, wet and miserable just like the audience. Looking at the photos and recollections confirmed my memories of this grim week end .
Euge Gannon
---
I was prompted to look for info on the Krumlin Festival after despatching my daughter to a very wet Reading Festival.

I don't think anything will match Krumlin again!! It's difficult to do justice to the weather. I was 18 and it was my first festival. I went with two mates and we had two kids tents only fit for the back garden. My dad drove us over from Leeds and I remember him saying that there was dodgy weather on the way.

The whole site was on a west facing slope, which meant that the view was great, but we were very exposed to the elements! I think you are about 1000ft above sea level up there.
We could see and hear them constructing the M62 in the distance.
Ticket courtesy David Lawrie

I remember hanging around for ages before anything happened. The crowds were getting pretty restless, there were rumours about bands not turning up (particularly Pink Floyd) and the DJs had to work really hard to keep people interested.
The only bands I cam remember are Elton John - who was excellent, Fairport Convention who were drunk, and Mungo Jerry - who no-one else remembers!!


I don't remember eating anything all weekend, but there was plenty of cheap cider. Every body bought these big orange plastic bags. You put your sleeping bag in that and just watched the bands, half asleep, in the rain.
It's just as well they were there. They probably saved a lot of people from exposure.
We abandoned our tents on the Saturday night as we couldn't keep them pegged down. The wind and rain were absolutely ferocious - you could hardly stand up. We went into one of the big marquees. I remember it was full of steam from all the wet bodies.
I believe the other big marquee fell down in the middle of the night and people were injured as a result of this.

Sunday morning the place looked like a bomb site. We had to call my dad, who came and picked us up. One of my mates was suffering from exposure and was half delirious.

The organisation was abysmal. I think most of the organisers were local journalists who just wanted a festival in Yorkshire. Like many, I heard the rumour about one of them walking off into the night.
I also heard that many years later, he invented Trivial Pusuits - and is now very rich!!

Pete
---
KRUMLIN – 1970.


Were you there? Do you wish you hadn't been? I bought the tickets at HMV on Oxford Street having seen an advert in NME. The name should have put me off, I suppose – "Yorkshire Festival of Jazz, Folk & Blues"– but then again I was a Fairport fan and the prospect of seeing them and Fotheringay on the same bill was enough to tempt me.

There were five of us – festival virgins – we didn't even know how we were going to get there. In the end my girlfriend's parents conveniently went on holiday and we stole their Ford Anglia and set off across the Pennines to Halifax. By the time we arrived at Krumlin, the festival site, the wind was blowing up nicely across the moors and the stream of back-packed enthusiasts were beginning to regret shorts and T-shirts. We were one of the first cars directed into a farm gate to park.

Courtesy David Lawrie
We pitched a small tent in the lea of a dry-stone wall.As we had our tickets clipped we were given a pass-out. I was surprised at the lack of organisation. We had planned to eat on arrival but there were no food stalls open and the toilets were still being set up. Still, this was what it was all about – wasn't it ?
The day wore on and we managed a burger and a couple of pints before deciding we couldn't be arsed queuing again – still no music but a "high-tech" electronic message board above the stage announcing the impending acts and that a "Headline Band" was yet to be announced – the whisper was "Floyd! "
| | |
| --- | --- |
| | And then it rained, horizontal squalls blasted across the moor by a fierce gale. We were, at last treated to some music – I can recall Alexis Korner, The Humblebums and Georgie Fame before survival became more pressing than the sounds! Some canny entrepreneur appeared with about two thousand huge plastic bags which were soon sold out. My girlfriend and I wriggled inside one and we decided that this could be fun after all. As the punters got wet, the music dried up and there was an announcement that there had been so many counterfeit tickets coming through the gates that there may not be enough money to pay the bands. An update on the line-up showed an impressive array of fab bands – few of which performed in the end. |
The lights now confirmed the rumour – "Pink Floyd "– top of the bill! And then another plus - Elton John performed a set (Tumbleweed Connection stuff plus a rockin' cover of Honky Tonk Women.)
By this time there were fires burning all over the hillside and fences, pallets and anything that could be found was put to use in keeping us warm. No more music!

We fell asleep in our plastic cocoon and awoke, stuck together and soaked in sweat as the PA boomed into life and Sandy's perfect voice drifted across the field. The rain stopped and we stood in the embers of a fire and soaked up a wonderful set from Fotheringay. Then it was announced that they had played for free because they were bored and pissed in the hospitality tent.

Fairport followed and we jigged about to "The Lark In The Morning". There was no more music. The festival was abandoned and we returned to our tent.The wind had torn it from its moorings but two of our party decided that they would risk it, unrolled sleeping bags and rolled up joints ready to face the night.

Pass out -Courtesy David Lawrie
The remaining three of us decided to sleep in the car – engine running heater on – still no food. It was a long, stormy and largely sleepless night. We were finally awoken by a succession of ambulances removing the stoned, the drunk and those suffering from exposure. The sight that met us was like Armageddon on a bad day. Streams of people clutching their clothing to themselves, soaked and freezing, trudged from the field.
Flier courtesy David Lawrie

I looked over the wall for my two mates and found them largely unconscious, cuddled together and wrapped in the remains of the tent – the bright-blue, waterproof groundsheet was nowhere to be seen.

We all squeezed back into the Anglia and through steamed windows navigated to the gate of the field. A queue had developed; the ground was churned into a quagmire and as a Vauxhall Cresta became seriously embedded in the mud, the only means of exit was blocked. Enter the local heavies with an eye for a quick profit. Fresh from a good night's sleep and no doubt a large fried breakfast they were keen to push and bounce cars out of the field if you were prepared to pay £2.00 – more than the cost of the entrance ticket! We coppered up and handed over the money. Three heavy blokes bounced up and down on the rear bumper of our 'borrowed' car while another three pushed us out of the gate. We left them with a parting spray of good Yorkshire mud and set off back down into Halifax passing streams of dejected festival goers.

As we reached civilisation a large, bright-blue, waterproof groundsheet swept across the road on the wind, momentarily blinding us before continuing on its way.We pulled to the side of the road and with our last money bought a tin of beans, a tin of rice and a tin opener. Never has cold beans and rice tasted so good – even when you eat it with your fingers!

David Lawrie
---
I was at there as a 16 year old, hitched down from Glasgow. My mate and I slept in the marquee, we woke up on Sunday morning with the thing pressing down on us, weird feeling. We slipped out from under the tent and I lost my jacket with 10/- and my smokes to the force 10 gale.

One thing that hasn't been mentioned by anyone on your site, and it is engrained in my memory, is DJ Jerry Floyd playing a song over and over, Hard Meat, "The Ballad of Marmalade Emma and Teddy Grimes". I have never heard it on the radio since.

Cheers

Mike
---
Having droned on the my son about this festival it was quite a plus when I found your site on the net today. It brought back some memories I can tell you! I had thought that The Incredible String Band had played on the friday evening, but perhaps that memory is mixed up with others. What I do remember is going to the festival site by car with my dad to see what the place was like, and sitting in the comfort of the car and listening to the music in the distance.
On the saturday I arrived late afternoon courtesy of a lift from dad, armed with a bag of food and a sleeping bag- no tent!! Dad provided the huge sheet of thick plastic from his work which was a life saver later.

With my friend in tow we spent the evening listening to several bands and then enduring the awful rain. Not having a tent meant trying to bed down in one of three I think, big communal tents which were rather rickety and were all full of wet and cold festival goers. We abandoned any attempt to sleep but sat in sleeping bags getting colder and colder. Then disaster as the tent we were in blew down and away across the fields. What next? The huge sheet of plastic became our saviour as we sheltered against a dry ish stone wall and made a makeshift shelter with the plastic, holding on to it against the howling gale that swept across the site that night. Daft place to hold any event really up in the high Pennines even in August!!
The following morning was a scene of devastation with this huge crowd of refugees in front of us, a strong blowing wind and driving horizontal rain. Enough we decided so at about 6-30am we headed of to walk back to our village of Marsden. How we made it I dont know as we were wet through cold and hungry. The whole event promised so much and delivered nothing but misery and disappointment. I do recall seeing Ginger Baker on sat night with I think the Graham Bond Organisation;
his parting words were, Back tomorrow with the Airforce. Of course he didnt as the event was abandoned! No Floyd either. What an experience though. The folk music was memorable with the Fairports and Fotheringay plus other sundry drunken performers, but time dims the memory.
I will remember the wind and rain for ever though!!
Bob W
ex Marsden, now Staffordshire.
---
I remember going there with a gang of mates from Sheffield and having a real laugh, I remember the electrics shorting due to the wet, and all the crazy goings on.
But far from the organisers opening up the big tents to let people in, they were throwing us out into the elements, and we were threatened with arrest if we tried to get shelter.
I managed to crawl under the edge of a marquee and get some shelter for a few hours.
When it came light I wandered around and found a few mates and we made our way to Halifax, which at that time was still firmly rooted in the 1950's.When we arrived in the town, we must have presented a sight to them, a gang of bedraggled, stoned, longhaired hippies, with no idea where we were.
Someone directed us to The George which was like heaven after that night.
A good jukebox and like minded people.
It is still a good pub to this day.

Geoff Horan
---
Just seen your site! I was there 14 years old, I remeber seeing Elton John on the Friday evening. He roused the crowd offering Cognac in plastic cups FANTASTIC Can he remember the night ?. A fan ever since.

Steve
---
I only remember Atomic Rooster and Elton John. The event was "policed" by Hell's Angels who were lead by a huge bloke with one leg. He cruised round on a large bike and sidecar (for balance) and wore a german helmet. I remember someone selling large plastic bags, the kind used for covering matresses, to shelter inand someone else selling cans of cold baked beans for £1 each. When the bloke I was with got exposure, I went to the St. John's Ambulance tent and they gave me 2 aspirin for him!
When we left on the Saturday night, all the cars which were parked in a field miles away,were sinking in the mud. Happy Days!!
Sue Platt
a Krumlin veteran
---
I have so many memories of Krumlin that I was nearly going to write a book about it.There was so much going on.
I was working - for free it turned out - in helping to set the site up and also working in the ticket booths. It was obvious from early on that this was going to become a real mess, but we had great fun in the build up scrounging food, fags and drink when we could.
Me and my mates infiltrated the VIP tent on the Thursday before the festival began and a local MP - Austin Mitchell- asked me what band I was in. 'Pink Floyd' somehow came from lips. Sadly, the same Austin Mitchell saw me getting dragged out of the bash later on because I demanded to get paid for the weeks work I'd allready done.
Friday night was remembered by everybody for Elton John who, for an unknown, got everybody going. I also remember seeing Hamish Imlach halfway up the folk tent pole with a bottle of whisky.
Saturday was a day that started off in sunshine and finished with a storm of biblical proportions.
There were a lot of heavies around, a free festival demonstration which nearly got out of hand and as the day wore on the storm clouds gathered.
The storm coincided with a bad trip I was having which had its climax when Alexis Korner was playing. A girl I knew recognised me as being out of it and somehow I ended up backstage. Even in my state I could see that this wasn't just an ordinary festival. Alan Price was pissed and laughing about not getting paid. Members of Fotheringay were joining in the fun. I later strolled across to the big marquee to get some sleep and woke up next morning with the marqee flattened and how nobody was killed God only knows. All the tents of the previous night where gone as if someone had just lifted them up. The stage was bare.
All that was left was the long walk back to a main road and hitching back to my home.
I read later of the missing promoter and the last time I saw him he was at my booth about 5 o'clock checking the cash flow and shaking his head. On asking him how it was going he just slipped me a ten bob note and said cheerio.
John Usher
---
Having droned on the my son about this festival it was quite a plus when I found your site on the net today. It brought back some memories I can tell you! I had thought that The Incredible String Band had played on the Friday evening, but perhaps that memory is mixed up with others. What I do remember is going to the festival site by car with my dad to see what the place was like, and sitting in the comfort of the car and listening to the music in the distance.
On the Saturday I arrived late afternoon courtesy of a lift from dad, armed with a bag of food and a sleeping bag- no tent!! Dad provided the huge sheet of thick plastic from his work which was a life saver later. With my friend in tow we spent the evening listening to several bands and then enduring the awful rain. Not having a tent meant trying to bed down in one of three I think, big communal tents which were rather rickety and were all full of wet and cold festival goers. We abandoned any attempt to sleep but sat in sleeping bags getting colder and colder. Then disaster as the tent we were in blew down and away across the fields. What next? The huge sheet of plastic became our saviour as we sheltered against a dry ish stone wall and made a makeshift shelter with the plastic, holding on to it against the howling gale that swept accross the site that night. Daft place to hold any event really up in the high Pennines even in August!!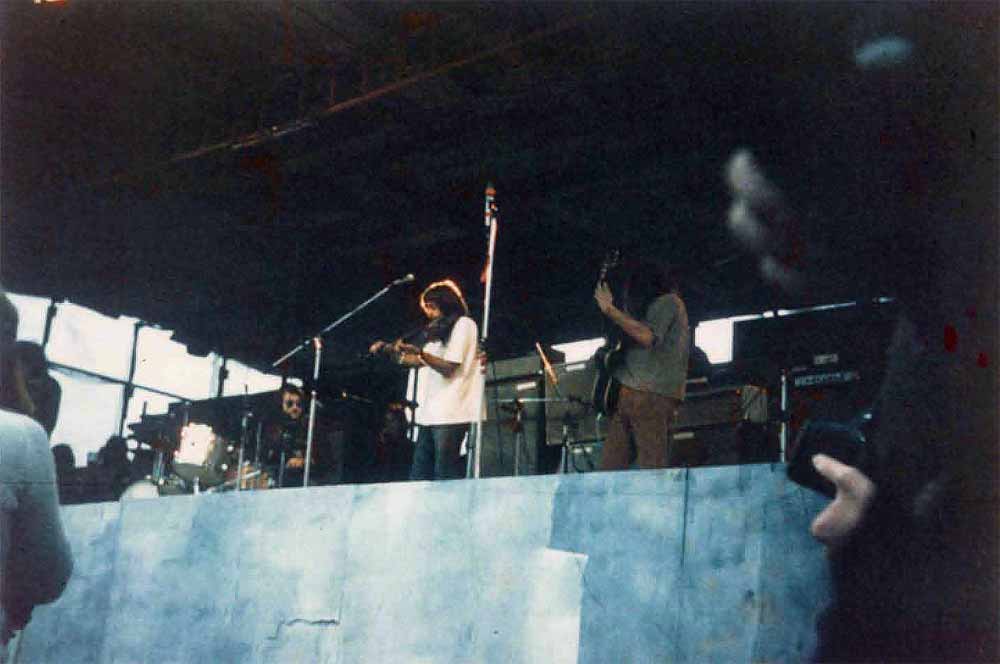 Fairport © Mike Taylor
The following morning was a scene of devastation with this huge crowd of refugees in front of us, a strong blowing wind and driving horizontal rain. Enough, we decided, so at about 6-30am we headed of to walk back to our village of Marsden. How we made it I don't know as we were wet through cold and hungry. The whole event promised so much and delivered nothing but misery and disappointment. I do recall seeing Ginger Baker on Sat night with I think the Graham Bond Organisation; his parting words were, " Back tomorrow with the Airforce". Of course he didn't as the event was abandoned! No Floyd either. What an experience though. The folk music was memorable with the Fairports and Fotheringay plus other sundry drunken performers, but time dims the memory. I will remember the wind and rain for ever though!!
Bob W
ex Marsden, now Staffordshire.
---
Krumlin –from the beer tent.
I used to work at the Upper George Hotel in Halifax, and was quite handy as I knew how to open up, close up and change the barrels etc. I had become quite friendly with the landlord Jack Bunting. I was also a regular at that pub and friends with many landlords around and about the area. When Brian Highley and Derek McEwen decided to put on the festival I was involved early on, and was picked by Jack to run the Tetley tent for him at Krumlin.
We had many a trip to the site before and during preparation, and there was a lot of anticipation around the first festival in the area.
I went up the day before, on the Thursday, to be there when the beer arrived ( all cans I think) and slept in the tent. Friday we opened for business and were doing a brisk trade all day, and it was not hard to get to sleep, even though we were in the rough.
Saturday morning saw a couple of extra loads of beer arrive which we stacked. From memory I had about five other staff working the tills and serving beer.
It was a long day, but thoroughly enjoyable until the weather turned in the mid afternoon. We carried on serving beer in the rain, but the trade dwindled as the winds began to roar and the rain came in sideways through the front of the tent. We battened down as best we could and two of us stayed inside to weather the storm. Sometime, in the middle of the evening we got a visit from one of the aid workers asking for me to shelter some people, I was concerned about the risk of theft but we discussed one of staying up to keep an open eye. I think we had about thirty five people lying on top of each other but at least we were dry. At about 3am I was dozing when I heard an unusual creaking and groaning and woke up to see half of the tent swaying madly in the wind with the pole bending like a twig. We quickly woke everyone under that area, just before the pole lifted off the ground and then slid sideways, snapping some smaller stays and bringing half the tent down. I can still picture the whole thing. Luckily no-one was injured. The people were then moved out of the tent, they luckily had managed to get some sleep and were a little stronger. They left, while I stayed.
Dawn dragged me awake and I explored outside, to view a scene of utter devastation, but also to see quite a number of people legging it up the field with a slab each under their arm. The downed part of the tent had revealed a supply of beer, too tempting to pass up.
Later that day (Sunday) the brewery sent two trucks in to try to pick up the rest of the beer, but they got bogged attempting to get in and had to pull each other out in turns and left empty handed. I had work the next day, but for reasons of commitment I decided to stay and guard the beer.
Monday the brewery attempted to remove the beer again, but with a full load they had trouble getting out, and I think a heavy haulage had to be organized to pull them up the boggy hillside. One more night, and Tuesday morning was the last of the beer and the tent finally demolished and packed up. I remember now the tent belonged to Tetley.
At work on Wednesday morning, thinking I was going to revel in my story telling of the great weekend, only to end up getting a real bollocking for missing two days work.

I still have the souvenir booklet which I see a copy of the back page on the website showing off the t-shirt. There is a story to that as well. I cannot remember the name of the young lady in the picture, but young she was and when her father saw the picture he went right off. The brochures had already been printed, but we were had to get stickers and on every brochure cover the exposed part of her body.

Had the weather not been as bad, everyone would have been happy, unfortunately, everyone lost money but have many and fond memories.

Mario M Anders
---
Hi,
I remember the one legged Hell's Angel for his unique dance technique, he had his wooden leg, which I remember as being like a table leg stuck in a hole in the ground, and he just scooted around in a wild circle using his good leg. I was only 16 at the time so waited until I was some distance away before I laughed.
MA Pitts.
---
I was lucky enough to have attended this ill-fated festival and although it is largely a dim and distant blur there are a few recollections and some photos I would like to share with you all.

The signing and approach to the site was poor to none existent, curious locals waved sticks in the general direction. The car park queuing and slow progress was made more interesting by the already boggy approach lanes and that was before the main downfalls.

Eventually we pitched our groundsheet in a likely spot and looked for the beer tent and food. We were concerned about being a few hours late, but circumstances made things ok as the event was nowhere near starting.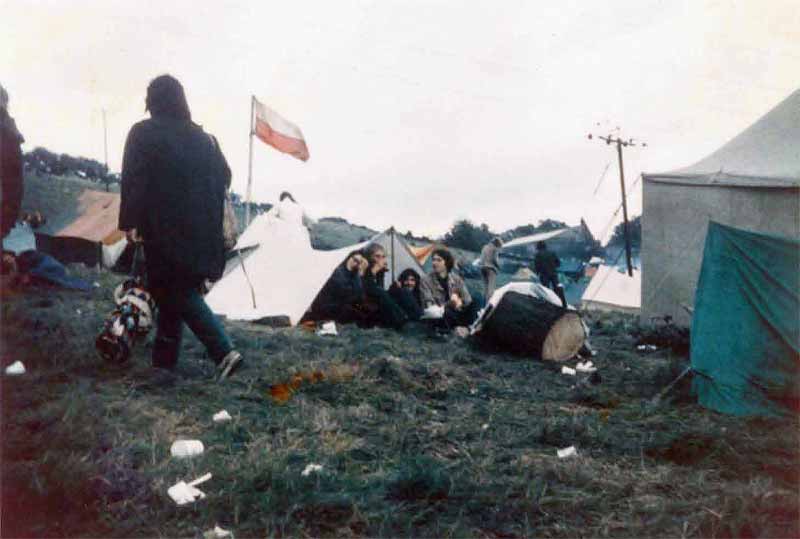 The tent © Mike Taylor
The music eventually started late and I can remember the Humblebums, Elton John, Atomic Rooster and being woken up later by vigorous slide guitar action from Juicy Lucy. At some point during the music we erected a fly sheet over our ground sheet to save us from the rain (see photo) and as we were on a slope the rain washed off the end of the fly sheet and onto the foot part of our sleeping bags. The night hours were measured by regular reports from my co-habit friends about the progress of the wetness from foot to midriff. Come first light we were all cold, wet and confused.

Saturday started late and I particularly enjoyed the JoAnn Kelly and Pentangle sets. We were blasted away by Tony McPhee and the Groundhogs. The Fairports did a fantastic set, but some members looked a bit under the beer influence and I can recall one of the group switching Simon Nicol's amp off as he propped up the speaker stack. Fotheringay's set was great with fantastic vocals by Sandy. I think we made an executive decision to leave that night as the rain and wind seemed to have no end.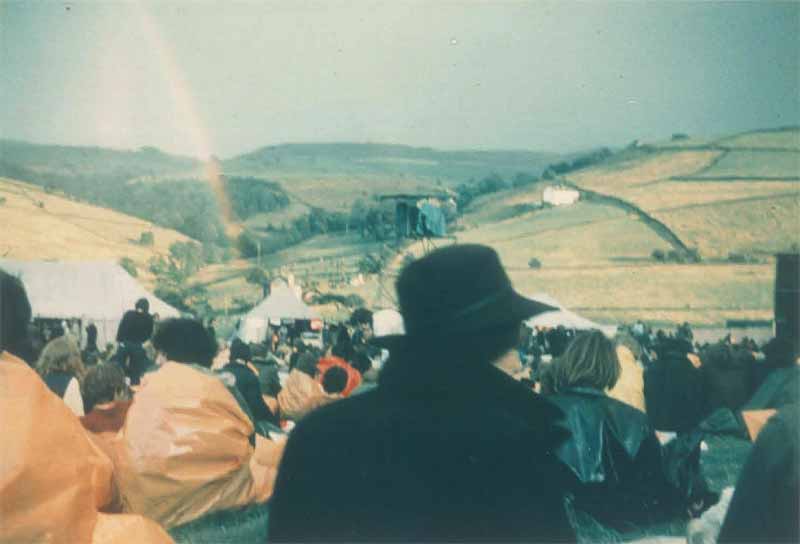 The rainbow ! © Mike Taylor
There must have been some sun as I captured a rainbow on film (see above ) other shots are Fairports in action and the massed crowds in plastic bags. I do have some others. I still have the original ticket (£2-10-0 Advance weekend ticket) and the programme.

I took all the pictures on a poor quality camera.
I would be pleased to discuss this experience with anyone interested.

Best Regards

Mike Taylor
---
I remember arriving in town (Halifax?) on the Friday evening in my poncho and Guy Fawkes hat and getting a bus out to the site. It was bloody cold that night, with sellers doiing a brisk trade in plastic sheeting. I remember Georgie Fame singing Seventh Son and Fire and Rain on Friday night.Standout memories from the Saturday were Fairport Convention, with Richard Thompson apolologising for them all being pissed-though they still played a great set-and Fotheringay playing The Sea in a downpour and Jerry Donahue replicating exactly his guitar solo from the album. Contrary to someone's memory, Mungo Jerry definitely didn't play.--there was a screen that flashed up the groups that had cancelled.
Somehow I came across a mate Arthur from University in the midst of it all..Sometime in the night the big tent we had crept in to shelter from the rain came crashing down and we had to crawl out from under the canvas, finally giving up the ghost sometime on Sunday morning and heading back to Arthur's mum's house in Castleford.

A happy ending though for me. To make up for the festival washout, me and Arthur thought we would hitch to Scarborough for a bit of a holiday. The first van that stopped, however, was going to Paignton and asked if we fancied going there instead. We did and in the course of this unscheduled visit I met my wife of, to date, 34 years.
Geoff Trodd
---
I was there too at the tender age of 18 and like a lot of people I can't remember a lot of the bands. I went on the Friday after work with my trench coat, tie die jeans and sleeping bag. I remember seeing Humblebums, Atomic Rooster, Groundhogs and I think Graham Bond. I remember that Pink Floyd were supposed to be playing. I thought they were going to appear on Sunday. I think I only survived one night. I bought a plastic bag like every one else which probably saved me from near death. At some point on Saturday evening I had had enough and set off for home (Huddersfield). I walked until I found a telephone box and rang my mum and dad who came and got me. I stayed in that telephone box until they found me.
I can't remember Elton John although I must have seen him. Try telling the kids today and they won't believe you!!
John Sunter
---

I have just found your excellent website, one of the very few web sources on the Krumlin festival that I have been able to trace.

I have just returned home to Lancashire after a day trip to try to find the site of the festival - my first return visit to Krumlin since I attended the festival in 1970. I thought I had found it but now realise that I must have been a few fields away. There is a pub in Sowerby Bridge - The Puzzle Hall - which has some contemporary press cuttings and having called in on the way home I can now see that I wasn't in the right field earlier today.

I cannot remember all the bands who played, and being on the verge of suffering from exposure and having headed for home on Sunday morning, I must have missed a few anyway. Neither The Who nor Pink Floyd played.

I can definitely recall Elton John, Fairport Convention and The Groundhogs and The Humlebums.

I think I also recall Pentangle, Brett Marvin and the Thunderbolts, Ralph McTell, Fotheringay, JoAnn Kelly. There must have been others but until I have a memory surge they will remain hidden in the mists of time.

It would be great to be in touch with anyone else who was there.

Best Regards

Bob Snape
---
Hi, Just Stumbled on your site. Brought back many memories. I was about 18 at the time. I remember some great performances by Atomic Rooster and Georgie Fame. The one legged Hells Angel was actually plonked on my foot and I didn't like to say anything. After what seemed like hours he leaned over and I managed to retrieve it. When it rained, they just threw a tarpaulin over him. He just sat there for two days. One can only imagine his toilet breaks. When the storm got really bad, we took shelter in the inflatable Marquee, but the blower broke and it collapsed, nearly engulfing us. We ended up in the pitch black on the moors in torrential rain.
We took shelter in a church and a local family opened up an empty house and made a fire so that we could dry out. They invited us round for Sunday dinner. They were very kind. We kept in touch for years.
I also remember people making a fortune selling bin bags at astronomical prices. People were so desperate to keep dry. I loaned my parka to a girl friend who buggered off in it. I was left in my leather jacket. I was stained with black dye for about a week as the leather was sopping wet.
I'm heading towards 60 now with arthritis in every joint! Ah foolish youth.
Clive Heenan
---
Hi,
This is my experience at Krumlin 1972.I was at this festival, it was actually a REAL nightmare, it started off a nice sunny day, however the promoters had been warned beforehand by local farmers that the weather out there on the moors can turn trecherous in a flash, IT DID, big time, if the photo was in colour it would be a sea of orange, thiese were body leangh plastic sleeping bag covers that someone had the insight to bring and sell for £1 each.
It started to get very dark as these mega black clouds came over, the wind started blowing as the night came on, the band who were playing had to stop as rain started to come down heavy and sweeping across the stage, everyone was trapped up there at the mercy of the elements, tents were no good there were just being blown away, It was freezing, out in the open with an orange plastic bag, me and my mate decided to go to this massive marqee and get shelter in that, needless to say it was packed but all the bodies made it a bit warmer than outside.
We were huddled with our bags tied round our knecks staring are the huge masts holding the marquee up, they were swaying from side to side and then one came down followed by the rest, crashing down across loads of people, (they missed us), we could hear screaming and shouting from people under the mast and just general panic, the marqee was now flat on the ground with us all under it, St Johns Ambulace were lifting up the sides and asking if anyone was hurt, (of course there was), the wind was now begining to blow underneath the canvas and lift that.
Me and my mate decided to see if we could find some other shelter, we did, it was a massive flip top bin, like a giant metal pedal bin with swinging lid, we got in that to escape the freezing wind and rain, (Yes that is how bad it was, we huddled in the bin and wondered if we would even survive the night, just as we thought it couldnt get any worse the lid swung back and someone who did not see us threw about a gallon of warm chip fat over us.
We survived till morning when the storm had blown over, it was a sunny morning as we walked back to civilization, I remember an old farmer leaning over his gate saying, "I'm sorry, I'm so sorry,but I warned em about that moor, I remember being glad to be at the train station, stinking of used chip fat and in shock.
This was no picnic, loads of people were taken to hospital with hypothermia, others with injuries, trouble was the emegency services had trouble getting up and down the one track bumpy road, I cannot describe how bad it was but I've tried, by the way if you think that picture looks bad I can tell you that piccy was taken AFTER the storm in the night, It was hell on earth, No pics, no mobile cams in them days folks
Phil Platt.

PS one post mentions a one legged Hells Angel who did a strange dance using a crutch and swiveling on his wooden leg, there was only one guy who fits this description and he was a mate of mine, (Sadly died in a fire many years ago, he was from my home town Stockport and his name was: what else? Hoppy!!, he was about 25 stone and rode a modified motor bike and sidecar, he looked like a proper Angel, beard, greasy long hair, HA death head colours, he was a real nice fun guy though, a gentle giant ,
RIP Hop's
---
Hi Guys

Just looked at your incredible website for Krumlin and wanted you to know that I have recently had a couple of books published called Small Town Saturday Night which feature the Halifax Music Scene from 1957 until 1979. There are 14 previously unpublished pictures from Krumlin in Volume 2 along with other promotion material over the five page - full colour spread.

There are also a couple of pages on the Thrum Hall Pop & Blues Festival including photographs, tickets, programme, adverts and full colour poster.

Go here for full details of the books and how to get them.

I hope that this might be helpful in filling in some gaps.

Let me know what you think.

Best wishes.

Trevor.
---
Do you have anything to contribute ? If So please email us .
Krumlin menu
---
---
Contact us if you can help.