The Archive
Last update April 2013 .
---
East Anglia

Rock and Blues Festival

Speedway Stadium

Mildenhall.

Bury St Edmonds

Suffolk .

1981-91.
---
---
The Festivals.
1987-1989.
A slight change of name and the festival was back in 1987 at the same verdant and pristine venue as before.We don't know whether this was under the auspices of the same promotion team , but the first festival . held in 1987, is proving stubbornly difficult to document.
---
Ist Mildenhall Rock and Blues Festival
Mildenhall Stadium.
5th August 1987
Courtesy Neil Williamson.

Tygers Of Pan Tang (headlining)

The Red Beards From Texas

The Groundhogs

Buster James Band

Monterezz

Agurs Wish

Filthy Rich

No.2 Band

State Secret

S.P.I.K.E.

Anihilated.
Although the Rory Gallagher performance posted at the 1987 is featured on a number of Rory lists online, and we have a ticket to prove that this festival did indeed take place, apart from Rory, none of the other acts who appeared in 1987 are referred to anywhere we can find as playing the festival. Unfortunately there do not seem to be any posters circulating that we can find from the festival after many hours of research, Its very strange. however, several eyewitnesses who attended can affirm that Rory Gallagher did NOT play the 87 festival

We have found two conflicting dates regarding Rory Gallagher's supposed performances at Mildenhall . Some lists attribute VHS footage that is 34 minutes long to the 1989 festival and some give it as 1987 . However the date for 1987 and 1989 is the same - the 8th August . The most likely explanation is that the year is not correct due to a typo. It seems improbable that we have two tapes ,both of the same length and same setlist, supposedly held on the same date , but separated by two years .Its much more likely this is one show, not two .

Eyewitness Blaine Butler confirms the line up thus:

"The line up for the 1987 Mildenhall festival was as follows Tygers Of Pan Tang (headlining), The Red Beards From Texas, The Groundhogs, Buster James Band, Monterezz, Agurs Wish, Filthy Rich, No.2 Band, State Secret, S.P.I.K.E. and Anihilated. The band Anihilated were friends of mine so I was able to climb the scaffolding to the mixing desk and take some pics".

and Dawn Howes, who has provided us with some pics of this show backs him up :

"I def have photos of anihilated, tygers of pan tang and the red beards from texas, from 8th aug 87 - it may take me a while to find them as i am packing up to move soon. I knew anihilated so had a backstage crew pass. def don't remember Rory being there."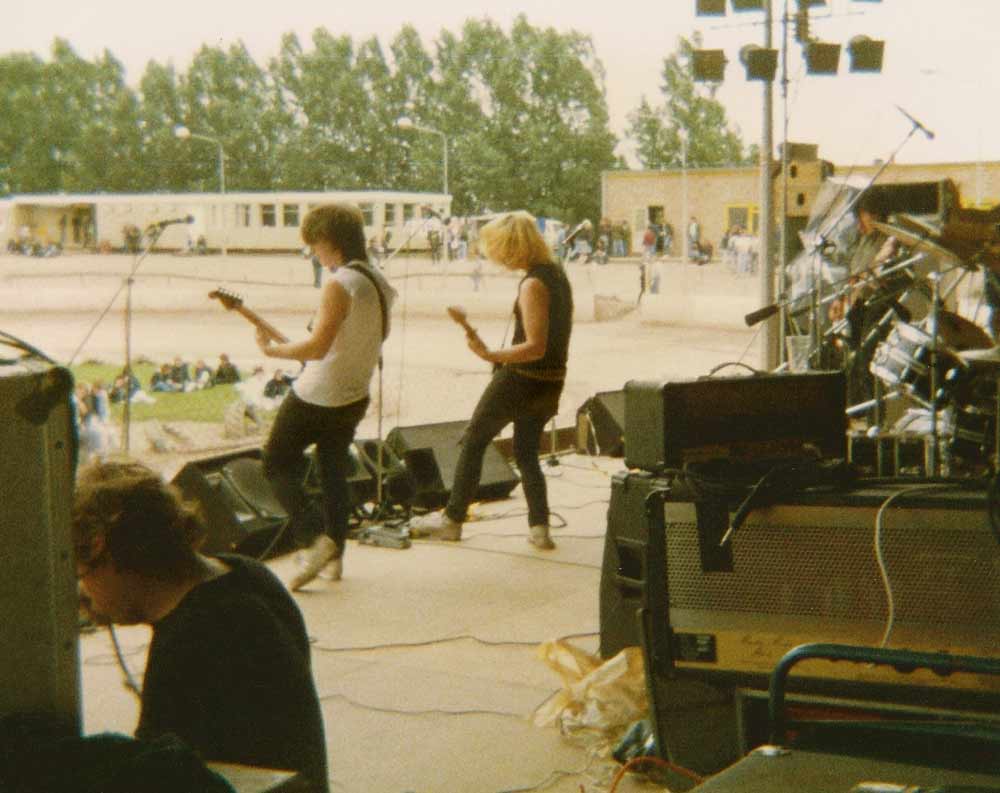 Anihilated serenade the early arrivals © Dawn Howes.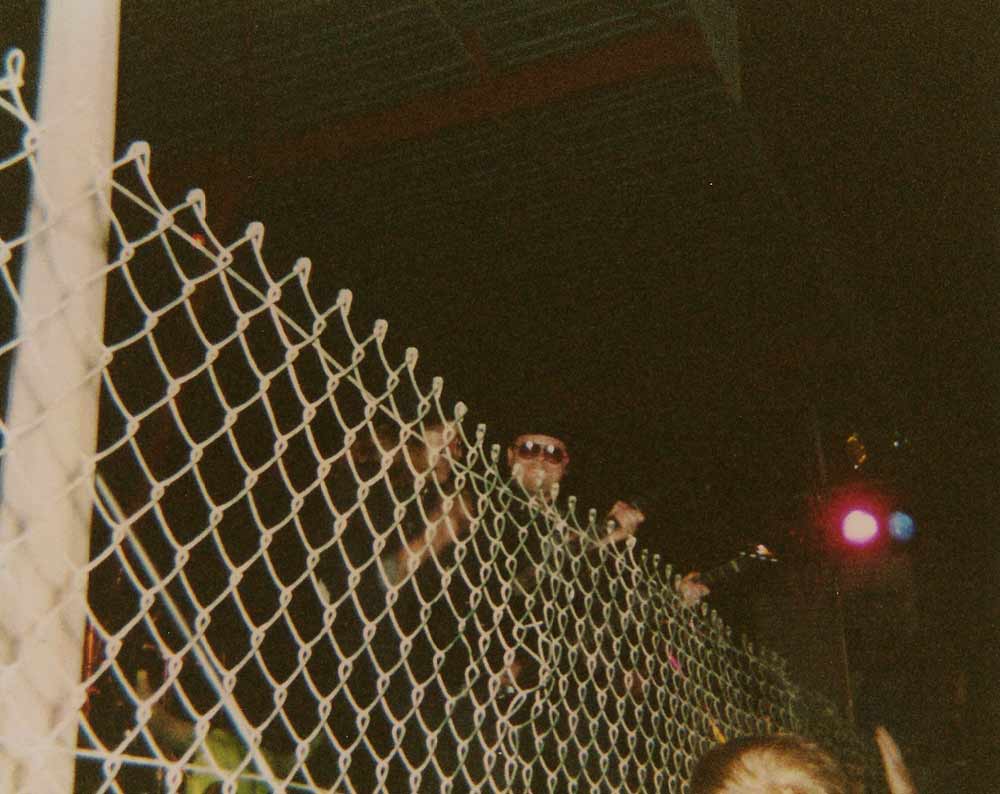 The Red Beards From Texas caged in to protect them from the crowd © Dawn Howes.
| | |
| --- | --- |
| A Red Beards From Texas member who presumably only could manage to grow a tash © Dawn Howes. | Tyger of Pan Tang drummer Brian Dick © Dawn Howes. |
Tygers tour poster from 1987, note absence of Mildenhall gig which was added later.

Tygers of Pan tang history

(courtesy of the Wikipedia April 2013 )

Early days, 1978-1983


The band was originally formed by Jess Cox (vocals), Robb Weir (guitar), Richard "Rocky" Laws (bass), and Brian Dick (drums). They played in working men's clubs[1] and were first signed by local independent label Neat Records before MCA gave them a major record deal. After several singles, they released their first album, Wild Cat, in 1980. The album reached No. 18 in the UK Album Chart in the first week of its release.

Subsequently John Sykes (formerly of Streetfighter, later in Badlands, Thin Lizzy, Whitesnake, and Blue Murder) was added as second guitarist. Jess Cox had a falling out with the others and quit, to be replaced by Persian Risk vocalist Jon Deverill. This lineup released Spellbound in 1981.

Sykes quit after the release of the third album, Crazy Nights, to audition for Ozzy Osbourne's band. He was replaced by ex-Penetration guitarist Fred Purser who had to learn the set in two days before touring.

Tygers of Pan Tang's fourth album, The Cage, was released in 1982. The band then had a disagreement with MCA, who were not prepared to promote them unless they agreed to play more cover recordings (following the band's hit with "Love Potion No. 9").

They subsequently tried to break free from their contract, but MCA's demands exceeded the willingness of any other record company to pay to free the band, and the band broke up in frustration.

John Sykes later achieved success with Thin Lizzy and then Whitesnake, and as a guitarist in Japan.


Reformation, 1985-1987
In 1985, Jon Deverill and Brian Dick reformed the band with Steve Lamb (formerly of Sergeant) on guitar, Neil Sheppard on guitar, and ex-Warrior, ex-Satan member Clin Irwin on bass. Dave Donaldson later replaced Clin Irwin. Meanwhile, Robb Weir and Jess Cox formed the spin-off band Tyger-Tyger.

The reformed Tygers of Pan Tang released The Wreck-Age in summer 1985 through Music for Nations, and Burning in the Shade in 1987, through Zebra Records. Burning in the Shade received poor reviews and they disbanded again.

Various compilations and live albums were produced by the band's two first labels, Neat Records and MCA.
---
2ND

Mildenhall Rock and Blues Festival

9th July 1988

Dr Feelgood

Stan Webb's Chicken Shack, Climax Blues Band,

Dumpys Rusty Nuts,

Buster James Band,

Shy ,

Chrome Molly ,

Wolfsbane.

program courtesy Howie Marsh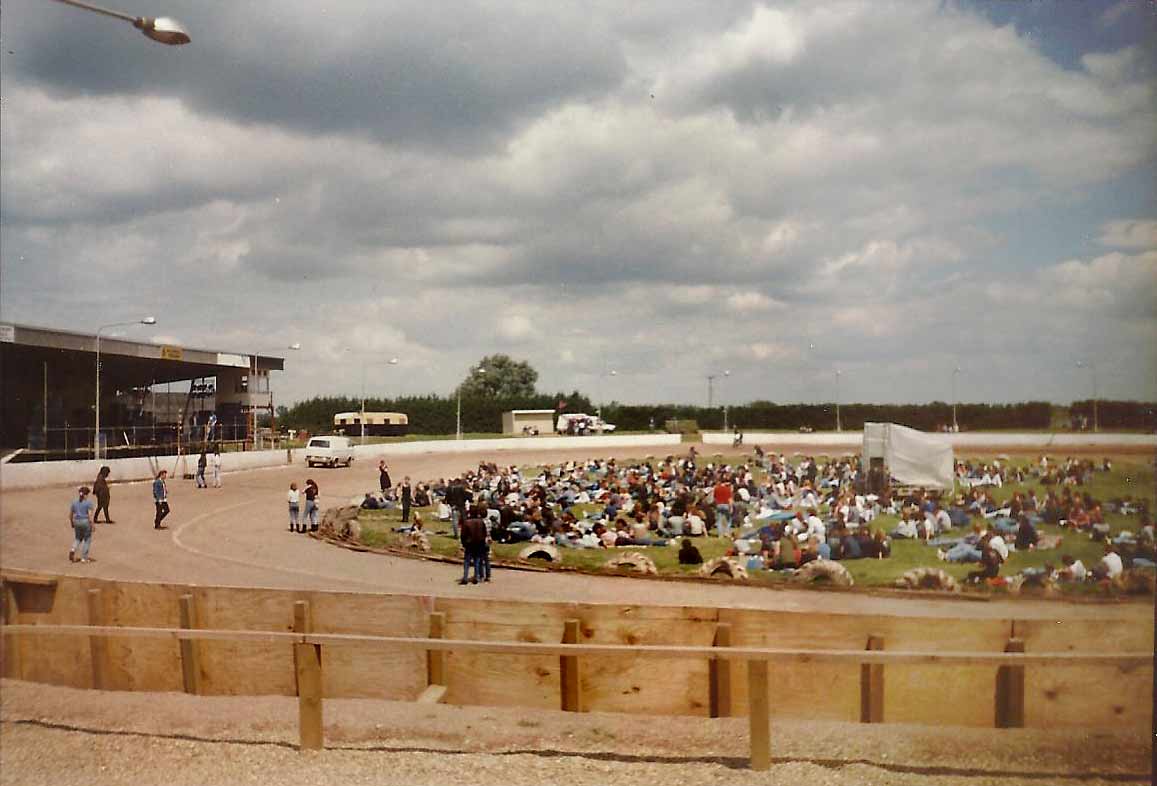 Mildenhall 1988 .The stadium, very early on in the day , when local bands were performing © Neil Williamson.
Hello.
I was present at the 1988 Mildenhall Rock and Blues Festival (That was it's name then, as I have a complete programme)

Dr Feelgood, Chicken Shack, Wolfsbane, The Climax Blues Band, Dumpy's Rusty Nuts, The (all new) Buster James Band, Chome Molly, Mean Red Spiders

I have been the sound engineer for Buster James for many years, but this was before my time.

I specifically remember that Buster James had a complete new line up except for lead singer Roger James, bringing ex member Buzz Hunt up for an encore of ZZ Tops "Tush". Two members had left to form "the Bash Street Kids" which later became "British Lion" and now "Steve Harris's British Lion"

Wolfsbane were bottled for their whole set. Their singer, of course, went on to front Iron Maiden for a few years.

Chicken Shack did a blinding set and although Doctor Feelgood went down very well, I don't think it was the best performance of their career.

Chrome Molly did a lively performance with singer Steve Hawkins launching himself from the front of the stage and landing clear of the small audience for their early afternoon spot.

Several bands from the bill are sill gigging. Dr. Feelgood, Buster James, Dumpys Rusty Nuts, are still out there doing it, and Chrome Molly have recently reformed with a new album recorded.
Howie Marsh
www.howiemarsh.co.uk
www.divide-online.co.uk
www.clifftopfestival.info
www.norfolkphotography.info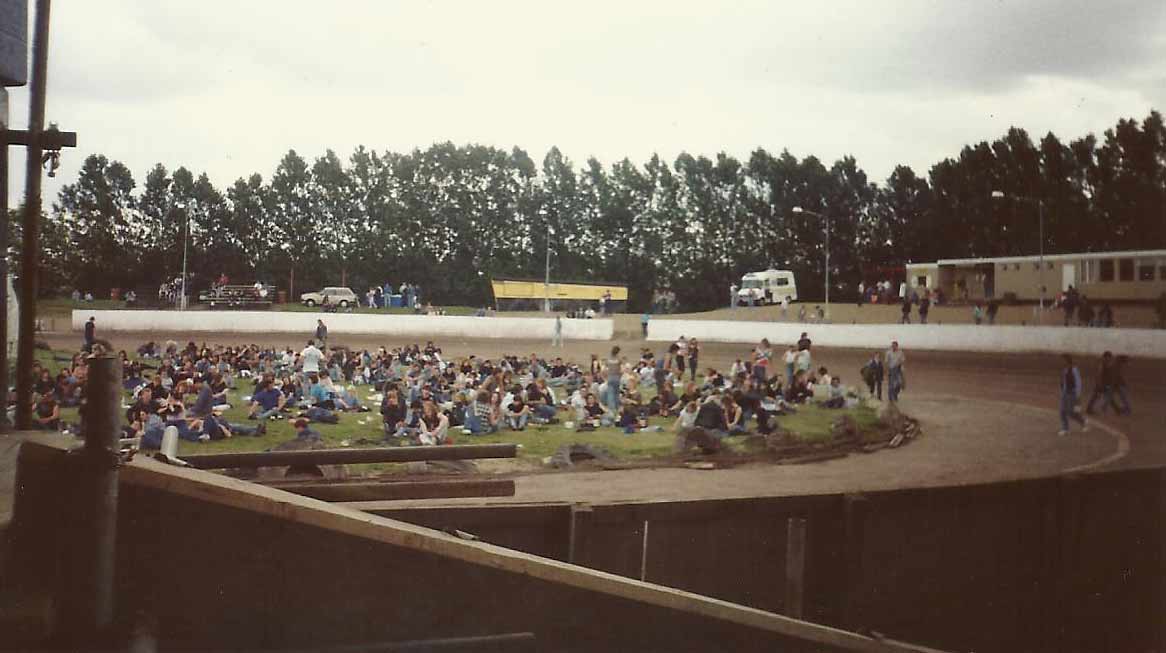 The track formed a bit of a natural barrier early on and certainly did not add much to the visual appeal of the site. © Neil Williamson.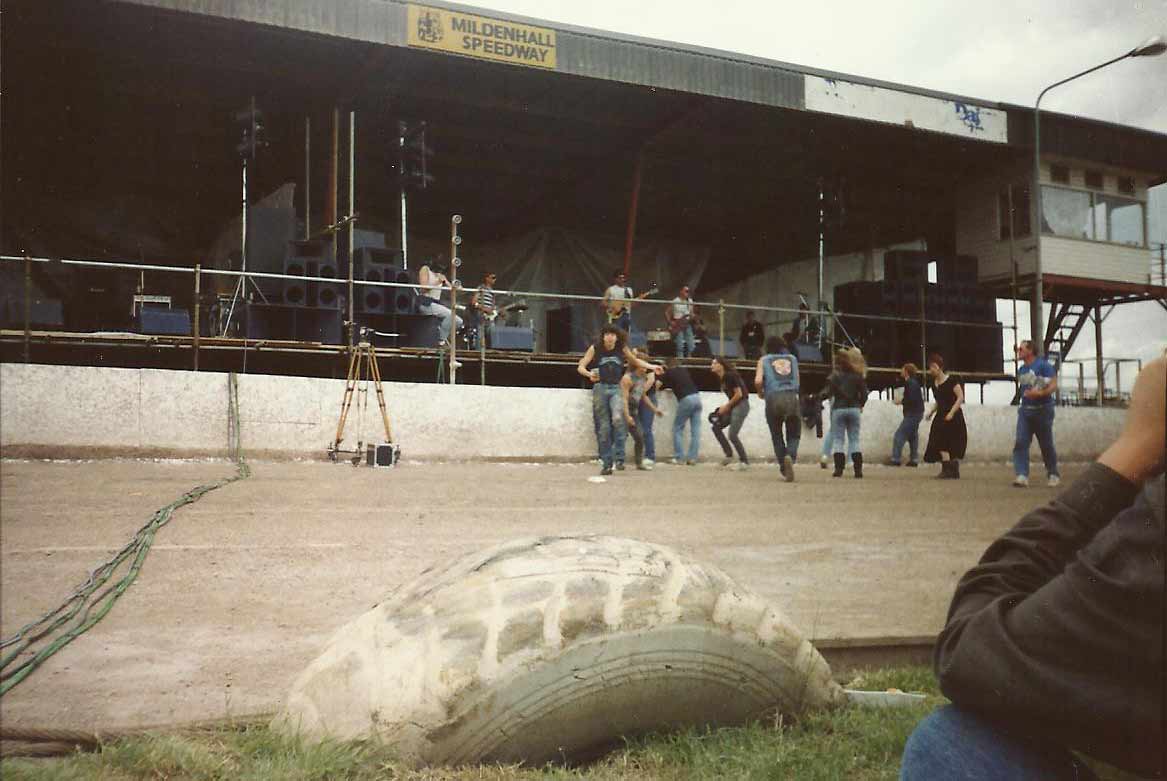 Local band "Caught in the Act" entertains a few dedicated bangers !. © Neil Williamson.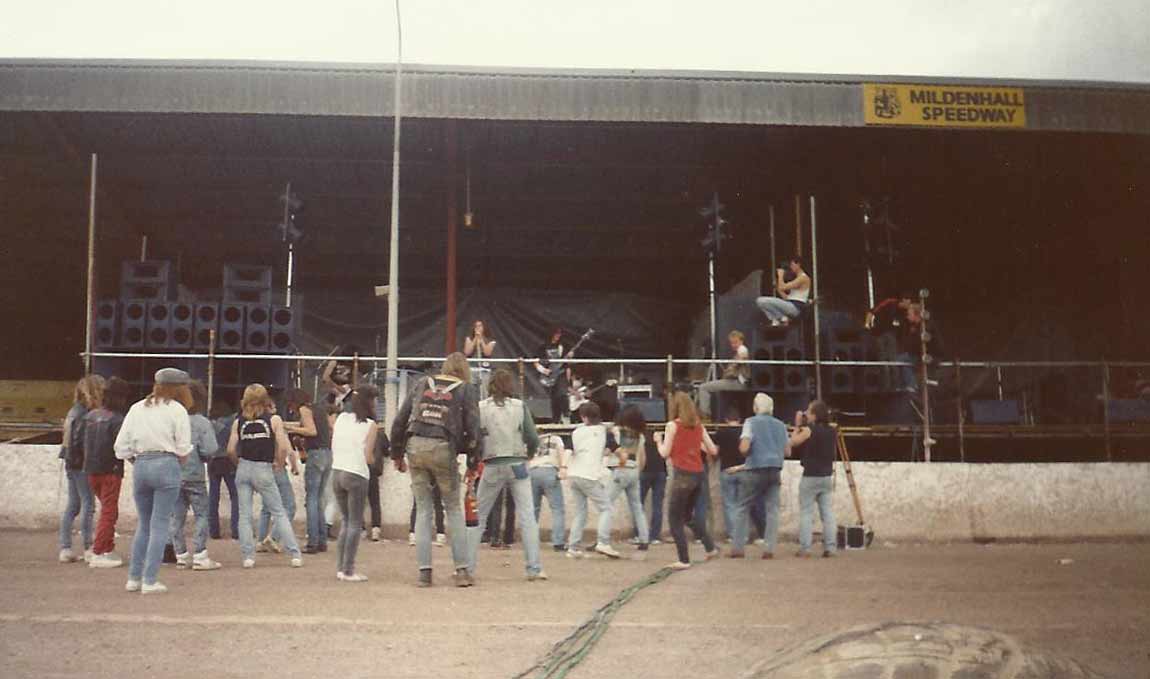 Powerdrive © Neil Williamson.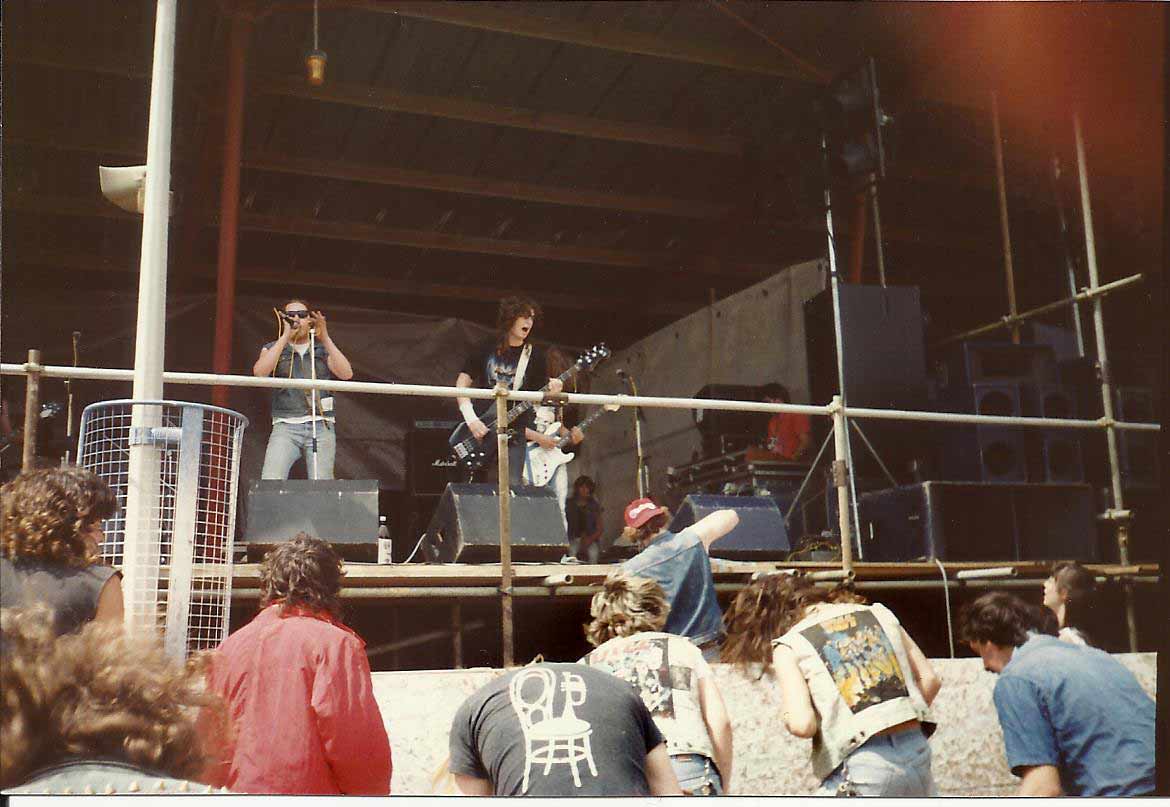 Powerdrive © Neil Williamson.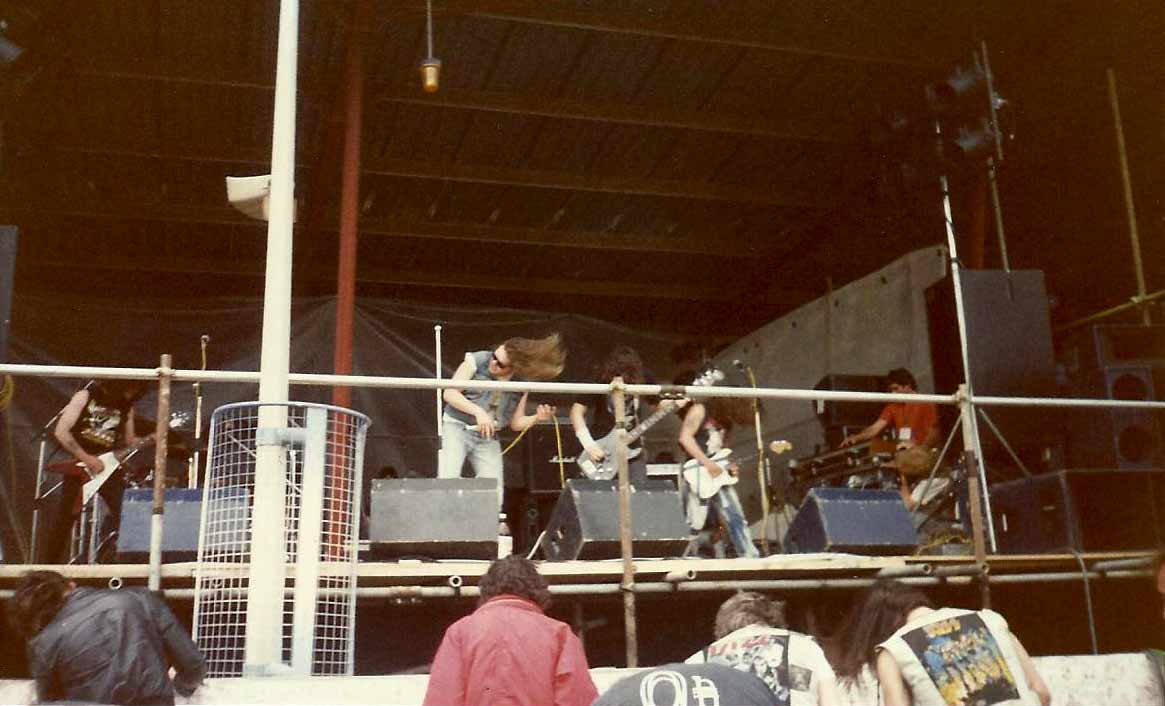 Powerdrive incites mass head flailing :-) © Neil Williamson.
---
3rd Mildenhall Rock and Blues Festival
5th August 1989
Rory Gallagher (headliner)

Uriah Heep

Dumpy's Rusty Nuts

Stan Webb's Chicken Shack

Tigertailz

Buster James Band

Engine

The Hamsters

April 16th

The Naff Band

No Nonsense

Forced Entry

Euphoria.

courtesy Jim Burke
Was pleased to find a website devoted to the old Mildenhall Rock Festeval, I often speak of it when remanising & nobody's ever heard of it!
Myself & a group of mates went there three years running from 1989 I think, we took a boot full of beer & a good stock of other music enhancing substances to make sure we had a good time & put up a cpouple of tents in the car park!
One of my favorite bands at that time was Dumpys Rusty Nuts & as usual they didn't dissapoint, the Hamsters were also a good live band, I seem to remember another really good band, the Mean Red Spiders being there the same year, they had trouble with the PA system for them & the Hamsters it kept cutting out & did the same thing the following year. I'd never even heard of Uriah Heep, let alone seen them, that day started a lifelong love of their music for me. Saxon were another band I saw live for the first time, seen them many times since. A band that stuck in my mind was Tigertailz only because I hated em!
There was a bloke who sold to sell barbequed burgers that used to be raw in the middle. Another funny thing that sticks in my mind was getting up with an oil patch on my back, I'd been laying down on the grass & had managed to lay where an engine had dumped it's oil, great!
I can't really remember which years I saw who, it was a long time ago & we were very drunk!!!!!!! I wasn't into Rory Gallagher stuff at all then, but remember enjoying it (love his stuff now, would love to get a copy of the recording) thing was he must have done about eight encores, & I was thinking at the end, just f**k off!! ;-)
The last year I think there was only four of us, & it was pretty dead, there was less than half the crowd of previous years, don't know if it ever happened again, I did me bike test & started doing bike rallies. Some good memories of that place!
Happy times.
Mark - Colchester
( Thanks to Engine for the info .For more information on ENGINE and the festivals at which they played, please visit their Wikipedia site:
You can also visit their Flickr site and Facebook site
---
The East Anglia Rock Festival was actually called The Mildenhall Rock and Blues Festival from at least 1989. I went there to see Rory Gallagher and Uriah Heep and again to see Hawkwind. It was often advertised on the north sea pirate 'Radio Caroline' and I think one of their current presenters, Barry James, was involved in running it.

Great site.

All the best

Jim
---
Just reminiscing with my son about the festival and found your site. It was his first festival age 15, I was introducing him to real music.
Memories of the day include no doors on the toilets, they had been burnt on campfires, as had almost every other bit of wood on the site.
It was a scorching hot day and the queues for the bar were only matched by the queues for the loos.
I remember particularly the Hamsters who were on early as they had another gig to go to. Seen them loads of times since and very sad they have now retired.
Tigertailz ( above ) were a really odd choice for the line-up and got a severe bottling from the crowd.
Highlights for me were Uriah Heep and Rory Gallagher.
They just don't have festivals like this anymore. What an amazing day. And my son is still a fan of THE music.
Dave Stewart
LBPPA
---
Recordings
Rory Gallagher - 1989-08-05 Mildenhall Festival, Mildenhall, UK

Rory Gallagher Group
Rory Gallagher - guitar, vocals
Gerry McAvoy - bass
Brendan O'Neill - drums
Mark Feltham - harmonicaSource:

Audience shot on VHS tape.
(34:30m)

Video Quality: B/B+
Audio Quality: A-

Setlist

Don't Start Me To Talkin'
The Loop
Moonchild
Encores(?):
Continental Op
Messin' With The Kid

Onstage at Mildenhall 1989
---
We are looking for eyewitness accounts, posters ,info and photos of these events
---
Please feel free to contact us and contribute towards building pages about each festival by Contacting us . We try to reply to all messages, but sometimes it takes a while .Usually we wait until we have enough new material to warrant a page upgrade , so posts may take quite a while to emerge on the page .
---
Return to Archive