The Archive .


---

Big thanks to our sponsor Neil !

For information on today's festivals see eFestivals.co.uk

---

View at 1920 X 1024 res for best results.

Last updated June 2021 :new photos Led Zeppelin, Jefferson Airplane, Steppenwolf, Flock and Santana .
---
The Jefferson Airplane at Bath.
June 29 1970
Volunteers
Somebody to Love,
The Other Side of This Life,
Won't You Try/Saturday Afternoon,
3/5th Of A Mile In 10 Seconds
Rock Me Baby,
The Ballad of You and Me and Pooneil.
Set length 54 minutes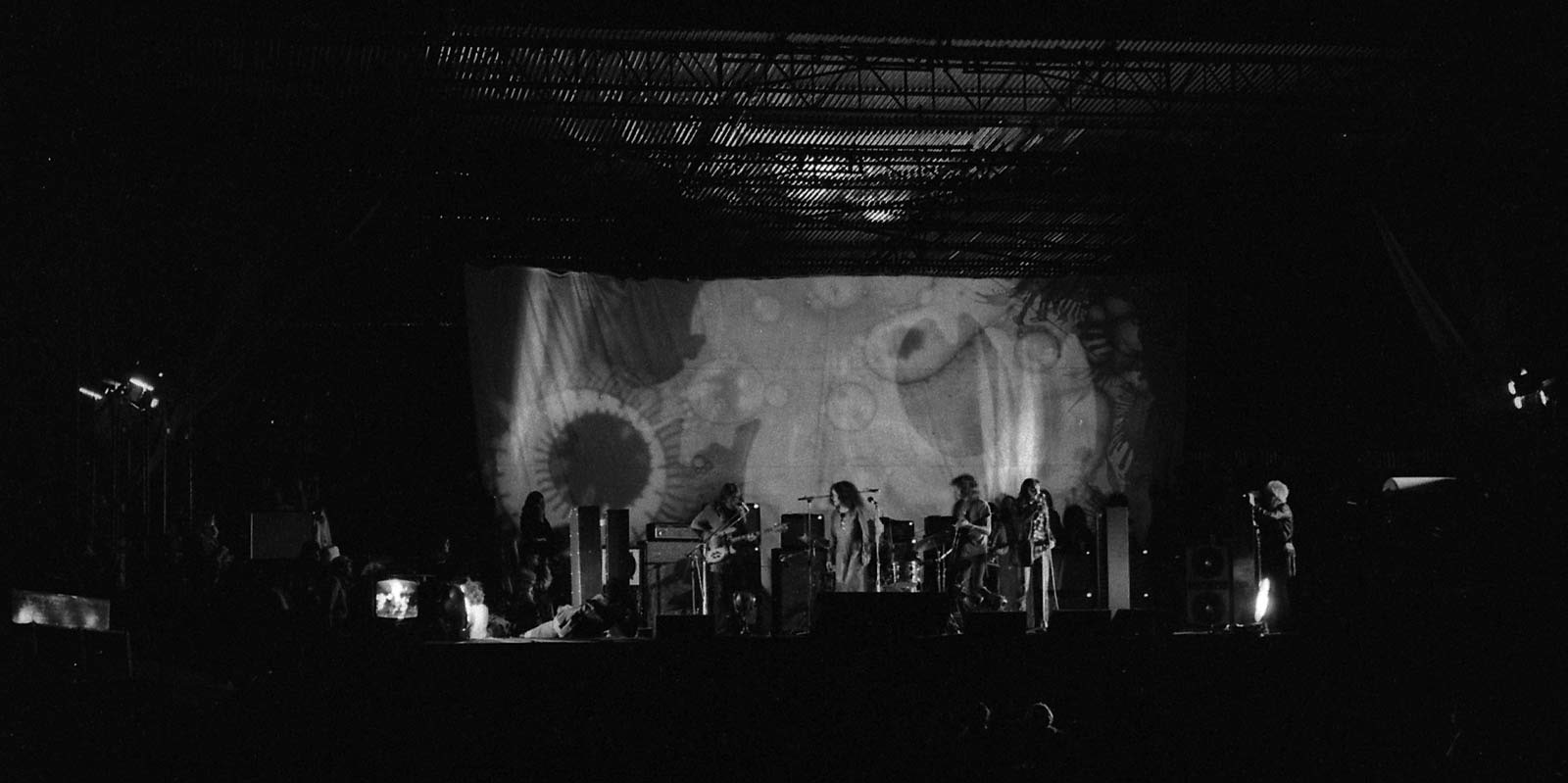 Finally, a picture of Jefferson Airplane on stage during their short set at Bath 1970 © Jake Matchett.
Airplane photos taken from the Kralingen Festival June 27th 1970 , same weekend the Airplane appeared at Bath . For the pedants amongst you, the 29th is the correct date that the band played as their set started way after midnight on the 28th.
Grace Slick-vocals.

Paul Kantner- vocal / guitar.

Marty Balin -vocal.

Jorma Kaukonen- lead guitar/vocal.

Jack Casady -bass.

Joey Covington -drums.
Unfortunately it pissed down for most of this set and the stage was pretty wet due to the wind blowing rain onto the equipment. The Airplane came on directly after Country Joe , way after midnight ( in fact someone on the tape asks the time during rock me baby and they are told half past two - thats LATE !. ) and were getting into their stride nicely when Kantner got a shock from the mic and they left the stage A personal tragedy for me as this was the only time I ever saw the band .I clearly remember "Rock me Baby" as it was a favourite track from 'Bless its Pointed Little Head"

It was nice to see Grace,even though she was bundled up against the cold and within minutes the three voices of Slick , Balin and Kantner were soaring , Jorma was cutting shreads with his great leads and Jack as usual was pinning it all down with humongous bass lines. But unfortunately it was over all too soon.
I have an audience tape of this show which is C to D quality, mostly C .The sound comes in and out due to the wind,but this tape is very listenable, ( especially since it has been recently updated considerably from the original almost un-listenable version by a 1st gen update that to my knowledge has not been traded before) and the performance is great , particularly 'Won'tyou Try/Saturday Afternoon ", "Other Side of this Life" and " Pooneil" where the vocalists really take off. Storming performances that shine through despite the flaws on the tape, mostly caused by wind and rain. "Rock me Baby" is also pretty clean quality and Jorma does a nice job on vocals.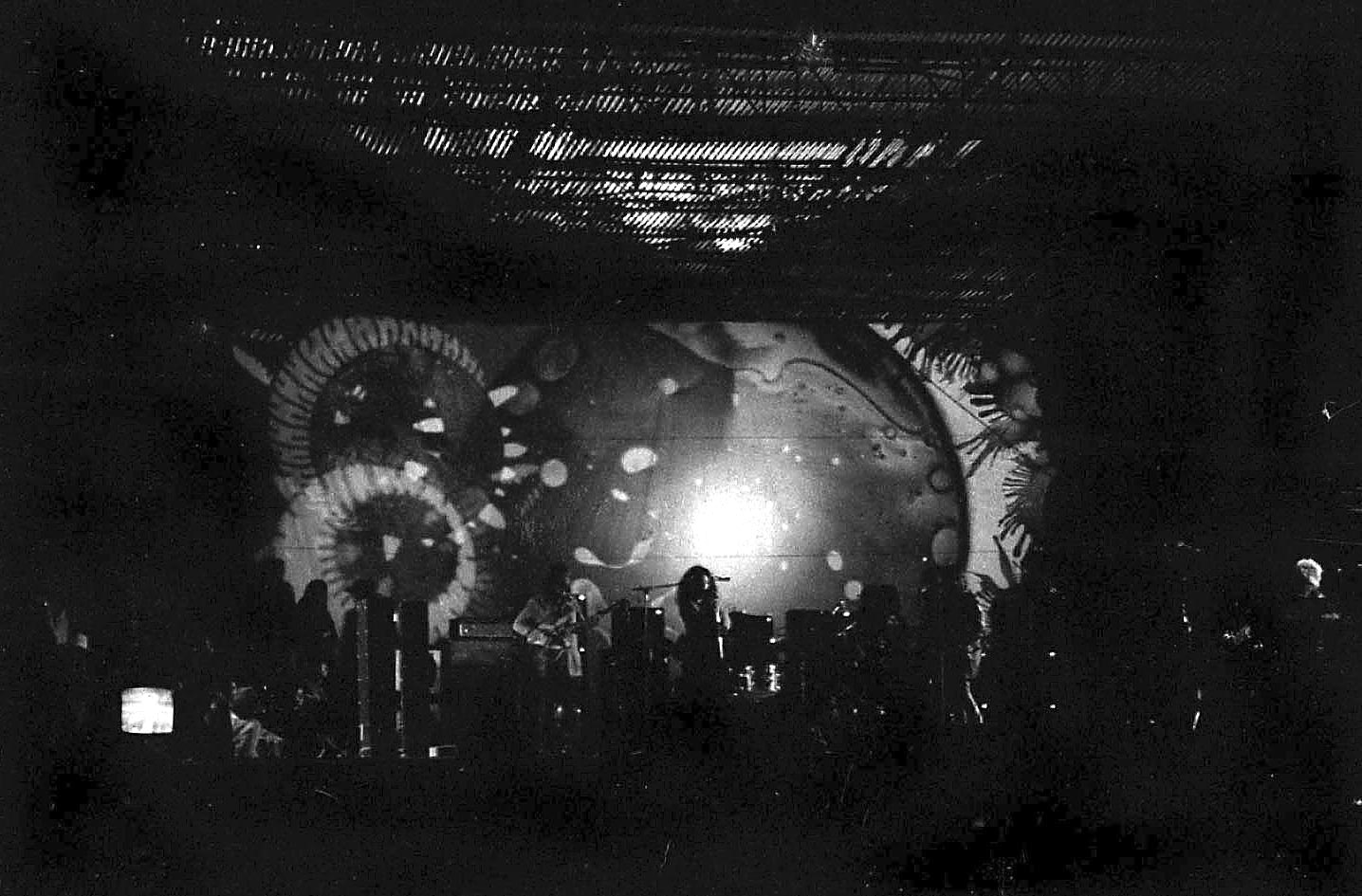 © Jake Matchett.
Grace
" You may be cold, but your fires smell good "
During the break between Rock Me Baby and Pooneil Grace gets the audience clapping along to a weird little impro which seagues into a Jorma led feedback storm which metabolises into the intro to Pooneil,theres a formidable Casady solo in the middle of this number ,Jorma laying down a killer solo, which is pretty much full tilt and then Grace and the other vocalists bring the set to a close with the wailing vocal finale.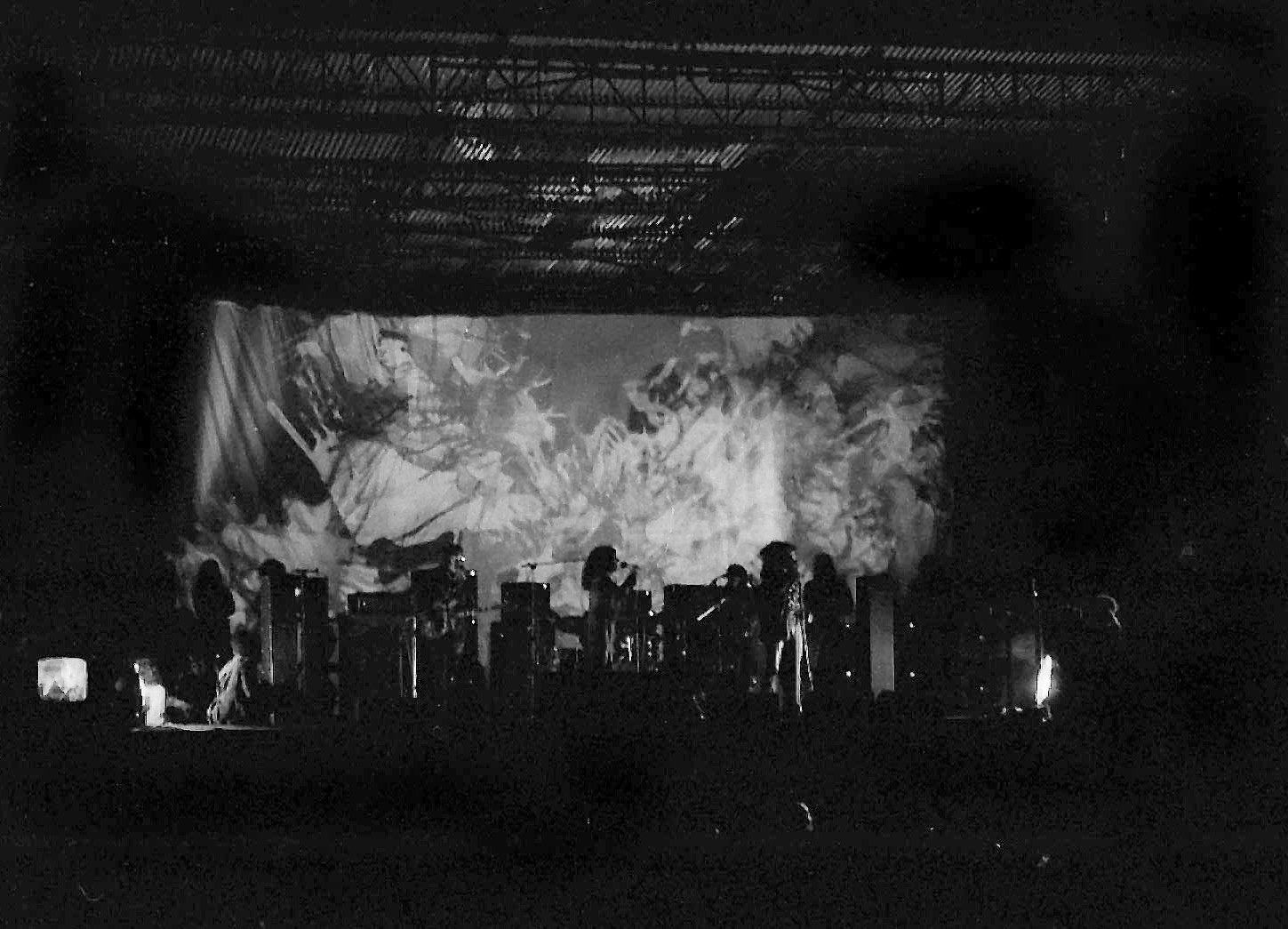 © Jake Matchett.
At the end of this brilliant Pooneil , Grace says to the audience
" I'm amazed you're still here!".( a reference to the appalling weather )
-then- massive feedback intervenes and what she says is garbled.
finally I can make out clearly ....
" what's going on ? .
They told us not to play because our rhythm guitar player gets shocks when it rains"
Then she says a whole lot of unintelligible stuff , where the wind and stage noise blocks her out.
Her final words are that they will be playing a free show in London on the Wednesday and she hopes we can go to that.
Her final words are "
Thanks for staying around at all !"
A great Airplane set ,in my opinion far exceeding the more popular Zeppelin set in soul and intensity. Such a shame that it was cut short due to the weather.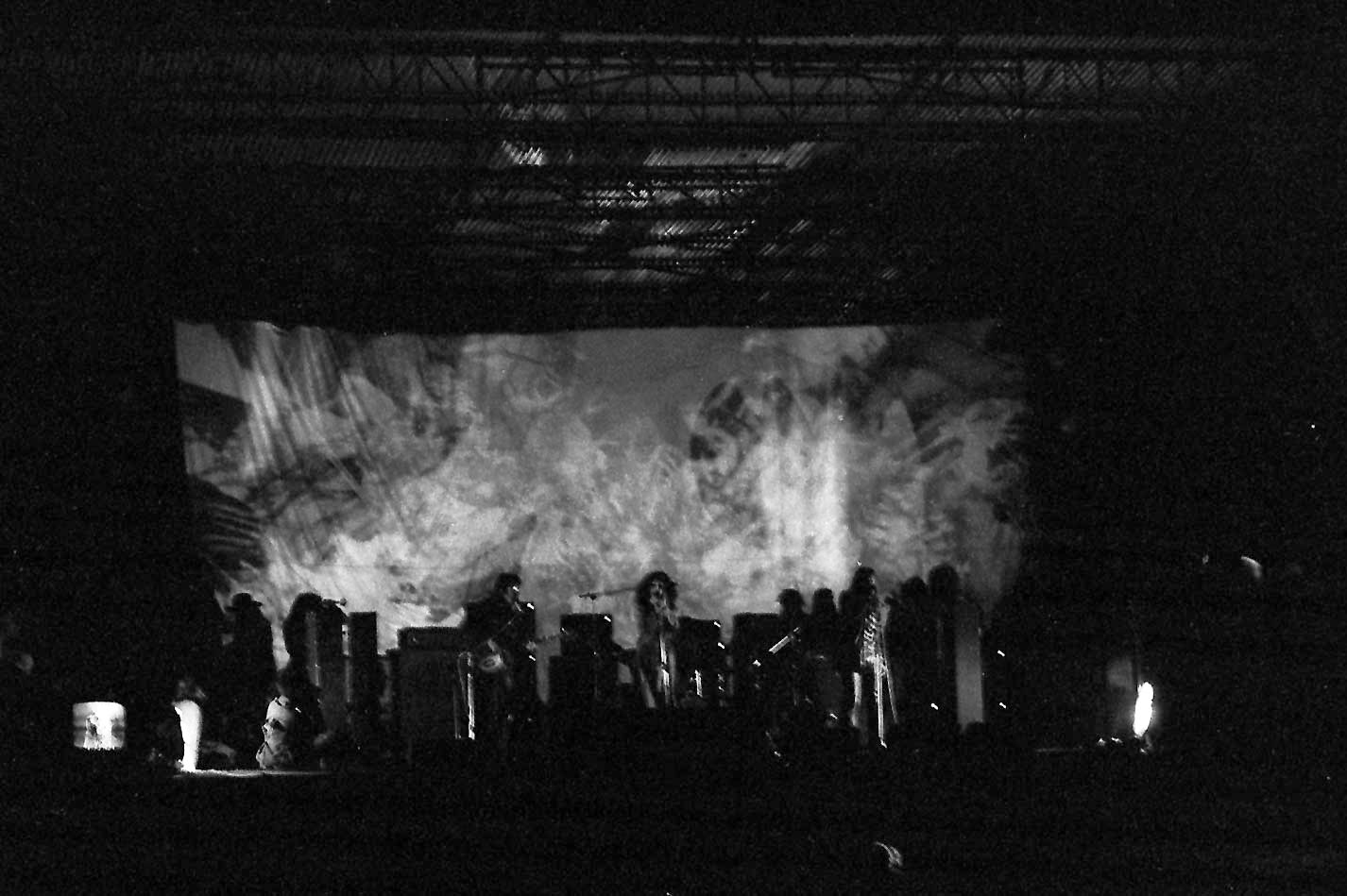 © Jake Matchett.
---
Audio- visual Records
---
The artists
---
Reviews, photo collections and general information
---
8 mm Film Archive
Ross Mortimore's streaming Quicktime movie of the crowd features clear images of the stage PA , Colosseum onstage and bikers with Canned Heat at Bath as a soundtrack provided courtesy of Bob C .
Bandwidth and copyright restrictions mean we cant host audio/video so you will have to do with stills at the moment until we can do an alternative stream elsewhere. Please don't bug us to add it , we will do it when we have the time.
---
General information:
links menu to site map, ticket. pass out, transport, drug bust, films and festival arrangements.
External Links to Bath related merchandise ( with which we have NO commerical links whatsoever )
To celebrate the 40th anniversary of the 1970 Bath Festival we have brought out a special commemorative set. Anyone interested can view it on http://www.rockmusic-offer.co.uk/
A limited edition of reprints of the 1969 and 1970 Bath festival posters and Freddie Bannisters books on the Bath ,Lincoln 71 and Knebworth festivals can be bought online from the link below :
Rock festival memorabilia from various festivals can be viewed at the main Rock memorabilia page ,
Led Zeppelin at Bath photogallery
Visit the 1969 Bath Festival pages.
---