The Archive
---
View at 1280 x 1024 for best results .
Last update Jan 2012
---
The Knebworth Park Festivals.

Knebworth Park Concert June 21st 1980.

The Beach Boys, Santana, Mike Oldfield, The Blues Band , Elkie Brooks, Lindisfarne

Right : Program cover for Knebworth 1980 courtesy Steve Bastow
Recordings and Set lists .
Santana onstage at Knebworth 1980 © Ian

visit his Flickr site to see more of his photos
Photo © Pete

Santana
Soundboard or FM - film also presumably exists

6-21-80 Live at Knebworth Park , U.K.


Hannibal
All I Ever Wanted
Tales Of Kilimanjaro/Black Magic Woman/Gypsy Queen
Oye Como Va
Runnin
Soul Sacrifice
Europa
Savor/Jingo
Incident At Neshabur
Lightning In The Sky
Well All Right
Samba Pa Ti
Evil Ways

Santana's set was filmed using multiple cameras although as far as we know it has never been released commercially or circulated as a boot.


The Beach Boys perform a creditable set that stretches from their early days -"Be True to Your School"- through its classic period with "Heroes and Villains," "God Only Knows," and "Good Vibrations"

Notable in their absence are songs such as "Trader", " Sail On Sailor " Marcella" in fact any material from their later albums like "Holland" , which indicated that the band had already begun the long slippery slope it took to becoming a nostalgia act with no new material of worth from the mid 70s onwards .

The Beach Boys
Soundboard CD or DVD

Brian Wilson, Mike Love, Carl Wilson, Dennis Wilson, Alan Jardine.

6-21-80 Live at Knebworth Park , U.K.


Intro
California Girls
Sloop John B
Darlin'
School Days
God Only Knows
Be True To Your School
Do It Again
Little Deuce Coupe
Cotton Fields / Heroes And Villains
Happy Birthday Brian
Keepin' The Summer Alive
Lady Lynda
Surfer Girl
Help Me Rhonda
Rock & Roll Music
I Get Around
Surfin' USA
You Are So Beautiful
Good Vibrations
Barbara Ann
Fun, Fun, Fun
Gone , but not forgotten: Dennis and Carl Wilson at Knebworth.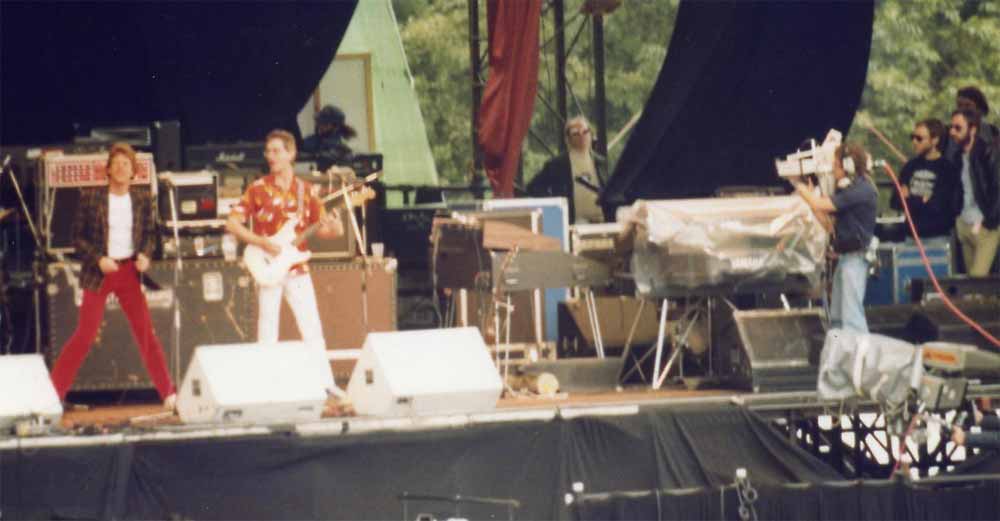 The Blues Band Knebworth 1980 Photo © Pete
visit his site to see more photos from this festival and others




Mike Oldfield
Soundboard CD or DVD 60 mins

6-21-80 Live at Knebworth Park , U.K.



Tubular Bells (Pt. 1) (28:57)
Tubular Bells (Pt. 2) (8:40)
Ommadawn (Pt I) (3:49)
Ommadawn (Pt II) (12:31)
Guilty (5:46)
Elkie Brooks

Soundboard CD - commercial release as part of a Capital Radio compilation album #

6-21-80 Live at Knebworth Park , U.K.


Tush #
Framed ( not commercially released )

---

The Blues Band

No known recordings of the Blues Band to date .

---

Lindisfarne
Soundboard CD - from Fm Broadcast - bootleg

6-21-80 Live at Knebworth Park , U.K.
---
Contents.
---
If you can add in any way to this material ,please Contact us
Offsite Links.
More info about this concert can also be found at the Knebworth House site and at Rip Gooch's site, which contains substantial portions of text from the now defunct book Knebworth Rock Festivals, by Chryssie Lytton Cobbold .
---
Can we get a witness ?

We have been endeavouring to collect as many recordings of the artists that featured at these concerts as possible, so we can effectively review the performances, provide set lists and band line-ups. Any info displayed on these pages or which is sent to us for review remains the copyright of the contributor and the Archive makes NO PROFIT from its use. The intention is to also display as many personal histories of the festival as possible for the benefit of readers of the site and we welcome all written contributions, no matter how long or short.

If you can contribute in any way, with tapes, reviews , photos or personal histories, please Contact us

Knebworth Concerts 1974-86

Knebworth links

---