The Archive.
View at 1280 x 1024 for best results .
Last update Sept 2010. More recollections from a roadie .
---
The Knebworth Park Festivals.
Knebworth Park Concerts

August 4th & 11th 1979.
Technical information and Photos .
Knebworth 8-04-79 : view from the crowd , nice weather, but long waits!
© Stephen Vaughan- visit his Flickr site to see more Knebworth pix
August 4th 1979.

Led Zeppelin, Todd Rundgren's Utopia, Southside Johnny and The Asbury Jukes,The New Commander Cody Band, Fairport Convention ,Chas and Dave.

August 11th 1979.

Led Zeppelin, New Barbarians, Todd Rundgren's Utopia , Southside Johnny and The Asbury Jukes,The New Commander Cody Band,Chas and Dave.
---
Eyewitness accounts from stage crew.
We are also looking for press accounts for this festival to confirm details of when acts performed and setlist details.
| | |
| --- | --- |
| 110,000 watts and to accompany it, what looks like 110,000 bags of trash ...© Henry Cobbold, Knebworth House | |
Mark Bancroft
Hi my name is Mark Bancroft,

I worked at Kneb 79 from the 5/8 till 13/8. I worked for Chris Cooke who was in charge of the back stage area.We built the back stage areas including bars, a cafe. All the dressing rooms were porta cabs which we furnished and tarted up.We liaised with the police and all the welfare groups throughout the fortnight .There were large amounts of people who were camping rough when we arrived. During this time I worked first hand with all the crews,including the guys from showco. Hi points too many,but being close to Jerry Hall and all the other Stones chix was a fantasy come true. The Stones mobile arrived late after breakdown at dawn, first out was a chick- in the dawn she looked like a mannikin, but as she got closer it became obvious that she was naked and covered in stickers !.

The Wednesday sound check, lunch time . Owing to sound restrictions there were small windows to tune the PA. Until then the sound guys were playing a heart beat loop,du dum du, dum. In Stevenage someone told me it must be a pile driver! So Wed was the only permited PA test. Zep arrived , ignoring the helicopter pad they flew into the arena and circled the stage,the chopper wash tested the stage,11 stories at the centre, 5 from the stage to the proscenium arch.

It stood up to this.

Marks missus models the exceedingly rare Knebworth 79 stagecrew T-shirt
The Zep families turned up in Daimler limos and the kids went into the chopper for a spin round the home counties. Chopper cost 750 pounds an hour. Robert Plant was the first on stage, there were about 50-60 crew and liggers in the arena. He sang acapella "Take good care of my Baby" ,the Bobby Vinton song, we were all stunned,knowing of the sadness his family had suffered. Many tough roadies were sniffing, not good for the image.
The rest of Zep appeared. They played "Trampled Underfoot" , I noticed then Bonzo was watching the band .I looked at the drums and could not see who was playing, but he knew his stuff. All you could see was a hand coming over the top to hit the cymbals, later I found out it was his son. So I got to see the current line up in 79 !

As for numbers - who's tellin? 111,000 on the 4th 108,000 on the 11th. But never forget it was the age of bags full of cash, no lx banking then. Zep's booze rider was a grand for the day. Couriers were sent to london for stollies for bonzo, none left locally.
Delays - what delays? When the gate was rushed our jeep was caught inside,when Todd Rundgren was due to go on there were no "white cotton hand towels" side of stage for Todd to wipe his hands.We got in the jeep , crawled through the arena then tore through the park ,waved out by the cops. Then shot down the motorway to the motel, beg twelve towels- roar back, waved in and through the park ,Todd went on 40 mins late, he used 3 towels.....
Todd onstage and not a towel in sight !

Commander Cody would not go on til his manager had the cash in his bag, another delay. As for the Barbarians, Keef and Ronnie parked their luxury coach next to the stage and stayed there til they staggered on - late .There was a lot of staggering. All the dressing rooms smelt like a rastas handbag or a dentists toolbox. Booze just flowed.

Personally, I started at 8am Thursday on both weekends and was paid continuously til Sunday 8 am. I lost 10 pounds in a fortnight, it was hard work. I spent the nights before the show up the spot tower keeping people off. What a sight from up there, partying, bonking ,fighting. They all got thrown out the next morning and had to come back through the gate.

As for Peter Grant , I was in the same room a few times with him and others, I just kept very quiet. Not the type to suffer fools and so on top of his game. Was he tough? yes, very. Was he ruthless to those who tried to rob him, ask them, they may have healed by now.
I have worked a lot of gigs before and since,but none like Zep.When they left the stage, I went on to strike fire extinguishers before the road crew stole them.The crowd was still calling for more. The energy hit you physically, I felt like if I walked off stage into the crowd, it would carry me over their heads.
The showco PA came in by chartered jumbo from Texas, then by Edwin Shirley trucking, 40 odd semis full,It was rated at 110,000 watts. the 2 black wings were full of speaker cabs 5 stories high and as wide as the blacks. The mixing desk was an 8 man lift and took two to operate, we moved it by forklift and it was used by the Stones and the Who also.
We made so much generated power that we were registered with the national grid,there were sound complaints from Stevenage.When Zep took the encore and went past midnight it incurred a 50,000 quid fine. Don't remember much of the lighting, but 750 acls rings a bell, lasers shot a kilometre into the air. There was talk that Zep were planning to record the last numbers, then replay them as a holograph for an encore at future gigs. I watched from the press photo gallery right under the stage, it was so loud that the scaffolding vibrated so much you couldn't hold it, felt like a shock.The guy in the truss spot over head went deaf and kept shouting for days as he couldn't hear himself.
Yours truly
Mark
---
John Harrison
Hi, saw you were asking for memories of this concert, well mine are unforgettable for me so here goes from the beginning…..

I saw the gig advertised on the Old Grey Whistle Test, apparently the Eagles had pulled out and Zep stepped in, that was it, decided, I was going come hell or high water. First things first then, tickets – when and where? Virgin store St Johns Shopping Centre Liverpool, probably some time in June. I arrived at the store, sleeping bag in hand around 6pm on the Sunday night, tickets went on sale on Monday, I was 3rd in the queue, after a sleepless night low key parting with fellow fans we ended up at opening time with a queue around the whole shopping centre, straight in 1 x £7.50 ticket – must have been a whole weeks dole money then! To be safe I had also applied by post for a ticket which when it came back was for the then announced second concert.

So a couple of months fly by and its time for the gig, well being 17 and a bit naïve, I thought – OK I had to camp overnight to get a ticket, how bloody long before should I get to the concert to make sure I get a good spot…? OK I figure a week should do it! So Monday morning (30th July) I hops a lift off an acquaintance down to the M1 junction at Luton, soft bugger only lets me out on the motorway instead of going round the roundabout! Had to jump the barriers and walk across a couple of fields down to the roundabout. From there I think it took a couple of hours to get over to Stevenage.

From Stevenage I walked up the lane leading to Knebworth. As I was walking up near the top of the lane a Transit pulls in front of me and the back doors are flung open.."Want a Lift?", Silly question, I hopped in to the van and there were 4 or 5 people in it. They asked if I was here for the gig, …yes of course, did I have a place to stay or camp, …no. Come with us we are camped on a kids playground, loads of room, …Cheers!

| | |
| --- | --- |
| | |
| | |
| --- | --- |
| | |
| | |
| --- | --- |
| | |

Now my questions.. you here for the gig? (ok silly question), What you been doing? … working on the rig. What Rig?..you know the stage. Fuckin Hell Any Jobs?.. Yeah come down tomorrow with us theres loads to do.

So there I was day one, our own private camp site within easy walking distance of the Lytton Arms, few good ales and the prospect of working on the stage.. Happy Days!!

So Tuesday I gets up and gets a lift in with the others down to the stage area, had to go and see a guy called Gerry who was doing the hiring, job no problem its £1.50 an hour if you work at heights and £1.00 at stage level – well that's decided I'll take £1.50 thank you very much.

Was working with a couple of guys called Happy and Jade, great couple of lads we were putting up the white sheeting around the stage area which would keep the weather out if it rained.

Great day, ended up in the Lytton Arms for tea and beer, back to camp where everyone was getting stoned.

Wednesday, same sort of day only it was raining for some of the day but it would take more than a bit of rain to dampen my spirits!

Wednesday we got the news that Zep would be there Thursday for the soundcheck.. YIPEE!!

Thursday, back to work as usual then I think it was around 2pm the band started arriving, first was John Paul Jones in a BMW 6 series with his wife, second Plant, who I think was on his own, third John Bonham with Jason who must have been around 12 at the time. Last but by no means least Pagey and Peter Grant arrived in a helicopter. Needless to say I had stopped work by then. I grabbed a page of the Sounds music paper from someone and a felt tip pen and went round getting all their autographs, well all except Grants – he was terrifying, and I didn't ask Jason for his either.

Whilst he was waiting Plant had a play on the piano and on the keyboards with JPJ. So eventually they all got sorted and Bonham started hitting the drums – noisy bastard I was right in front of a bank of speakers it nearly took my head off.
| | |
| --- | --- |
| | |
all photos copyright © John Harrison


They did half a dozen songs for the soundcheck, Rock'n'Roll – which is the dreadful picture with the lights on (above right ), Trampled Underfoot – which Jason played the drums on – Brilliantly by the way, at 12!! Hot Dog, In The Evening and a couple more which I can't remember.So that was that, needless to say cracking evening in the pub followed.

Friday was just a work day and the evening in the pub as usual, I had made £60 in my pocket for the 4 days work which in 1979 for a schoolboy was a lot!

Saturday was up early, around 4 ish I think and in to the arena. In the end I was slightly disappointed with the gig as I had had a private show 2 days earlier and there were, at the most, 30 people watching.

Another naiive moment I had was on the Friday, a lad who had only worked for 2 days had approached Gerry (the hirer and firer) because he didn't have a ticket, Gerry said he would sort something out for him. As I had a ticket I felt quite smug and safe in the knowledge I would definitely see the gig. Anyhow on Saturday afternoon I was over by the VIP enclosure to the left of the stage and who is waltzing around in there? Yep mr 2 days, free bar, loads of space, all the bands and guests….DOH!!!!!!!!

Anyway, comes Monday and naiveté strikes again, I went into Stevenage and spent most of my hard earned cash on a new camera so I could get pictures of this weeks sound check … oops no sound check this week!

By Tuesday I was bored, no work, no money so I thought bugger this and hitched back home. I still have the ticket for the 11th.
Ahh Memories!

John Harrison
| | |
| --- | --- |
| | |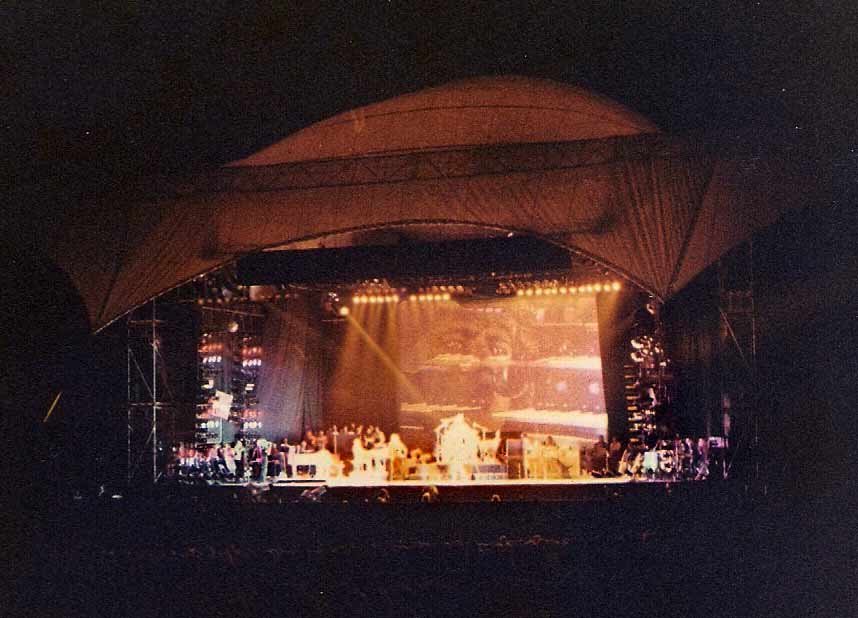 © Jacques Luce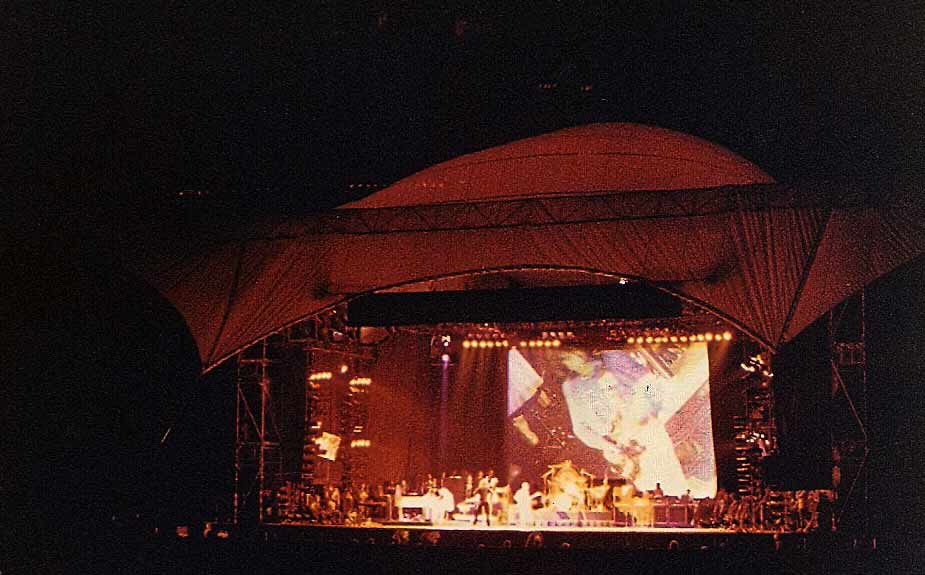 © Jacques Luce
---
Contents.
---
If you can add in any way to this material ,please Contact us.
Offsite Links.
The events in this tangled chain can be read in Freddy Bannister's book, " There Must Be A Better Way " , which chronicles his adventures in promoting the giant concerts at Knebworth from 1974-79. More info about these concerts can also be found at the Knebworth House site and at Rip Gooch's site, which contains substantial portions of text from the now defunct book Knebworth Rock Festivals, by Chryssie Lytton Cobbold , and finally , at Kevin Shewan's Knebworth 79 pages .
---
Can we get a witness ?

We have been endeavouring to collect as many recordings of the artists that featured at these concerts as possible, so we can effectively review the performances, provide set lists and band line-ups. Any info displayed on these pages or which is sent to us for review remains the copyright of the contributor and the Archive makes NO PROFIT from its use. The intention is to also display as many personal histories of the festival as possible for the benefit of readers of the site and we welcome all written contributions, no matter how long or short.

If you can contribute in any way, with tapes, reviews , photos or personal histories, please Contact us

---

Knebworth Concerts 1974-86

Knebworth links
---