The Archive.

Best viewed at 1280 X 1024 res or higher
---
Last update Jan 2012
---
The Knebworth Park Festivals.

Knebworth Fair.

8-21-76.

The Rolling Stones, 10cc, Lynyrd Skynyrd, Todd Rundgren's Utopia , Hot Tuna , Don Harrison Band.
---
The view from the dust.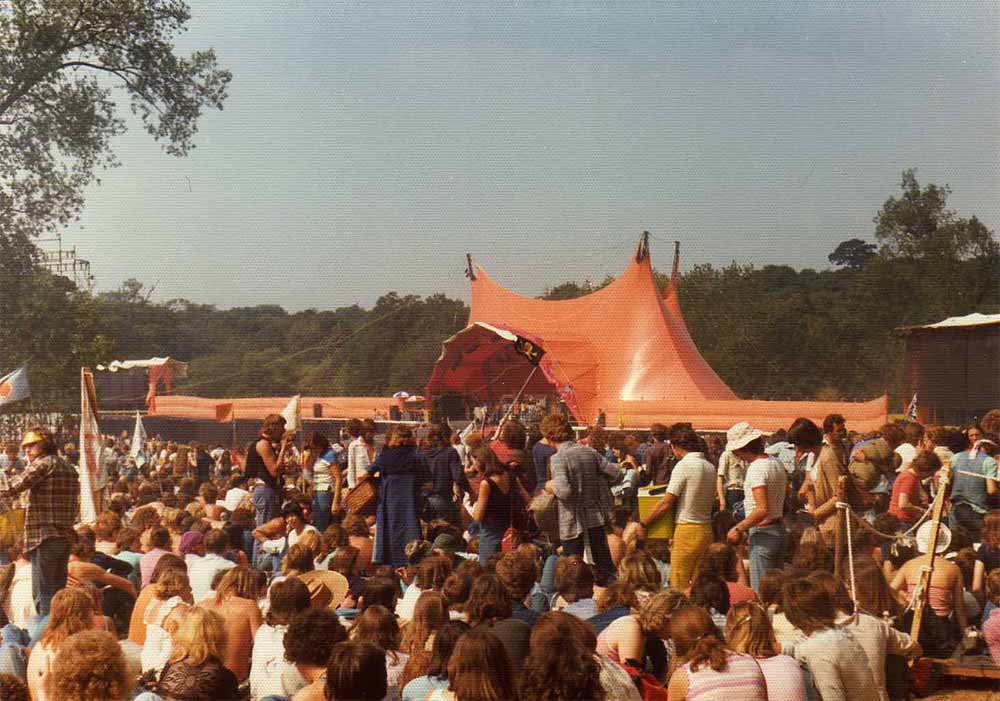 The Stage © Glen Showler
Recollections of festival attendees .
The pilgrimage to the site.....

© Roger Pickering
I was having a good look through your superb site and it brought back memories of some of the great bands of the early 70's. My first big outdoor concert was Knebworth 1976. I was 18 at the time and my older sister knew someone in the business who got us some tickets. I remember arriving at the local railway station and getting a bus to the site along with thousands of others. If memory serves me right there were long queues to get in and we found somewhere to sit during Hot Tuna's set. I don't remember too much about them apart from some interesting soloing. The weather was really warm and most people just sat in the sunshine, smoking and drinking.
I was a fan of Lynyrd Skynyrd at the time and when they came on I made my way right to the front and sat with some guys about 10 rows back from the stage. I remember Lynyrd Skynyrd being really good, the sound was excellent at the front and they seemed to be having a great time. The Freebird just blew me away! I'd seen 10CC the previous year and they were quite good, but they really blew it by starting with a quiet song (Don't hang up?) which nobody towards the back could hear, and there was quite a bit of booing. They soon played some more lively numbers but never really overcame the sound problems.

Lynyrd Skynyrd Onstage -

Image courtesy F Bannister taken from" Spirit of Knebworth" video
After a long wait the Stones came on and played a pretty good show, but once again those at the back could not hear very well and the video screens were out of sync with the music. Still most people seemed to be having a good time from what I remember.
Regards

Jim Buckman
---
One of our most prolific contributors, Garry Bodenham, was also there ...
| | |
| --- | --- |
| | Knebworth had established itself as a slick mainstream one-day venue by 1976, and the Stones gig was no exception. The sun shone as it had all summer, and the crowd basked in the natural amphitheatre listening to the support acts, none of which - apart from Todd Rundgren, I have the slightest recollection of. (Er, Hot Tuna?) In search of more mind-altering input I was successful only in stumbling out of the site and into the local pub, where Mike and myself drank many pints in a camel-like attempt to fortify ourselves for the evening ahead. We realised the folly of this when an hour later we found ourselves in a good spot near the stage but with about 80,000 folk between us and the toilets. Fortunately we had a couple of empty wine bottles which were put to use....(very tricky). |
A party atmosphere built up before the Stones, enhanced by a couple of nice girls next to us, one of whom was being very friendly to me. Yes folks, here I was a few yards away from the best rock and roll band in the world, alcohol in my veins and a beautiful girl making eyes at me. Heaven! Most of the rest of the set was accompanied by mad dancing and passionate snogging, so I could not really say what Mick and the boys were like - but we enjoyed them.
As the evening drew to a close, my new friend revealed that her old man was down at the front, so we said our goodbyes and never saw each other again. Well, it was like that in those days.
Happy memories.
---
I was 15 at the time and it was my first concert. What a way to start ? I left Bodmin, Cornwall with my brother and a friend of his the previous night, picking up a couple of hitchhikers along the way. It took us about an hour and a half to make our way in through the gates and suddenly I was confronted with the spectacle of thousands of people sitting down in the glorious summer sunshine. There was a thin line of people snaking their way to the centre.
People were huddled on the ground right across the very cramped, huge arena. Clouds of dope smoke permeated the air and flagons of cider, bottles and cans of beer and wine were being passed around in all directions. Unfortunately, these were occasionally being used as incentives for people who were blocking the view of the stage to sit down. I saw a couple of people getting smashed in the face, including one unfortunate bloke who was perched in a tree with his girlfriend - not much that he could do in the circumstances.
I sat down just behind and to one side of a large oak tree and suddenly realised that I was in dire need of the toilet, which was about 20 feet to my right. Every time I stood up to go, I was pelted with flying beer cans, so after several attempts, I gave up. Somehow, I managed to hold out until 1.30 or so, when the Stones finally left the stage.
Hot Tuna were playing by the time we entered and found a place to park ourselves, having heard the Don Harrison Band from outside. Jack Cassidy was brandishing a huge Flying - Vee type bass. One song that really stood out in my mind was "Rock Me Baby".
Next up ( I believe ) was Todd Rundgren's Utopia who delivered a storming set with Mr . Rundgren playing some fine guitar soloes.
Shortly after this, one of our new aquaintances ( a very sexy girl whose name I have long since forgotten) asked me if I knew "Freebird". I hadn't at the time, but Lynrd Skynrd's later performance of this rock classic has been firmly embedded in my recollections of '70's rock since then. They were brilliant - loud throbbing bass and of course the triumverate of wailing guitars and the audience were very receptive.
By this time, the sun was starting to go down and the heat and haze of the day was beginning to fade. Ten C.C. came on, but didn't really leave much of an impression - at the time, I thought that they were just a light weight pop band, but I do remember that this idea was dispelled to some degree as they rocked on some numbers.

The tension of the massive throngs in anticipation of The Stones was building up and for some reason, their appearance was delayed by about one and a half hours ( or so it seemed ). Hot Gossip, the foxy dance troupe from the Kenny Everett show put on a bit of a distraction from the wait and finaly the best rock band in the world at the time hit the stage to a phenomenal reception.
They played for abot 2 hours with Mick Jagger bumping, grinding and running all over the stage and the band playing just about all my favourite Stones songs.

10CC Knebworth 76

As it was my first concert ever, I remember many things about the day. Later, I went to quite a few festivals, but Knebworth 1976 remains my all time favourite.
Russell Elliott
---
I was 18 when I went to the festival. A bunch of us travelled down the night before from Dagenham, we had a spare ticket to sell and found a kinda official camper van on site in the middle of cars and tents. They told us they weren't buying back any spares as the organisers had printed a load more tickets when the original lot sold out. Judging by the thousands of people, cars and tents around us it may have been true.

We'd had the brainwave of not taking a tent, but wrapping ourselves in plastic sheeting for the night in case it rained. Not so smart when we woke up at 4.00am frozen and soaking wet from the condensation.

We crashed near to a primitve sound system, where the guy said he'd keep running all night if people could keep him supplied with diesel. Around 1.00am he announced someone had been stabbed and did anyone know what was happening. Everybody freaked out, jumped up and then nothing happened and it all calmed down again.


At dawn we trudged for miles to the arena and eventually plonked down near to the big oak tree stage left, about a million miles from the stage. We soon became fairly tightly packed in which was great for warming up as the sun came out. As it was near impossible to move, food, drink etc was shared around liberally which may be why I can't remember that much about the bands. At one point a bottle was passed along with message 'keep passing it to the edge but don't drink it, it's full of piss'.

I remember Utopia being pretty wild and I think they ended with Hiroshima, a huge thunderflash and a load of fireworks, which didn't quite have the desired effect in the blazing sunshine. Lynrd Skynrd were also pretty amazing (was it their last gig in the UK?). The running times got later and later and I remember all sorts of mad rumours passing around '10cc are trying to record their set for a live album and there's problems with the equipment', 'it's so late it's going to have the plug pulled and The Stones won't play'.

By the time The Stones came on I think I'd been jammed in the same spot for about 18 hours. They launched into Satisfaction, the crowd moved forward and got even tighter. My shameful claim to fame is that as Mick belted out 'Ain't to Proud to Beg' I decided I was about to keel over and so turned around and trudged the very long way home.
---
For me it was a mad one, great memories about being there as much as the music.

After having a great time at Knebworth 1975 I was eager to go in 76. It was the biggest rip-off I ever went to. I didn't go to another concert for a few years.
After waiting to get off the train, yes the platform was that crowded, walking to the event, the buses didn't come. Me and my friend were at the back of a line that must have been several hundred yards long, there were a few lines.
After an hour not moving. A hysterical girl was running down the line screaming "this line is for refunds" The lines broke down and a mob was at the gate, we pushed thru the biker guards and got in, about 4 hours after the train arrived .It was so damn crowded that we were about a quarter mile from the stage, and about a 100 yards from one of the jumbotrons. The sound sucked, toilets were out of service.

Sometime in the afternoon I realized I had paid good money, waited hours in line, was next to drunk bikers, one of whom had thrown up, to watch a TV a hundred yards away with a friend having an asthma attack. I felt I was being ripped off.The concert was running late, might be a good time to come out promptly, no that way everyone might make the train. The stones took hours to come on stage, maybe someone had to sober Mick up, finally the volume was better, I left after a few songs, I didnt want to get stuck in any more lines.
The Stones didn't give a damn about the fans, why should I wait for them? Lots of fans missed the last train and slept there, some of my friends did (I do like the stones music and have seen them, but I don't see that "love the fans thing" that led zep has)

CONCLUSION-it's not cool to get ripped-off
Cosmic Ray
---
The phone rang one morning and a friend told me that he had tickets for the Knebworth Festival and asked me if I would like to like to go. Rendez-vous at the M6 slip road, to hitch all the way down from Grappenhall, near Warrington, Cheshire. At the site slept in a field which had become a car park.

The next morning we walked through the fields to the giant natural amphitheater which was the festival arena. That giant red circus tent-like construction was very impressive and it was to transform for the Stones' set.


This was really the last hippy summer. A whole epoch was coming to an end. The atmosphere was still very "Woodstock" (apart from some aggresive can throwing at one point). Back in London, punk rock was just brewing.
As we entered I remember that Ted Nugents "Stranglehold" was blasting through the speakers. The sound was superb, with the bass and drums hitting you in the stomach. As the day progressed, it got hotter and hotter. I remember all the clowns and mime artists all over the place, who were there to amuse the crowd between acts. At one stage a guy in a gorilla suit was chased across the stage by a clown brandishing a giant hammer. A balloon took off behind the stage, a bi-plane flew over doing acrobatics, the Stones' helicopter also did a low pass.

The Don Harrison Band came and went without creating any interest. We slept through most of Todd Rundgren's set. He was the first to get things going a bit however, at one point strutting out onto the prolonged stage. Hot Tuna came and went without leaving a lasting impression.

Then Lynyrd Skynyrd hit the stage in mid afternoon and the whole place just lit up. They played that incredible, now legendary set. Great, good times boogie rock 'n' roll with lashings of rich guitar playing. Lanky Alan Collins was a very striking figure, dressed all in red like the stage, he became the focal point visually. Huge flares, impossibly long hair and a jutting Gibson Firebird. "Freebird" was the greatest moment of the whole festival and perhaps the greatest of any live performance I have ever seen, for the generosity of the musicians and the sheer joy of the crowd.
Thousands of people jumping about and cheering in unison. As the barefoot Ronnie Van Zandt sang the last refrain, he threw his mike and it's stand over the back of the amp stacks, took Collins under one arm and Rossington under the other, and led them down the sloping stage to the crowd, as the two began their furious soloing. It seemed to last forever, coming to a long drawn out final crunch in front a standing ovation. An impossible act to follow.
It seemed ages before the next act came on. Serious technical problems. Skynyrd had blown all the fuses it seemed. 10CC were an excellent pop band but had a credibility problem at such a "serious" rock event. The sound was rough as they began but gradually improved. They did eventually win the crowd with "I'm Not In Love", which matched the mood as the evening drew in. Perhaps inspired by Skynyrd's finale, they treated us all to a superb long version of "Rubber Bullets" complete with a freak out guitar bash at the end. Standing ovation again, and well deserved.

It was getting cold and dark as we waited and waited for the Stones to appear. The stage had inflated into a giant Stones logo. Then suddenly the "greatest rock 'n' roll band in the world" hit the stage with "Satisfaction". It sounded a bit tinny. Where's Mick ? A spot lit up the far end of the right hand stage extension and there he was. He seemed over dressed in a big floppy cap, jacket and a very long scarf. He strutted along towards centre stage in his own inimitable style, looking like a caricature of himself.

Their set went on and on but seemed a little distant somehow compared to the warmth of Skynyrds performance. It was freezing while the Stones were on, which didn't help. I remember Mick rolling across the stage dressed in a ridiculous pair of glam-rock tights. Ron Wood was impressive, Billy Preston invasive. We were glad when it was all over.
All we could talk about was Skynyrd as we began the long hitch hike back home.

VIDEO -

Most of Skynyrd's set is on the "Freebird" DVD. It is an invaluable record of the day but a little too much crowd noise has been dubbed on. The climax of "Freebird" is absent ! Instead there is a weaker version from a festival show at the Winterland, San Francisco, in front of teeny-boppers who were there for Peter Frampton ! The killer Knebworth "Freebird" is be found complete and unretouched on the otherwise awful DVD "Green Lights, Blue Skies" (Uncut Masters). A must.


James
Now living in Vern-sur-Seiche, France and the author of :
The Jimi Hendrix Record Guide
---
please find attached some photo's I took at the Knebworth 1976 Rolling Stones Gig

We had been to the Pink Floyd concert the year before but none of that one
| | |
| --- | --- |
| Paul 'Splint' Smallwood one fine dude | Dave 'Wiz' Wilson the indian of the group, never without beer, eat your heart out Billy Connelly |
| | |
| --- | --- |
| Hoppo (silent H) our leader and main man, negotiator of deals and hard as nails ( with his wife, Brumbo sleeping) | Johhny 'cheaplaff' Gaskins asleep with a cig in gob, oh how we laughed!! |
What a great day had by all

cheers

Jah-glennie Showler
Cleethorpes
---
Got a phone call from Bob an old friend who said that he had got tickets to see the Stones at somewhere called Knebworth and did I want to go (I lived at that time north of Stirling and Bob lived in the Scottish Borders) Of course I wanted to go, so I jumped into my old VW beetle and drove down to Bob's place where I changed over into his VW beetle and off we went.
It was only after we headed off in a general Southern direction did I look for Knebworth on the map. A LONG way to go but we got there and camped in what seemed to be a car-park. Didn't get much sleep because of the party atmosphere and were up at what seemed to be dawn and followed some people who were making their way into the site.

We rushed down to what we thought was the front of the stage only to find that hundreds of others had got there before us (where did they all come from?) We sat down and later when I looked round there were nothing but people as far as the horizon and it was still morning sometime.

As with all our plans (what plans?) we had nothing with us as all our stuff was outside in the tent/car but we had great neighbours all around who fed us, lent us their binoculars etc. Some guy came past selling Nigerian Bush which we bought and shared around with our friends. This made the rest of the day somewhat of a haze but I do remember Freebird, a small plane doing acrobatics above the crowd and a giant caterpillar winding its way through the crowd eventually ending up on stage before the Stones came on hours late.
They were great nevertheless and we were on our feet during the whole set and bopping with the best of them until it was all over .We left the arena and somehow got to where we had left the car and made our way out and drove home to Scotland. What a great couple of days. I recently found the DVD of the Stones part of the concert in a charity shop for £3 and get to relive an amazing set of hazy memories.

A 64 year old hippie from Scotland.
---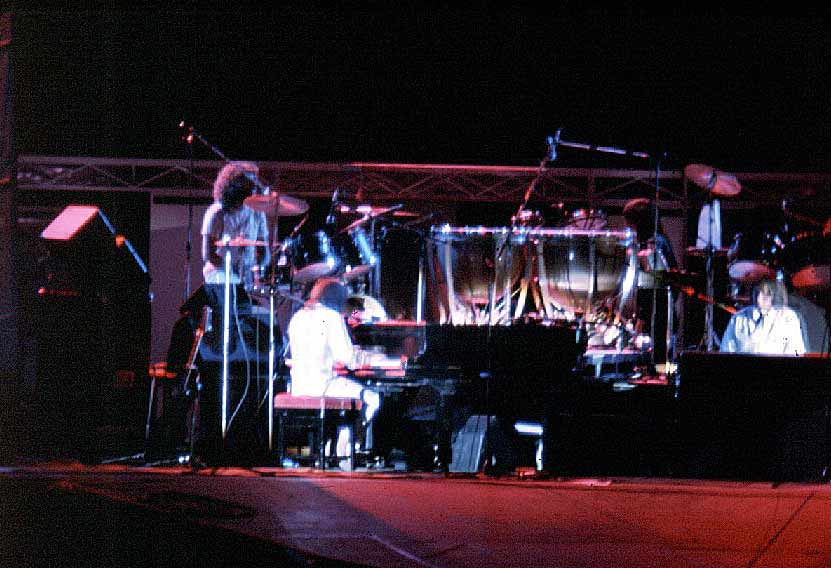 10CC © Leigh Revell
In 1976 I was 22 over from Ireland and working in London but I can vividly remember that year as having a boiling hot summer. Every day seemed hotter than the previous one with pics in all the papers of groups of young people bathing in the Serpentine in Hyde Park to cool down and generally a distinct carnival atmosphere was building all Summer long. The first inkling we got though of the Stones at Knebworth was when a 'Streaker' (remember those) ran on to one of the Courts during Wimbeldon with a poster for the event and it was there and then I decided to go. I duly purchased my ticket £7 at the time (those were the days) and could hardly wait as I counted down the days. That morning I kitted up in my Denims and Leather calf length cowboy boots and set off at 7 am. to beat the rush.
Travelling on my own,I got to the arena fairly soon and ended up about one hundred feet back from the stage straight in front-a good view. The sound wasn't that bad for me and I thought Lynard Skynard were unforgettable,their encore Free Bird literally blew me away. I remember reading where most of that band were killed in a plane crash about a month after the gig so their stint proved unique.As darkness began to fall following a crucifying delay suddenly, a huge pair of rubber lips were inflated above the canopy of the stage and finally the Stones arrived. Guitars roared,Drums rolled and to a tumultuous crescendo the Band launched into 'Satisfaction',could there have been a more perfect intro I wondered. I did not stay to the end as I had to make my way home before all the public transport ended but it was a day I'll never forget.
John Bourke
---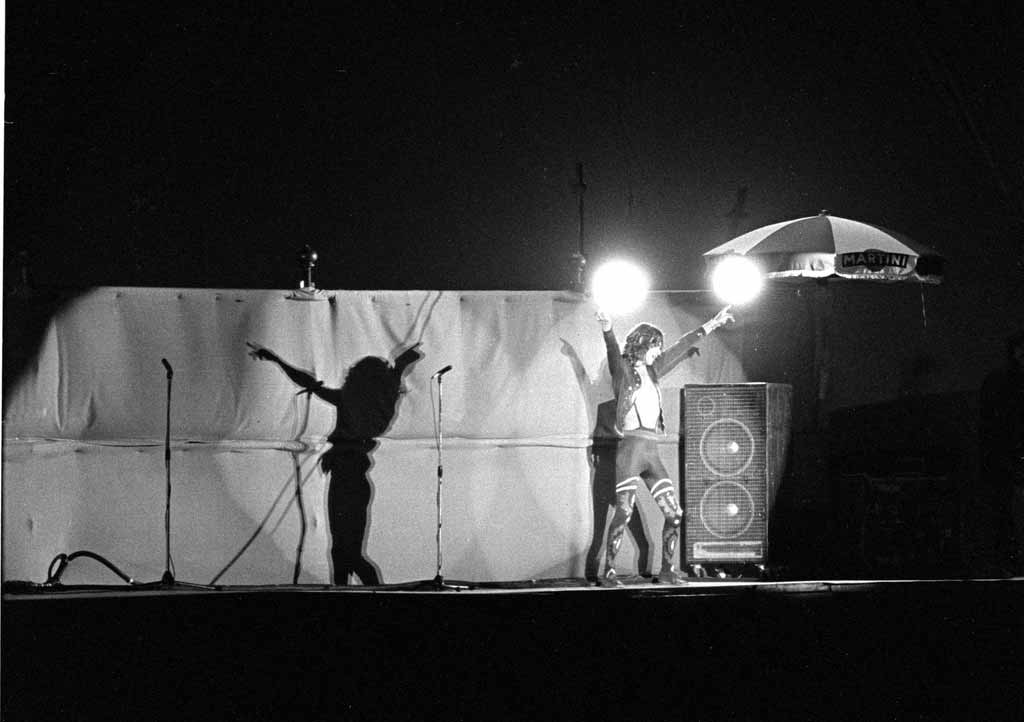 Jagger trips the light fantastic © R Shuff
HI
I went to the Knebworth 1976 festival. I left work in Machynlleth and with others in two cars travelled to Knebworth via Coventry to pick up a friend and food. I was in an A40 and I think the other car was a Zephyr. We went to the supermarket and picked up some food for the weekend – most of us had never been to a concert like this before. On reflection some of the food was not a good choice bearing in mind the weather – margarine and chicken when coolboxes were not common place ended up pouring the margarine onto the bread!
We went to Coventry to pick up a mate and in days before mobile phones it was more by luck than judgement we found him – we went to the nearest pub to his digs and they remembered him and told us where to find him! Ended up in an Indian restaurant for food before setting on the road again. When we got there again by fluke we met up with the guy's girlfriend who had travelled up from south Wales in a separate vehicle and was walking along the road as we went in.
We slept – such as you could with all the noise and excitement before making our way to the field and where we were going to sit for the next 36 hours! We were a large group so it was no problem to go off and wander around because plenty left to secure the spot. The food was limited for a vegetarian but we had our own anyway. The loos were a round metal frame with doors and a seat in a circle with a hole in each cubicle and nothing underneath just a hole and very soon began to stink in the very hot weather we were experiencing in the heat wave that had hit the country.
The music was great although I was a 10cc fan more than a Stones one! We met loads of people we knew despite the size of the field etc. When it all finished we spent the night on the field and were woken by the litter pickers the next morning – no trouble finding the car with most of them gone too! It was an amazing experience for me I remember going to the toilets in Watford gap on the way home to clean my teeth! I had worn the same clothes all weekend as had the others so we were a bit ripe! By the time we got home it was before for bed and a few hours sleep before up for work on Monday morning in the factory summer holiday job.
My parents had no idea where I was going and were amazed to see it full double page picture in the paper and on the news reports! We could spot the flag behind where we were sitting on the picture!
Brilliant that you have this web page about it after all these years and despite having moved so many times since then I seem to remember I still had the programme last time I moved 10 years ago!!
Yours
Lin
---
Hi,

I have just listened on a radio 4 programme someone recalling her memories at Knebworth 76, which I cannot better in detail about the band's,( except to say that I found 10cc one of the best acts on the night musically; with few pretentions, they gave A VERY capable workmanlike performance ) ! After the concert finished, rather a lot of people leaving the arena had slaking thirsts, (myself included) due to over consumption of Alcohol, only to find the main public loo's was shuttered off, and consequently, no access to water!
Then, from nowhere two mini-vans arrived, opened their doors to reveal stacked full, those little cheap clear plastic diluted drinks for about 70 pence EACH, ( You can buy them in chip shops NOW for about 30 pence .) Within about 10 minutes the thirsty hordes bought the LOT. With the strains of 10cc's 'Wall street shuffle' ringing in my ears not 3 hours before, I wouldn't be surprised if 'Trotters Independent Traders' was written on one of the vans!
Yours sincerely,
Rod Mattey.
---
In August 1976 we had just got married and settled down in London. We were a young Italian couple full of dreams and hopes, and liked the same rock music.


Well, to tell the truth, Rita had been a Beatlemaniac (having attended their concert in Genoa, Italy, in 1965, which was her very first rock concert actually), while Enrico was a Pink Floyd fan. Of course we also liked the Rolling Stones a lot and really wanted to get to Knebworth.


So off we started quite early with our camper from London and Enrico drove all the way down through the M6 motorway to reach Stevenage near Knebworth in Hertfordshire.


We went there with an English friend of ours who had lived in Italy, but her family was from the nearby area and after a couple of hours we got there.

We remember that there were so many people and music and we recall some of the groups who played: Hot Tuna, Lynyrd Skynyrd, and Todd Rundgren's Utopia.
But coming from Italy we knew and were mostly interested, as almost everybody, in the Rolling Stones.

The afternoon was very hot, and we sat down on the grass not very near from the stage.

The stage was a Stones' idea with the particular shape of the mouth with a tongue as well as the ideas of the clowns and topless girls in order to give a carnival atmosphere--- and we remember the big screen was for a better view.

It was a long time before the Stones arrived, at about 11,30 pm, and the hot day slowly chaged into a beautiful summer evening.

At last the "greatest R&R band in the world" appeared and Mick started shouting "Satisfaction"... The few hours of the concert let us "spend the night together" quite well and the show was fantastic.

The atmosphere was so unique you could enjoy in all those music festivals in the '70s.
It was probably one of the last hippy festivals which ended an era forever.

We posted some photos by Enrico as a contribution to your interesting and emotional site with the regret we could'nt take more pictures...

in those times digital cameras had still to come...
What a fantastic memory we both have now of that night !


Oh, what a night!

Enrico and Rita Pelos

http://www.lovelyrita60.blogspot.com/
http://www.enricopelos.it

---
Going to Knebworth to see The Rolling Stones in August 1976 was a really big deal to a guy from Northern Ireland just turned 20 and let loose on England's roads for a week on my new motorbike.
I remember walking into the arena around noon and being blown away by hearing Led Zeppelin's 'Kashmir' for the first time time being played over the PA. Would have loved to see them at Knebworth three years later but was away on holiday. A friend did go, but drank so much he was unconscious by the time Zeppelin came on and slept through it all – what a waste!
During the course of the day I enjoyed most of Todd Rundgren, all of Lynyrd Skynyrd and most of 10cc.
As it was 35 years ago my memories are a bit hazy (was it the effects of the strange smelling pungent smoke wafting across?) but I do remember the TV camera man in front of the stage in his hydraulic seat rising up every now and then and being pelted with cans and bottles because people behind him couldn't see past him. I don't think we saw as much of him after that.
Then there was the really, really long wait until the Stones came on (was it hours?) and I was dying to go to the toilet but didn't want to leave my place in case I couldn't get back. I was also getting hungry but a couple of girls beside me took pity and kindly shared their supply of seeds which I'd never had before but I was starving and would have eaten anything.
At Last the Stones came on and made up for the wait with a really long set which I think lasted until about two in the morning. The stage was a brilliant concept with the band playing 'inside Mick Jagger's mouth', the lips inflating and the tongue acting as a platform out into the crowd.
Up until then my concert experiences had been restricted to Rory Gallagher and Horslips who both regularly played the Ulster Hall. Knebworth was obviously a different league and combined with the great weather made this an unforgettable day.
Terry McKee
---
250,000 people in a field in the English countryside. Naked people. LSD is openly on sale. I am too timid to try it. Lost people trying to locate their friends wander through the crowd shouting names – one of them is Wally. Don't forget the flag you sat next to or your party seven will get drunk by your friends before you get back. Never mind – you can stand on it to watch the stage – which is a million miles away. We watch the monster screens instead. Wally!, Wally! Wally! every few seconds.
The urinal pits fill by mid-afternoon and then overflow in a muddy yellow river running down towards the naked people at stage left. I want to see the naked people. We don't move – moving is difficult and there is no return. The food is free and the Hare Krishna short order cooks want me – and I have to pay for a book in order to get away. I have the strongest memories of Van Halen parachuting out of a light aircraft to perform mid-afternoon – which I can find no record of – except references to the fact they faked doing so on other occasions. I don't remember seeing them play and can't find a record of it anywhere – strange.
A man runs on stage, gets naked and pleasures himself for what seems far too long… eventually to completion and the act is replayed again and again on the big-screen. The Stones were not very good to be honest. Circus performers lined the long sides of the stage. Skynyrd were my – and I think the crowd's - favorites that day, even though they were a relatively new act at that time and I had never heard of them before. 10cc - the last performance of this band incidentally - came on after delays. They were probably the best act of the day sound-wise, but the crowd wanted to get it over and see the 'Stones perform. "Just Like a rolling stone, I'm outside looking in" they sing and the crowd goes wild. I'm Mandy, Fly me but the crowd isn't listening to the music - its been a long day.
Fear of going to the vast, overflowing hole-in-the-ground urinals – and losing my friends on my return. The doors to the porta-potties swing open down hill and you need a friend to use them. I have the strongest memories of the exiting crowd mooing like cattle as we moved out of the arena. 40' tall chicken wire fences fell like matchsticks as the mass of people hit them. Sounded like cattle, but looked like ants marching. Later, a quarter million people sitting around makeshift fires – dawn is coming by the time we get back to the tents. A tent, then another then another goes up in flames to reveal people having sex in their sleeping bag.
We get on a bus to ferry us to the station. I think I didn't pee for 3 days. I decide that I may never wear shoes again. Some months later in London I discover that Hare Krishnas approach people with no shoes on and go back to wearing them.
Jon Connell, Brooklyn, NY
---
My most vivid memory of knebworth 1976 was the massive queue at the drinking water tap. After queuing for 30 minutes I swopped my almost full bottle of southern comfort for a small bottle of water with a guy at the head of the line,
we both thought we got the best bargain.
V Knight
---
…I remember sleeping in provided plastic sleeping bags in a marquee, double diamond I think was 26p a pint at Stevenage leisure centre. They turned all the lights out and played Pink Floyds, Meddles the whole B side, that's all I can remember.
Kind Regards
Dave Goddard
---
I went to the Knebworth in 1976 all the way from Brighton where I was spending the summer as a student of english.. Coming from Spain and 16 at the time, I tried to find somebody to join me to the Rolling Stone concert and my first concert ever. Since no body joined me, I made my way there on my own by train... I met some spanish guys on the train station from Bilbao and spent the whole concert with them.. First pills I took in my life too.. Still don't know what it was at the time.
A great atmosphere throughout the whole day and from the concert itself I have vague memories other than we had to wait endlessly for the Rolling Stones to start their concert.. the atmosphere cooled down until they came on and then it really got going...
I remember we somehow got back to London in the early hours next morning and we dragged ourselves to a flat somewhere in London where I remained for the rest of the summer.. I can only recall that an Ice-cream van came now and again to provide us with dope... Yep, that was the end of an era and I still treasure the entrance ticket from the concert as a memorable event..
Pablo Ventura
---
Hi

Knebworth festival 76, there was another act on the bill that day that didn't get a mention; it was The Jess Roden Band they started the festival.

Great site guys

Mark Cowie
---
During the afternoon, between acts, a naked hairy hippy type walked onto the stage.

He proceeded to masturbate in front of the whole audience.

When he had finished he spoke into a microphone 'Sorry for keeping you waiting so long'.

He then left the stage and someone came on with a mop and bucket to clean up.

I later heard a rumour (or read something in NME or Melody Maker) that he had been thrown from the back of the stage by security and had broken both ankles.

Can any of this be corroborated?

Paul Mooney
Norfolk
---
After Floyd the previous year I wasn't missing the Stones. Saw them earlier at Stafford Bingley Hall, it was the Black and Blue tour.
Me and 2 mates travelled down from the north west, camped the night before and didn't need to bunk in as we had managed to get tickets earlier.
Fell asleep and woke to Lynyrd Skynyrd who were excellent. 10cc was the calm before the storm and the stones were absolutely superb.
Still got the programme and other bits of memorabilia like the sounds at knebworth badge.
Missed the following few years due to weddings and hols and didn't return till 96 when on the guest list for Oasis, Ocean Colour Scene were brilliant as were Oasis.

Kind Regards

Graham Brumby
---
If you can add in any way to this material ,please Contact us.
---
Can we get a witness ?

We have been endeavouring to collect as many recordings of the artists that featured at these concerts as possible, so we can effectively review the performances, provide set lists and band line-ups. Any info displayed on these pages or which is sent to us for review remains the copyright of the contributor and the Archive makes NO PROFIT from its use. The intention is to also display as many personal histories of the festival as possible for the benefit of readers of the site and we welcome all written contributions, no matter how long or short.

If you can contribute in any way, with tapes, reviews , photos or personal histories, please Contact us

Knebworth Concerts 1974-86

Knebworth links

---