The Archive
Best viewed at 1280x 1020 min resolution.
Updated November 2010
---
Uxbridge Blues and Folk Festival.
Hillingdon Borough Showground.
1965-1966.
---
June 19th 1965
| | |
| --- | --- |
| | The Who, Solomon Burke, Zoot Money , Cliff Bennett & The Rebel Rousers,John Mayall's Bluesbreakers, Spencer Davis Group, Marianne Faithful, Long John Baldry, The Birds, Dave Witting, Ray Martin Group. |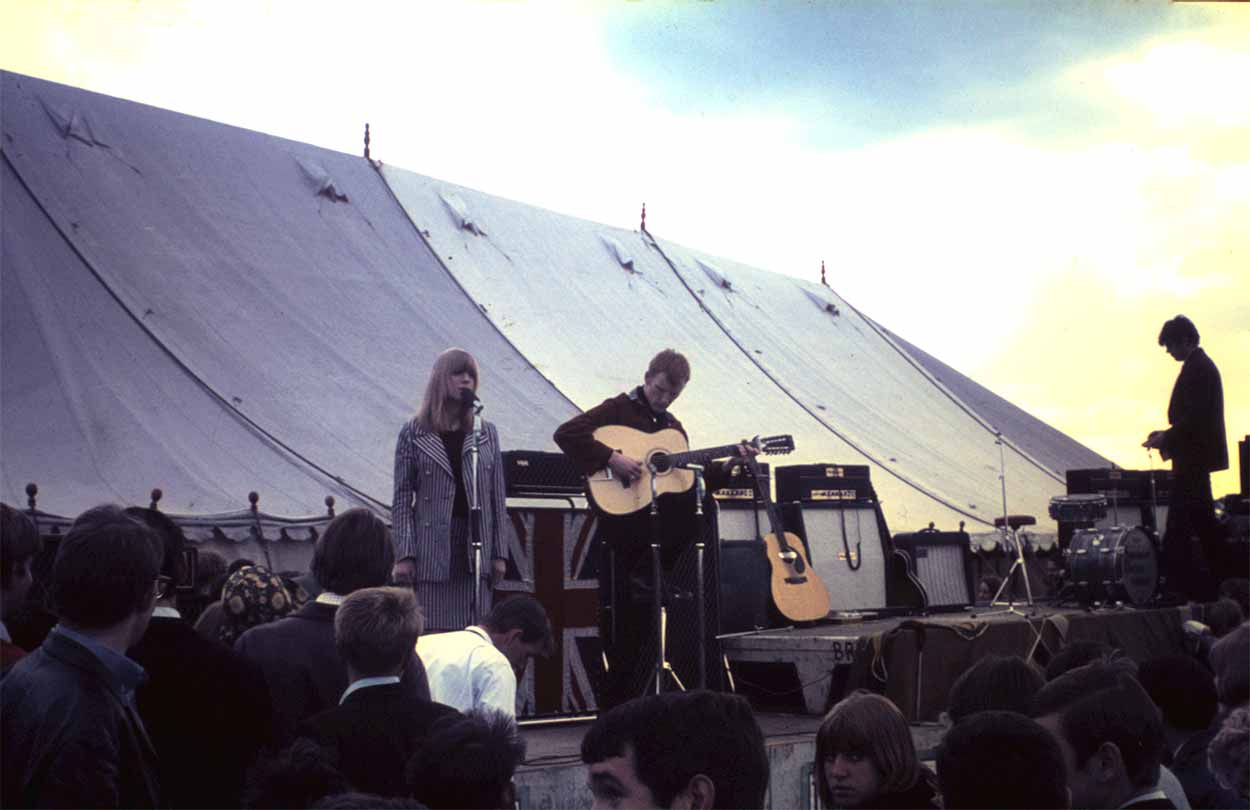 Marianne Faithful wows the hordes at the Uxbridge Blues Fest 1965 © Keith Davis
Blimy, the Uxbridge Blues Fest. I was 14/15 at the time & lived a 10min walk away from the site & recall sneakin' in to see The Who, Brain Auger & Cliff Bennett. I think it was those gigs that set me on a career as a sound man some time later. I'd love to find out what the PA was.
Any organisational info available anywhere that you know of?
Dave
audio-alchemy.co.uk
---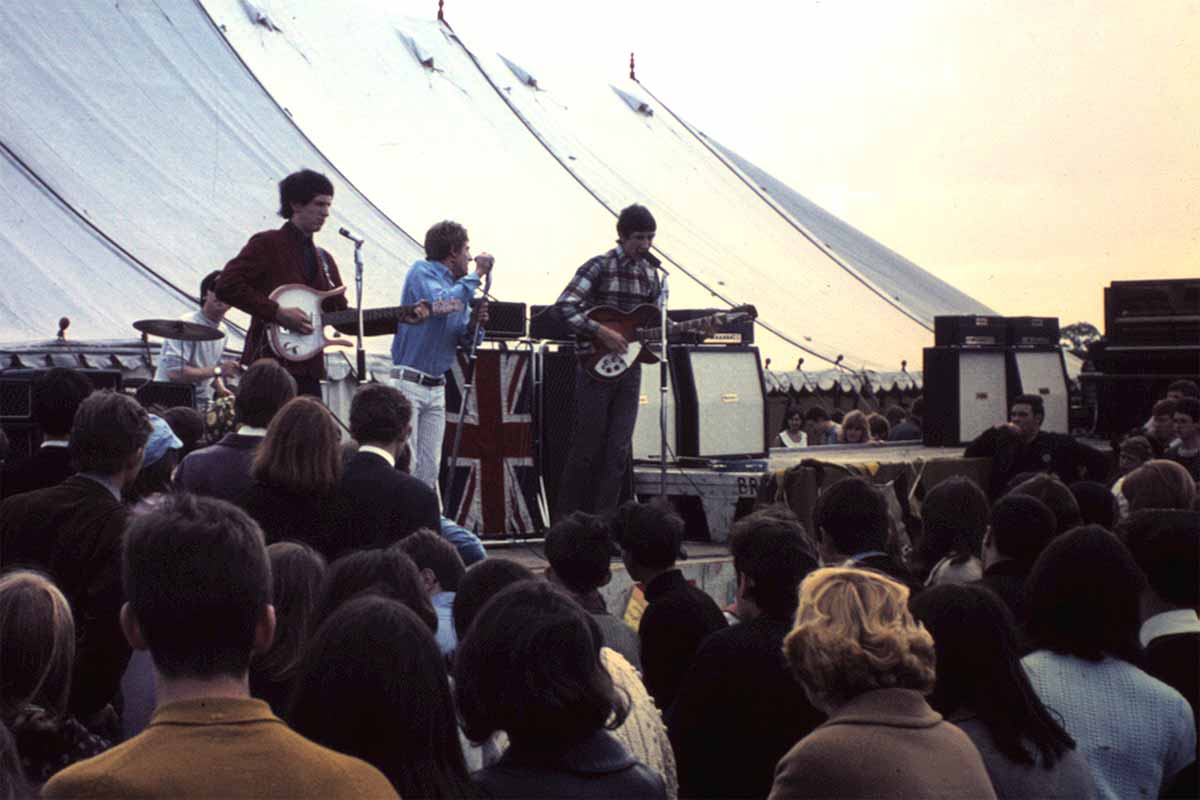 The Who Uxbridge Blues Fest 1965 © Keith Davis
I was a mod. I liked listening to the soul records and I used to go to the Marquee, the Flamingo and other venues to see the bands. My cousin, Bob, shared my tastes and we hung out together. We went to the festival because it seemed like a good idea to see a load of bands in one go. The big draw was Solomon Burke. I had already seen him on "Ready steady radio" at the Marquee on the Friday and thought he was great.
I phoned Bob yesterday and he remembered that we "bunked" on the tube to get there and that it cost 6/6d to get in. That included the afternoon and evening sessions. We lived in Islington and Loughton in Essex, so we couldn't stay to the end, because of the tubes, my cousin remembered, so we sold our tickets to someone coming in. Bob remembered that we missed the Graham Bond organization.
It was a sunny day. I remember Eric Clapton playing with John Mayall's blues band. The Birds, who were, at that time, going to be the next big thing. I only read recently that Ronnie Wood was in the band.
Although he was not on the bill I think I remember Donovan playing. I think he had just come out on RSG. (I used to often see him on the last tube home from the west end).
Bob seems to be clearer than me. He didn't remember Donovan, but he remembered Zoot Money and that Ginger Baker played with 3 or 4 bands.
My clearest memory is that there was hardly anyone there. I was shocked when I saw the crowds at the Isle of White and Woodstock festivals a few years later.
I'm sorry I can't be more helpful. You know what they say. "If you can remember the swinging sixties……..".
Sue Burgess
---
you will find pics of Solomon Burke and Marianne Faithfull from this event on their respective pages at photofeatures.com

Chris Walter
Photofeatures International
Web:www.photofeatures.com

---

In June, 1965 I showed up at the Uxbridge Blues Festival with the unscheduled Rev. Gary Davis.

I was living with my parents in Wembley. I'd just left school. I was the drummer in a local band called Episode Six.
Our former tour manager, Brendan Power, had been given the job of looking after Gary while he was in England. Being blind Gary didn't care about seeing anything but he did want to drink some scotch whisky and smoke some cigars and Brendan knew he'd find both at my parents' house. Lo and behold Saturday afternoon he shows up at the door and says: "This is the Reverend Gary Davis." I'd heard some of Gary's recordings and also a song, Cocaine Blues, which was attributed to him. I brought out my Hawk 12-string guitar and Gary played for my family, smoking and drinking and having a really good time. As it got later I suggested to Brendan "Why don't we go to the Uxbridge Blues Festival?" and off we went.

We showed up and a lot of people got excited. Eric Clapton and Long John Baldry were especially thrilled to meet him. Someone asked if he'd do a couple of tunes. He consented and I led him on and off stage. When he was asked to do one more I whispered for him to do "Cocaine" and he did.
A wonderful night I'll always remember.
Harvey Shield

---

News of Solomon Burke's death today reminded me that this was the only time I saw him. I remember riding my scooter (TV 175) out to this festival on a fine summer's day and being distinctly underwhelmed. I bought a ticket on the gate and it was obvious that it was far from sold out. The crowd was small and the performers didn't seem motivated. The Who were distinctly lukewarm and Pete Townsend looked really pissed off with the audience. Marianne tried hard to get a response, what I most remember about her is how young she seemed (I was only 20).

I couldn't concentrate on Solomon Burke's music as I found his attitude and dress embarrassing. Why dress up and behave like a spoilt royal with a fawning retinue? Here was a man at the peak of his ability and he threw it all away with a tacky stage act. I'd seen Long John Baldry many times before this and don't have any particular recollection of him here, but then I left well before the end. I can't remember if I saw any other bands. This was probably the first open air festival that I went to. Thank goodness it didn't put me off festival going!
Free Concerts in Hyde Park, Windsor, Weeley, Reading, Finsbury Park, Cropredy, Primavera, Latitude - I'm still going.--
Jan Wysocki

The late Long John Baldry Uxbridge Blues Fest 1965 © Keith Davis
---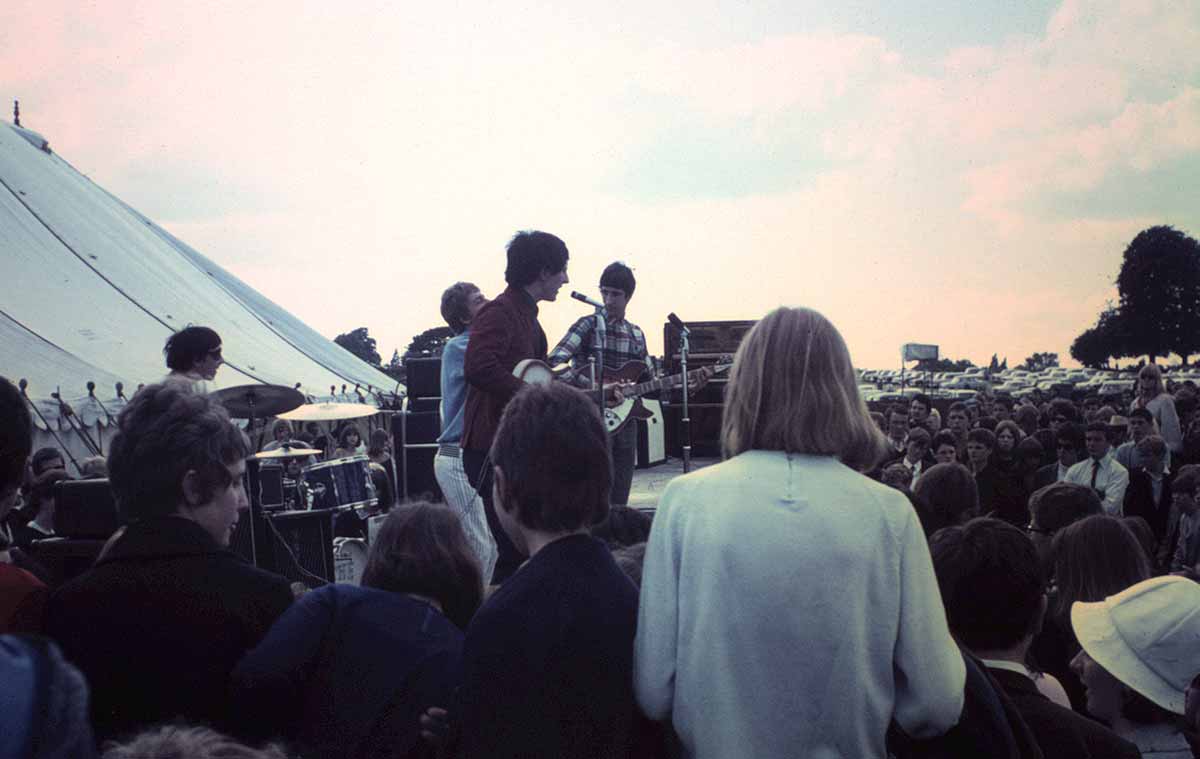 The Who Uxbridge Blues Fest 1965 © Keith Davis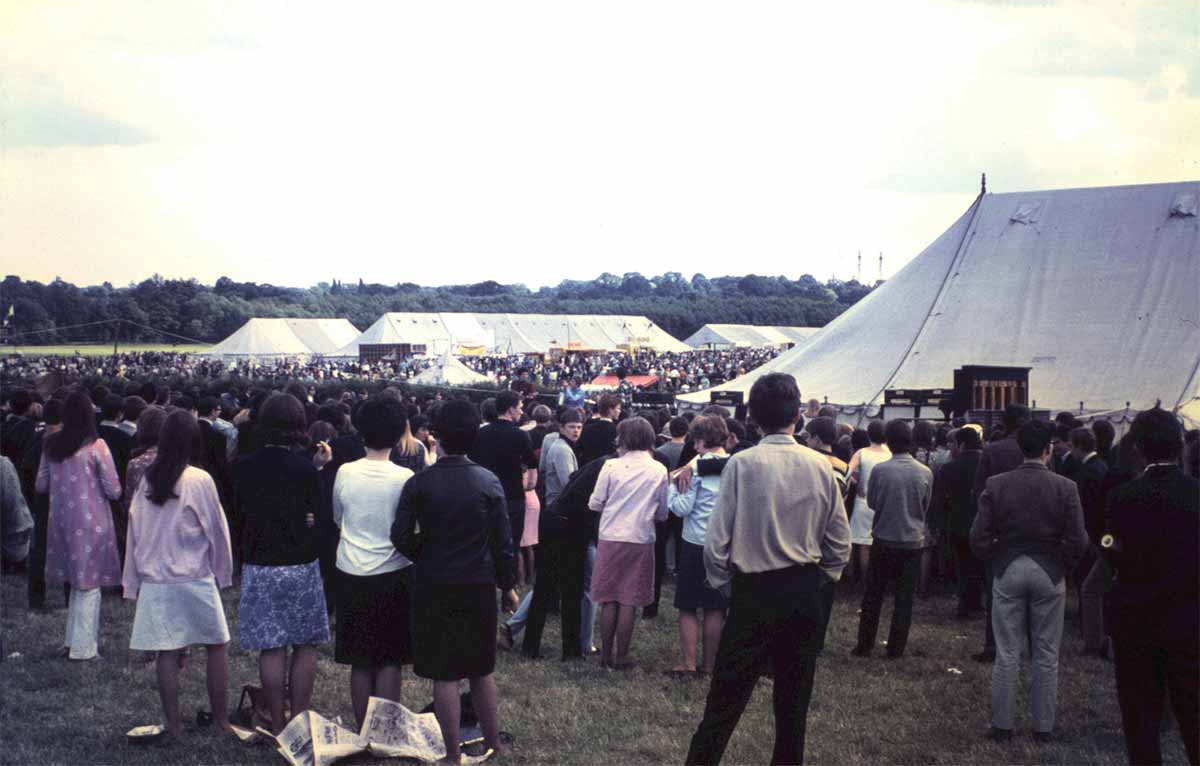 Uxbridge Blues Fest 1965 © Keith Davis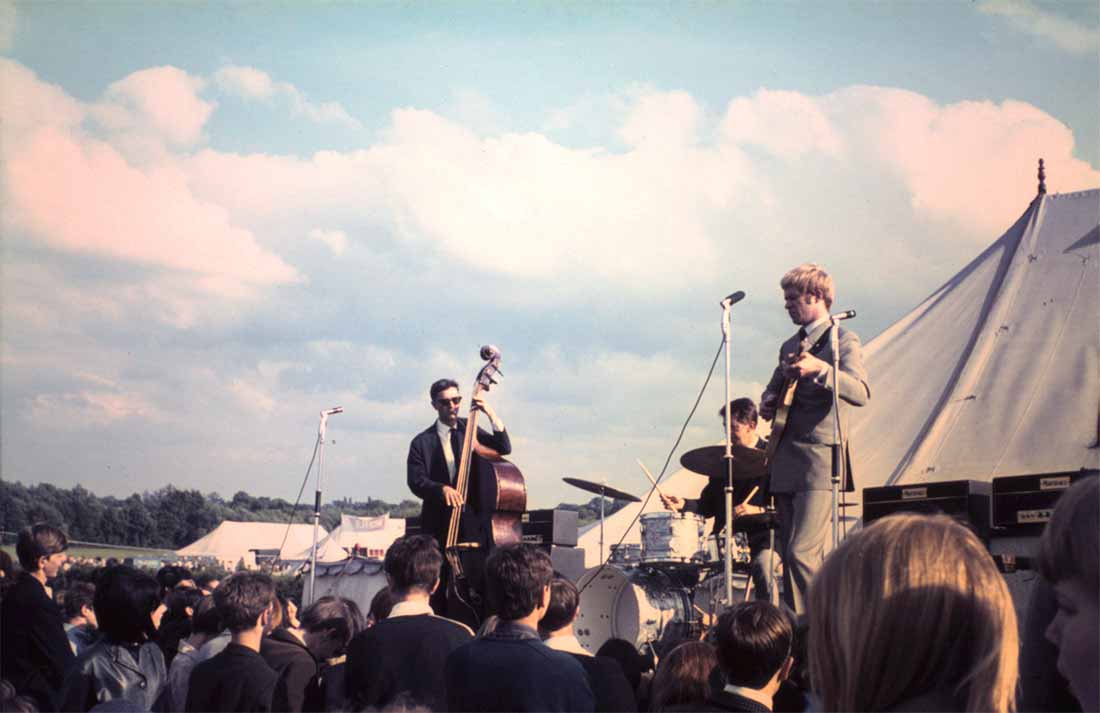 Mr Baldry yet again , Uxbridge Blues Fest 1965 © Keith Davis
---
Uxbridge Blues Festival.

Saturday 18th June 1966.

Manfred Mann, The Action,

Steam Packet - (with Brian Auger Julie Driscoll and Long John Baldry )

Alan Walker Group .
I saw Susi Quatro on TV yesterday and looked her up on Wikipedia because I was sure that I had seen her supporting Long John Baldry in 1966 when I and several friends went to the Blues Festival. If she wasn't there it must have been Judy Driscoll. I don't remember much about it (too much beer!) apart from getting Long John's autograph and posing for a photograph which has been lost. About a dozen of us dropped our trousers and mooned at the camera while kneeling down, very funny!!
Regards, Ian Stewart
We are looking for eyewitness accounts of these events
---
Please feel free to contact us and contribute towards building pages about each festival by Contacting us . We try to reply to all messages, but sometimes it takes a while .Usually we wait until we have enough new material to warrant a page upgrade , so posts may take quite a while to emerge on the page .
---
Return to Archive