The Archive.
Updated April 2007
---
Yes : "Relayer Tour "
with
Gryphon, Sensational Alex Harvey Band , Ace.
Stoke FC Victoria Ground, Stoke On Trent
May 17th 1975.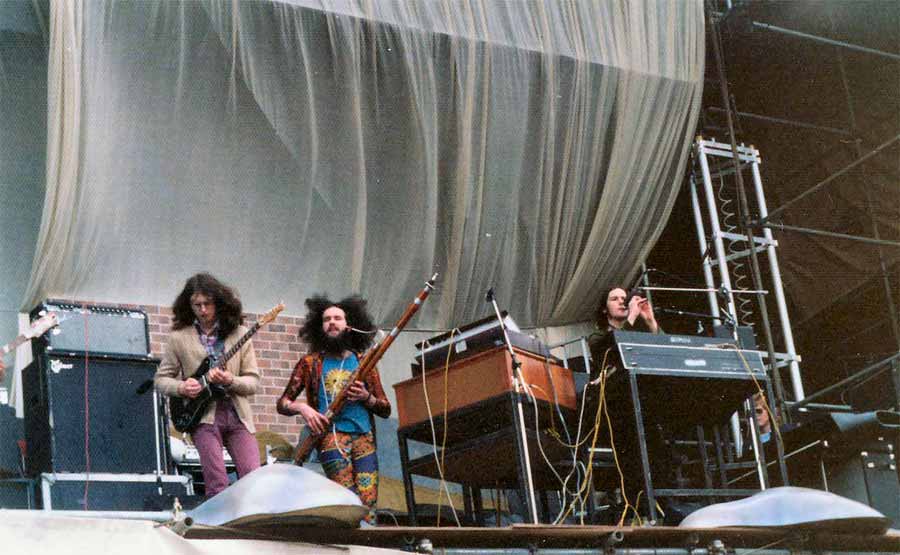 Gryphon onstage Stoke 1975 © Steve Austin

A football stadium concert , seating 35,000 , part of a nationwide tour by Yes ,whose set was disrupted by heavy rain and was eventually cut short .Some scuffles broke out during SAHB 's set . More extensive eyewitness reports can be sourced here

Yes :
Jon Anderson (Vocals)
Steve Howe (Guitars)
Patrick Moraz (Keyboards)
Chris Squire (Bass)
Alan White (Drums)

Setlist : Firebird Suite,Sound Chaser,Close To The Edge,Gates Of Delirium,Your Move/Mood For A Day,Long Distance Runaround
Ritual,Roundabout .
Audience recordings exist of both the Alex Harvey and Yes sets at Stoke 1975
---
If you have photos, recollections, set lists, newspaper reports or tapes of this event then Contact us if you can help.
---
Back to the main Archive.