The Archive
updated June 2021
---
September 13-15th 1969.
Rugby Rag Blues Festival.
Rainsbrook. Rugby . Warwickshire.
---
Another three day extravaganza, this one seems to have been totally forgotten, yet it had almost as big a line up as the 69 Bath festival and featured many of the same bands. However, once again , it RAINED almost continuously .

Understandably only 3000 turned up but the music went ahead nevertheless, with artists such as Pink Floyd , The Nice, Taste, Free, Third Ear Band, Ralph McTell , Roy Harper and Edgar Broughton appearing .

The festival featured a different form of music on each day, similar to the early National Jazz and Blues fests. Pink Floyd are supposed to have used a rather spiffing light show and the Hells Angels were the usual police force.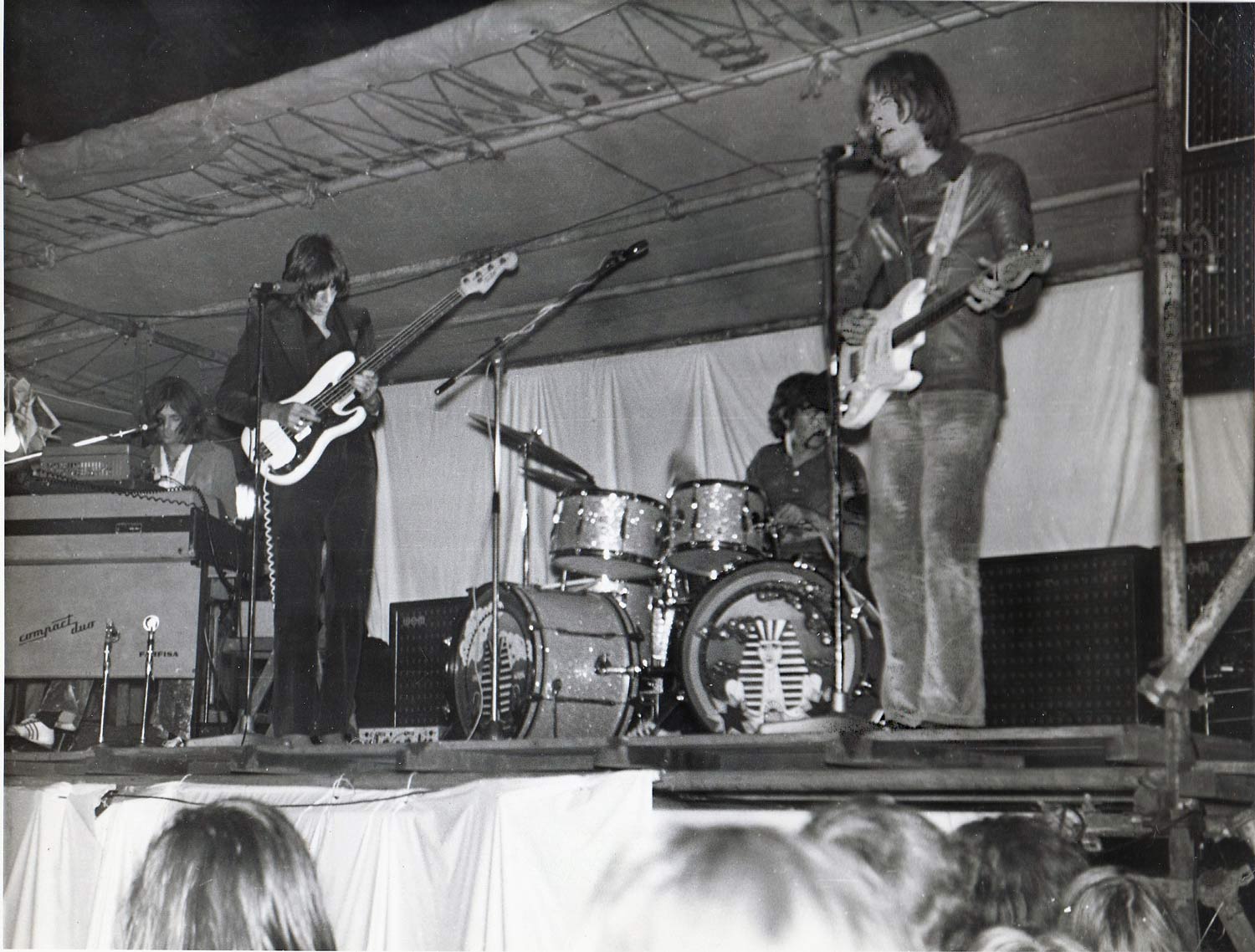 Floyd onstage at Rugby Blues Festival © David Goodwin.
Recollections
SOME MEMORIES OF THE RUGBY RAG BLUES FESTIVAL. Day two
The festival at Woodstock may have been a bit better known but, for those who wanted to see the acts that would be important over the coming decade, the place to be was a rain-sodden field on the outskirts of Rugby. Upstate New York was a bit out of our reach but, for two just-turned sixteen year olds from Bolton, a festival at Rugby was almost as big an adventure.
There seemed to have been about fifty people there. I don't recall anything in the way of catering except an ice cream van which was somewhat irrelevant as it rained virtually all day. I guess there must have been toilets but those have probably been blanked from the memory.
What we did find was a tower right opposite the stage (mixing desk ?) which provided a metal bar to sit on that provided some slight shelter.. It is still amazing that there was not more competition for this spot. The only other person to share it was reading the Hunchback of Notre Dame throughout the day.
Bridget St John and Third Ear Band tried their best but the weather was against them. Mike Absalom dissed all the other folkies – particular Roy Harper.
Appearances by King Crimson were quite rare at the time. They had not even released their first album but they already had a huge reputation. This was the future – a lyricist ! a guitarist who sits down ! state of the art electronics ! The Court of the Crimson King set still sounds pretty good today. We heard it for the first time that day and it was incredible. Yes, it was the start of prog and all the horrors committed in its name but to hear this stuff for the first time was a revelation.
After that, Free appeared. Everything was in place for their coming world domination except the killer hit single. Of course, that duly arrived a few months later. They were probably already at their peak at this performance. Suffice to that Jimmy Page's lot seemed underwhelming in comparison when I saw them at around the same time
There was even a foretaste of the 1976 punk revolution when the Deviants made an unscheduled appearance. Unfortunately, they were more like a forerunner to Ed Banger and the Nosebleeds instead of the Sex Pistols. Attitude is more important than musical competence. Like fxxx it is.
After that, the crowd desperately needed a set of righteous agit-prop blues rock delivered with Beefheartian bellowed vocals. The Edgar Broughton Band rose to the occasion like the festival veterans they already were. Finally the bedraggled few got to their feet and mass enthusiasm broke out. What more could a festival offer than to jump up and down in a muddy field chanting "Out Demons Out" for what seemed like several hours ?
I like to think that this was Edgar's finest hour. I saw him at Glastonbury this year but decided against talking to him about that night. It would have been too disappointing if he didn't remember it.
The headliners were the Nice and Pink Floyd.
At that time, roadies were employed more for their abilities to hump large pieces of equipment around rather than any technical skills.
Keith Emerson's keyboard looked like a garden shed with keys attached. Watching the roadies getting it on to the stage was entertaining enough. Watching them spending hours trying to get it into working order was not.
Eventually we realised that the price of watching the headliners would be sleeping in a wet field and set off to get the late late train back to Manchester. On Rugby station we heard strains of music. The Nice had finally got started. Or was it Pink Floyd ? That mystery has been argued over for the last 42 years.
Robert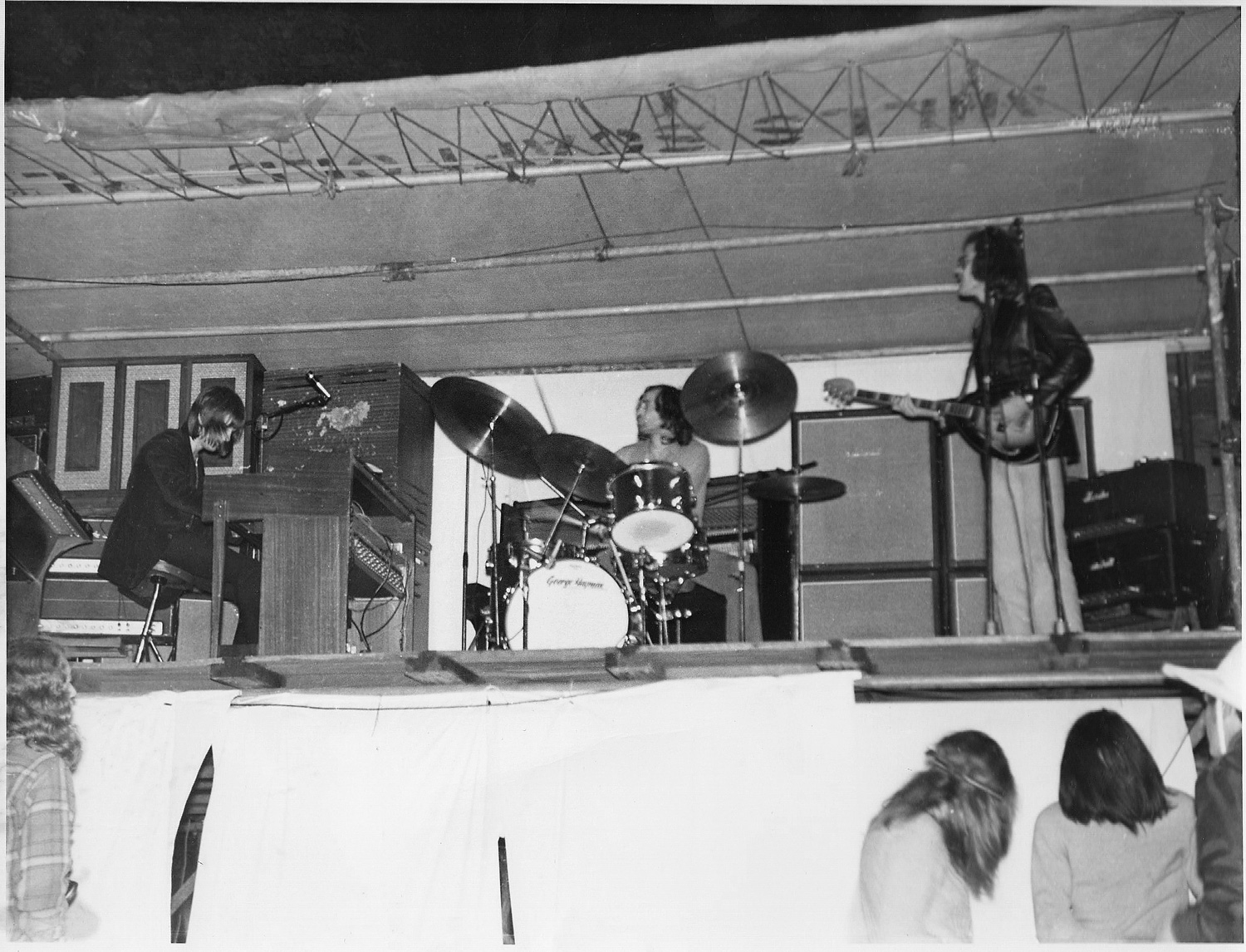 The Nice onstage at Rugby Blues Festival © David Goodwin.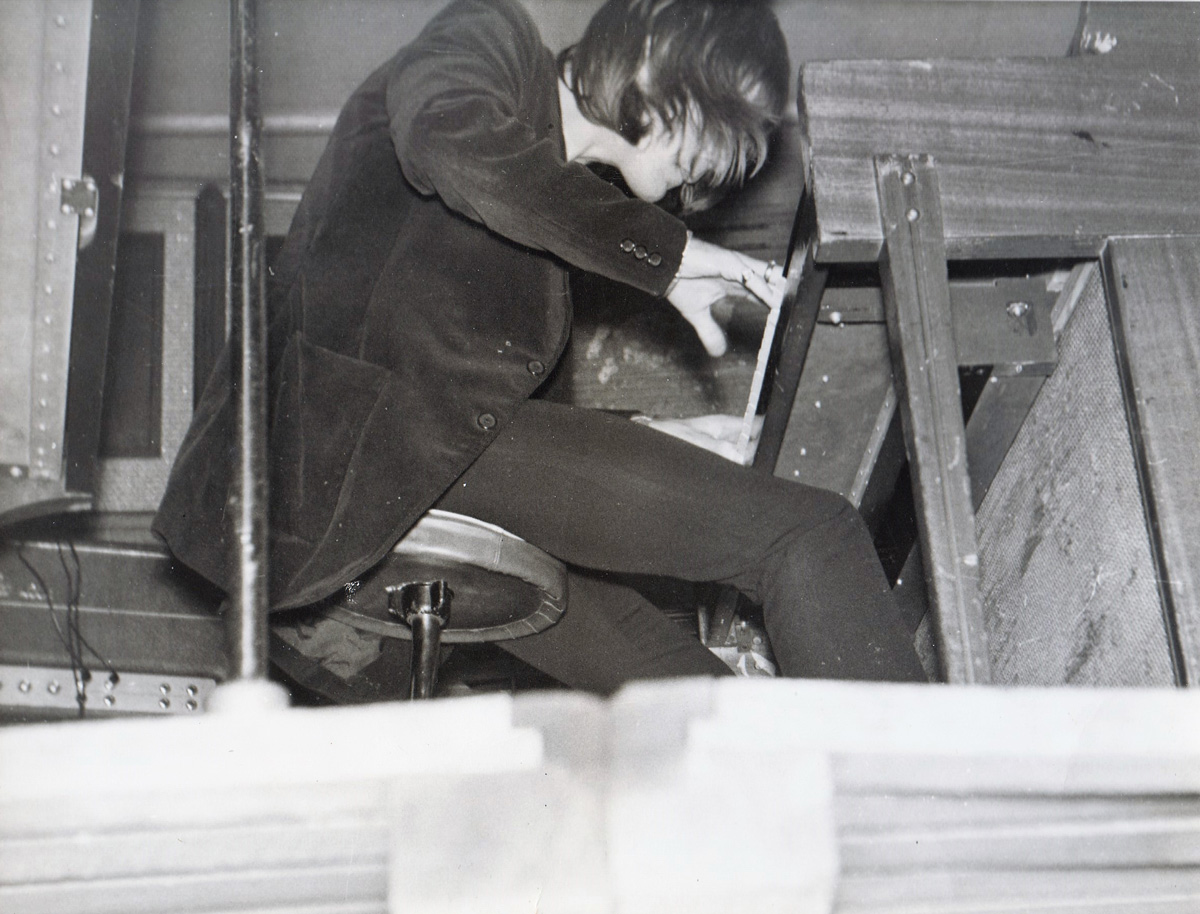 Keith Emerson © David Goodwin.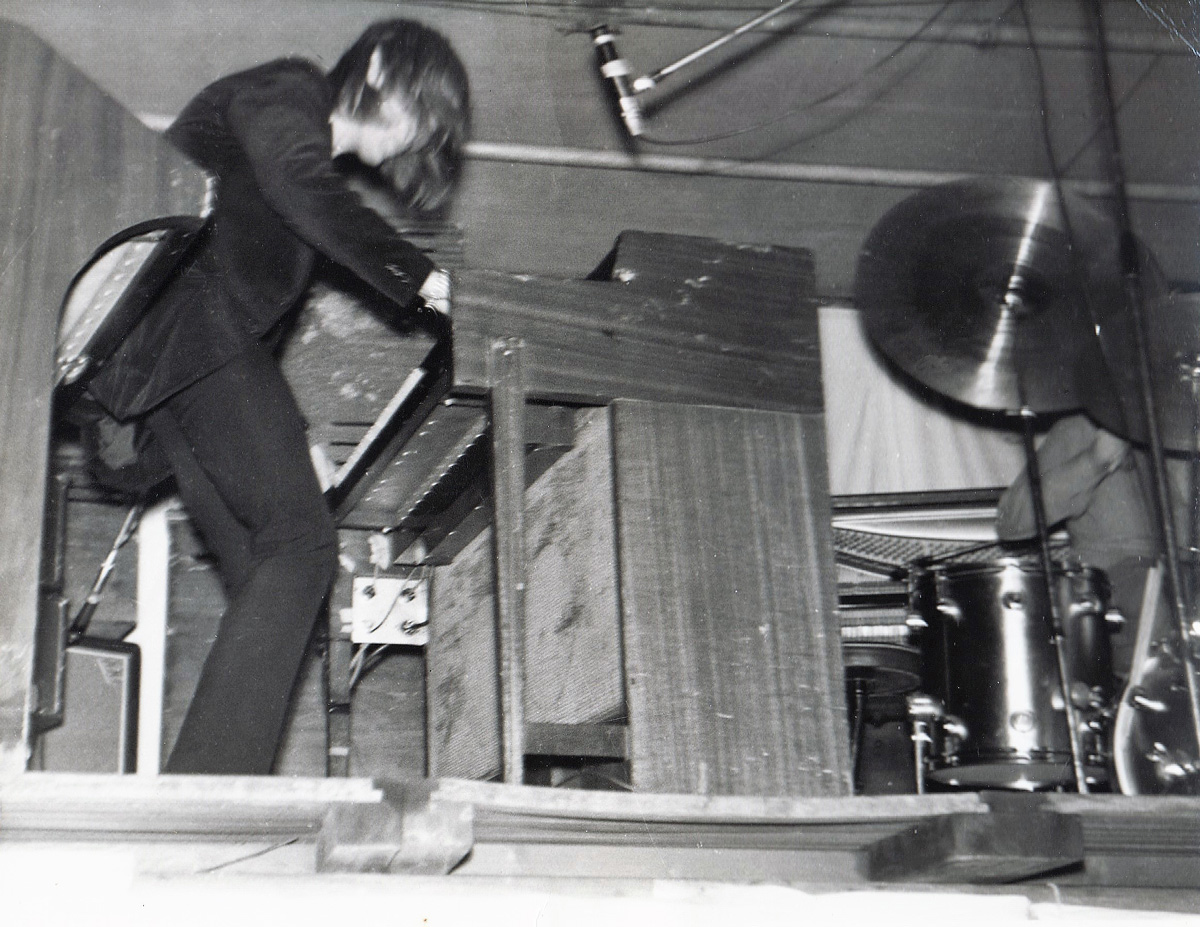 Keith Emerson © David Goodwin.
---
If you have any more info about this event , Contact us
---
Back to the main Archive.