The Archive.
Updated July 2010 , new photos and recollections
Big thanks to our sponsor Neil !

For information on today's festivals see eFestivals.co.uk
---

The Reading Rock Festival.
Richfield Avenue.
Reading
August 24-26th 1979.
---
The

1979 Reading Rock Festival.

Aug 24-26th 1979.

Photogallery.
Friday 24th August 1979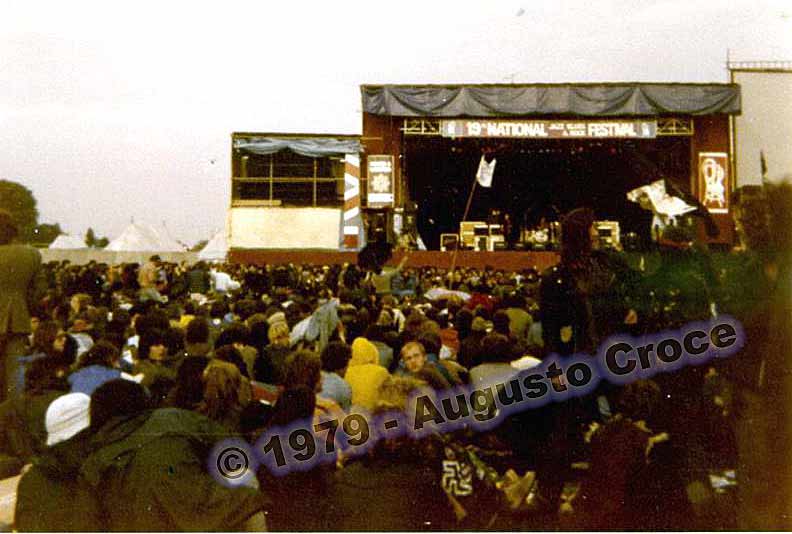 The crowd on Friday , Reading Rock 1979 © Augusto Croce
Augustos story.
I used to be a DJ in a medium-sized radio station in my home town Perugia, called "Radio Perugia 1", and we were particularly interested in the punk and new wave latest releases coming from the UK. In the summer of 1979 I came to London with some fellow DJ's from the radio, there were five of us, and we came in touch with as many record companies as we could find, asking for records and promotional material for our transmissions.
Along with hundreds of LP's and singles, we managed to receive backstage passes for the Reading Festival, which seemed very interesting that year for the presence of new acts like The Cure and The Police, and old punk rockers like The Ramones.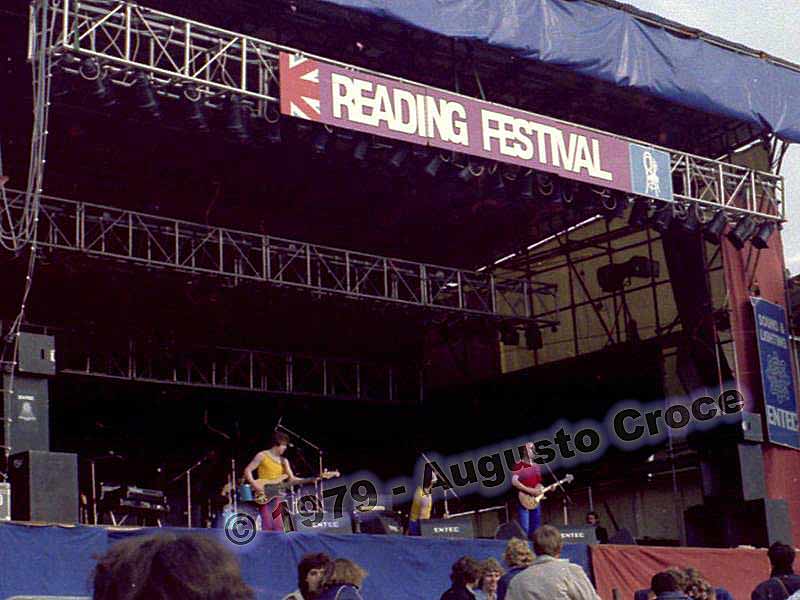 Punishment Of Luxury Reading Rock 1979 © Augusto Croce
It was an incredible emotion to be in the backstage along with many artists, I can remember going to the toilet and meeting John Peel coming out of it, or running into Sting or Annie Lennox while walking. We were allowed to take pictures and interviews, though our bad english didn't help very much. With a mono tape recorder we also recorded some of the concerts along with the interviews but at the end of the first day we had already ran out of camera films and cassette tapes!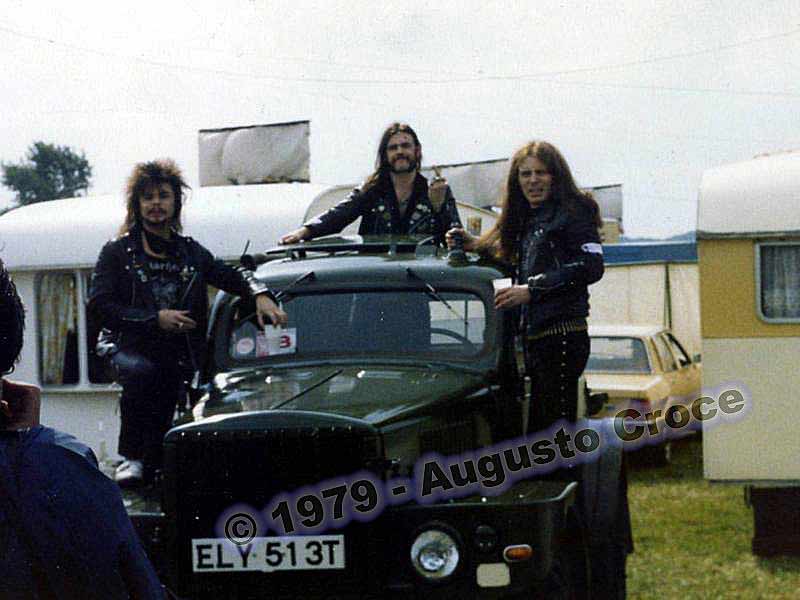 Motorhead backstage . Reading Rock 1979 © Augusto Croce
Motorhead entered the backstage on a military vehicle (see one of the pictures attached), but despite the appearance they were very nice guys (though Lemmy, with a bottle of whisky always in hand, promised us an interview three or four times, always disappearing soon after).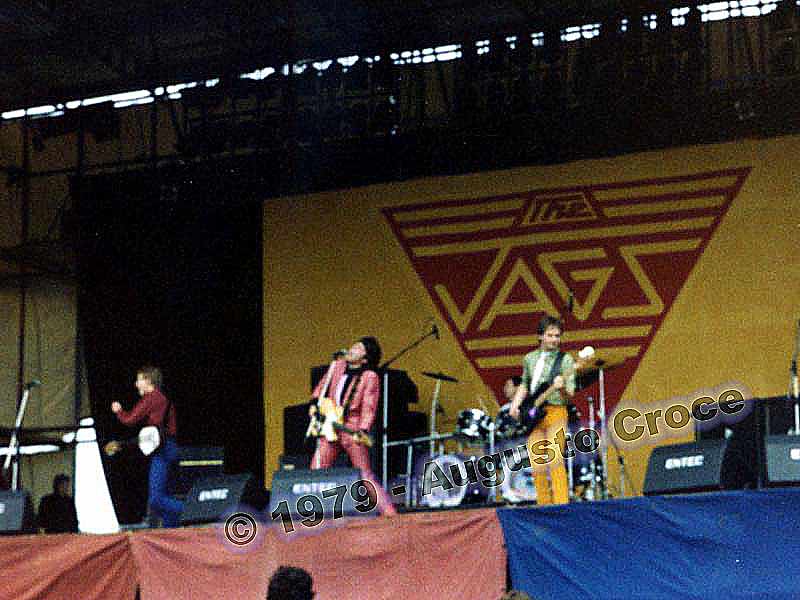 The Jags Reading Rock 1979 © Augusto Croce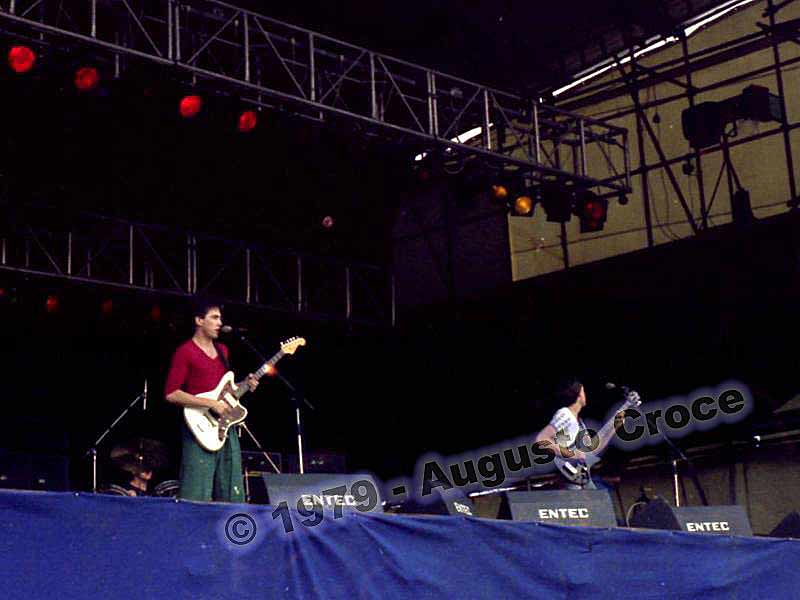 The Cure onstage . Reading Rock 1979 © Augusto Croce
The Cure had a strong support from John Peel, and one of my photos depicts Robert Smith with Peel after their concert.
Motorhead and The Police were the best acts of the first day. I can remember a fight between Motorhead and other groups' supporters, with beer cans flying everywhere. The Police were very successful, playing an yet-unreleased "Message in a bottle", introduced as their next single.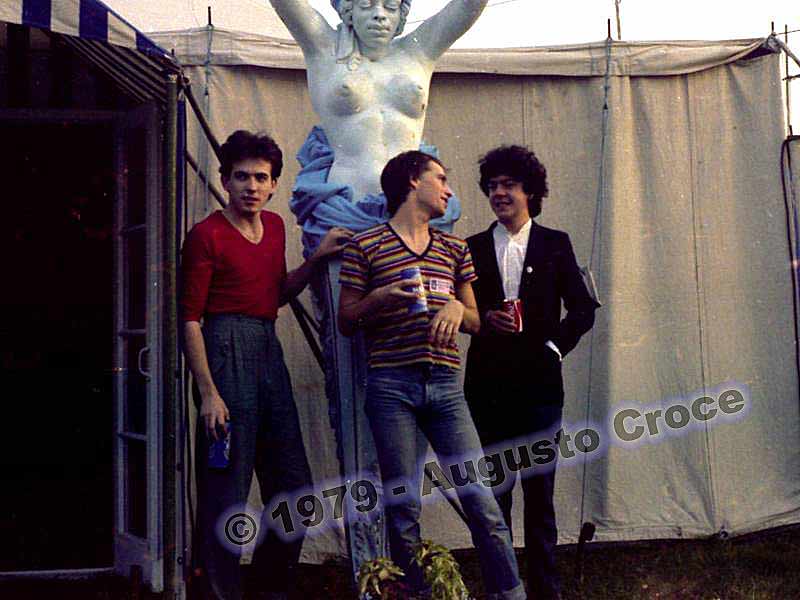 The Cure backstage .Reading Rock 1979 © Augusto Croce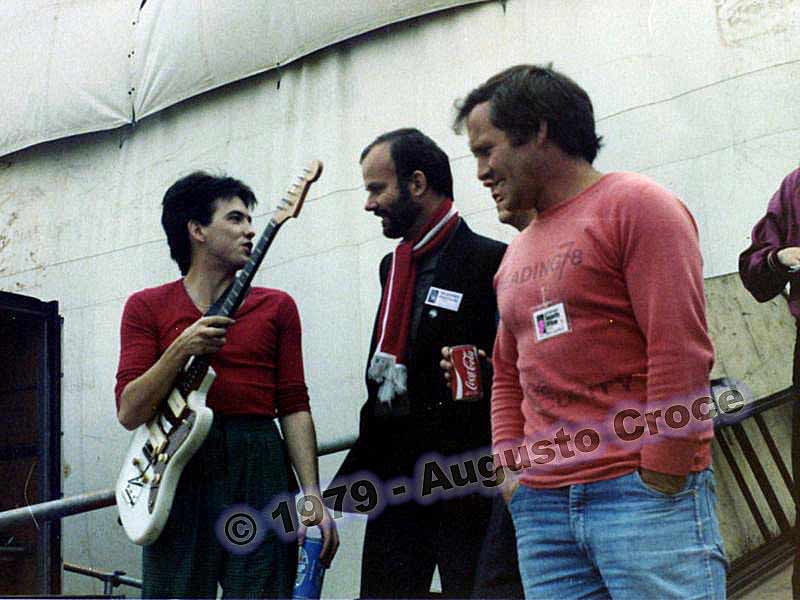 The Cure backstage with the late John Peel .Reading Rock 1979 © Augusto Croce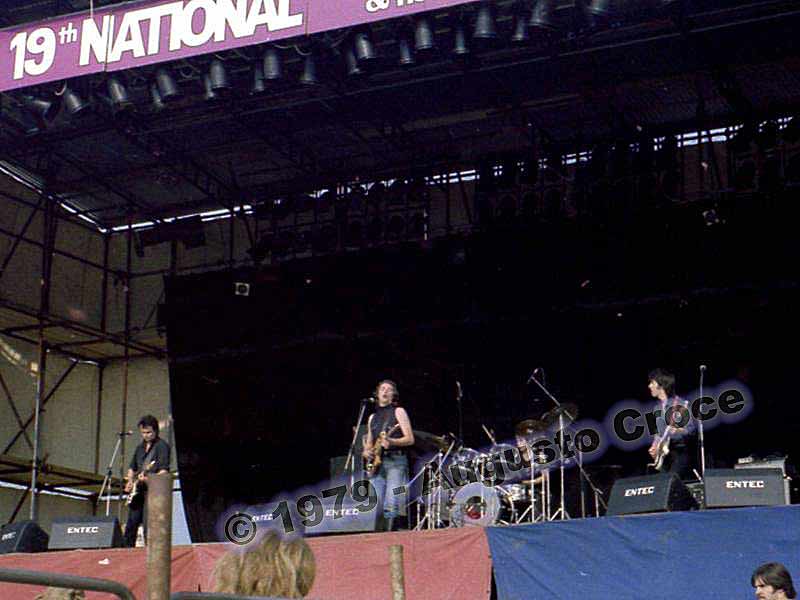 Doll By Doll .Reading Rock 1979 © Augusto Croce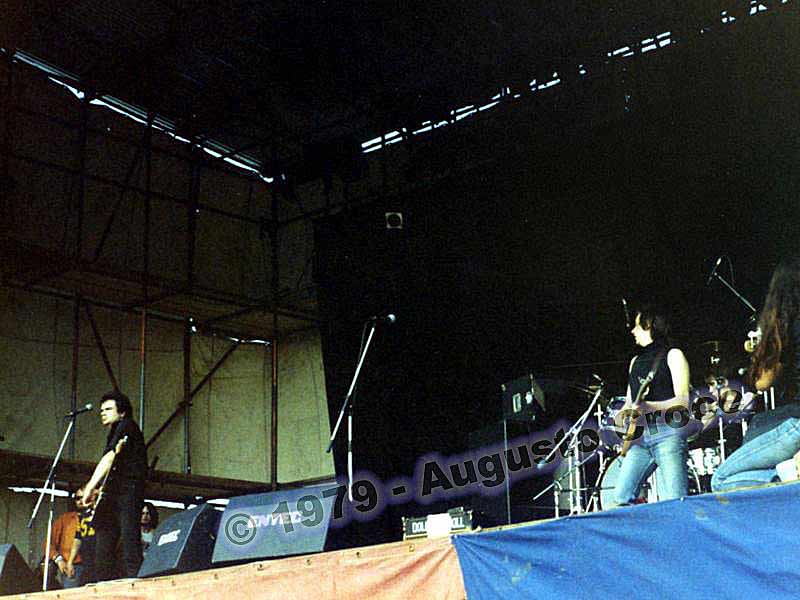 Doll By Doll again .Reading Rock 1979 © Augusto Croce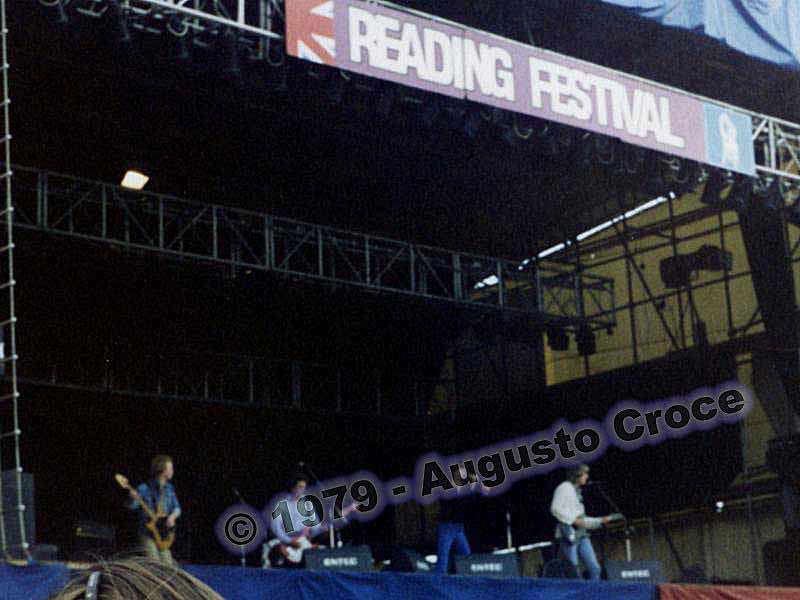 Bite The Pillow . Reading Rock 1979 © Augusto Croce
---
Saturday 25th August 1979
Cheap Trick
Can we get a witness ?
We need more info on this and the other late 70s Reading festivals, we are now in the curious situation of having better documentation on the earlier festivals, so c'mon headbangers, get yer photos out and fire up whats left of the aging braincells .Send your recollections and scans to us NOW ! !! Contact us
---
Links
---
The early festivals.
You can find out the complete line ups of the first festivals if you follow the links below .
Festivals 1965-1990
Most of these have fairly complete documentation .But new contributions of any sort are always welcome regarding any of the festivals.
---
This site is non profit making , its a site for die-hard fans- and run as a source of information for those interested in Rock music of the past .We are completely against the sale of bootlegged artefacts , especially musical ones .We attempt to obtain permission to use articles and photos wherever possible, but on occasions , due to the age and obscure origin of some items , we have not been able to ascertain the owner of the copyright .It is also possible that occasionally we are sent material from sources that assert that they own the copyright of material, but their claims are spurious - If you see any material on the site that you believe you own the copyright of - please send us an e-mail with proof that you have ownership of the image and we will remove the offending item from the site immediately.
Contact us