The Archive.
Updated Oct 2013
---
Nottingham Pop & Blues Festival .

Notts County Football Ground, Nottingham, Nottinghamshire .
May 10th 1969.

Fleetwood Mac, Pink Floyd ,Tremeloes, Marmalade, Georgie Fame, Love Sculpture, Keef Hartley, Status Quo, Duster Bennett, Dream Police ,Van Der Graaf Generator
---
I'd love to see more on the 1969 Nottingham Pop & Blues festival which I attended. It was my first outdoor event. I remember that although Fleetwood Mac were headlining they played early in the day because they were leaving that afternoon for their first American tour following the success of Albatross.

Pink Floyd played last in pouring rain. It must have been one of the first concerts without Syd Barrett. They were excellent and I've been attending their concerts ever since when possible.
Keep up the great work on the site, it brings back a lots of memories.
Jeff Cupit.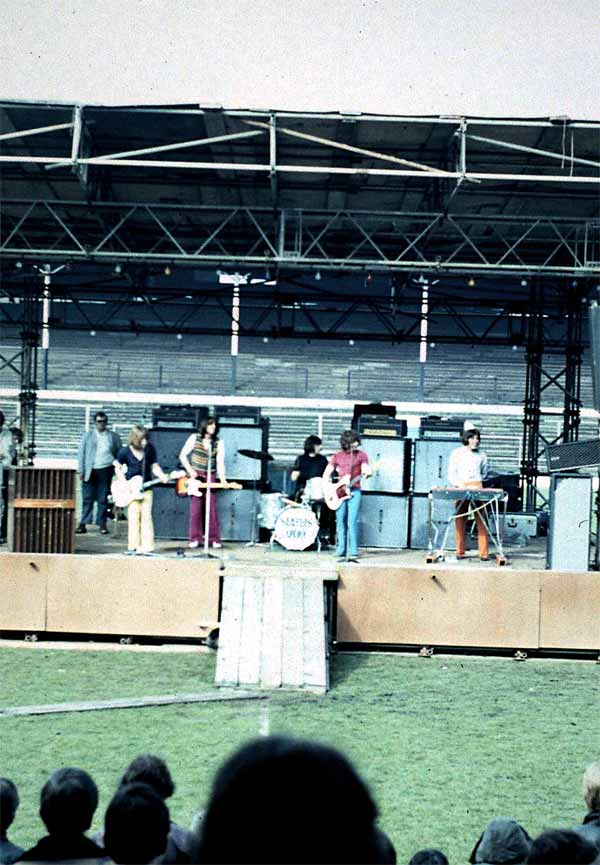 Status Quo © John Moon
John Moon (age 16) was there all day, and took his brand new Zenith 35mm Camera. It took over 2 hours to get there on 3 buses, but made it in time to see Fleetwood Mac at 12.
Pink Floyd were great as still doing their "syd set" with a new guitarist Dave Gilmore .But had to leave half way through set as parents were picking him up at 10.30 and way past bed time ! It rained most of the day, but in cover of football stand.
John Moon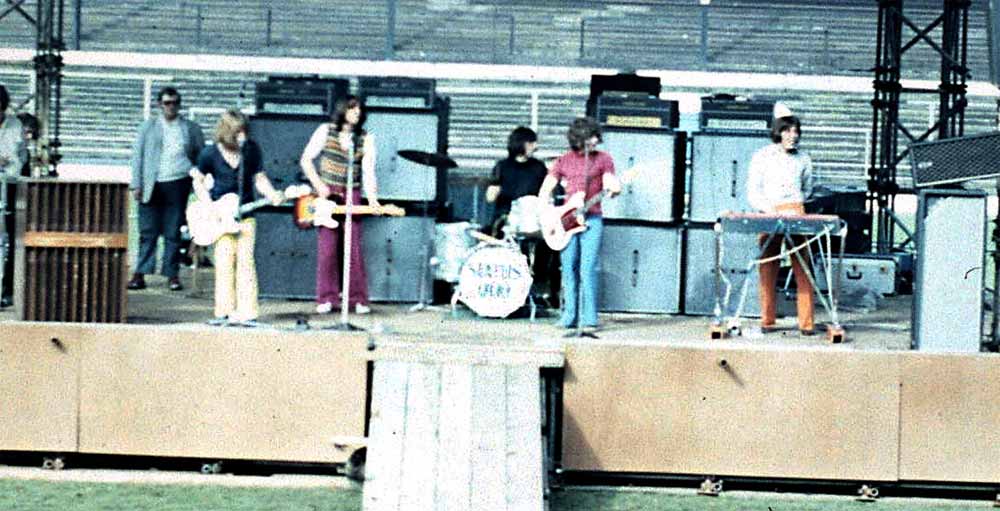 Status Quo © John Moon
---
Probably my first festival, and unbelievably at Meadow Lane football ground, though sadly I can only remember thinking what are Marmalade doing here, how unorganised The Move were, and that Quo were quite psychedelic at the time. I think they played Going Down The Drain Pipe, and or Pictures of Matchstick Men. And for some reason I left before Floyd came on. Probably had to be home!!!!
Pete Feenstra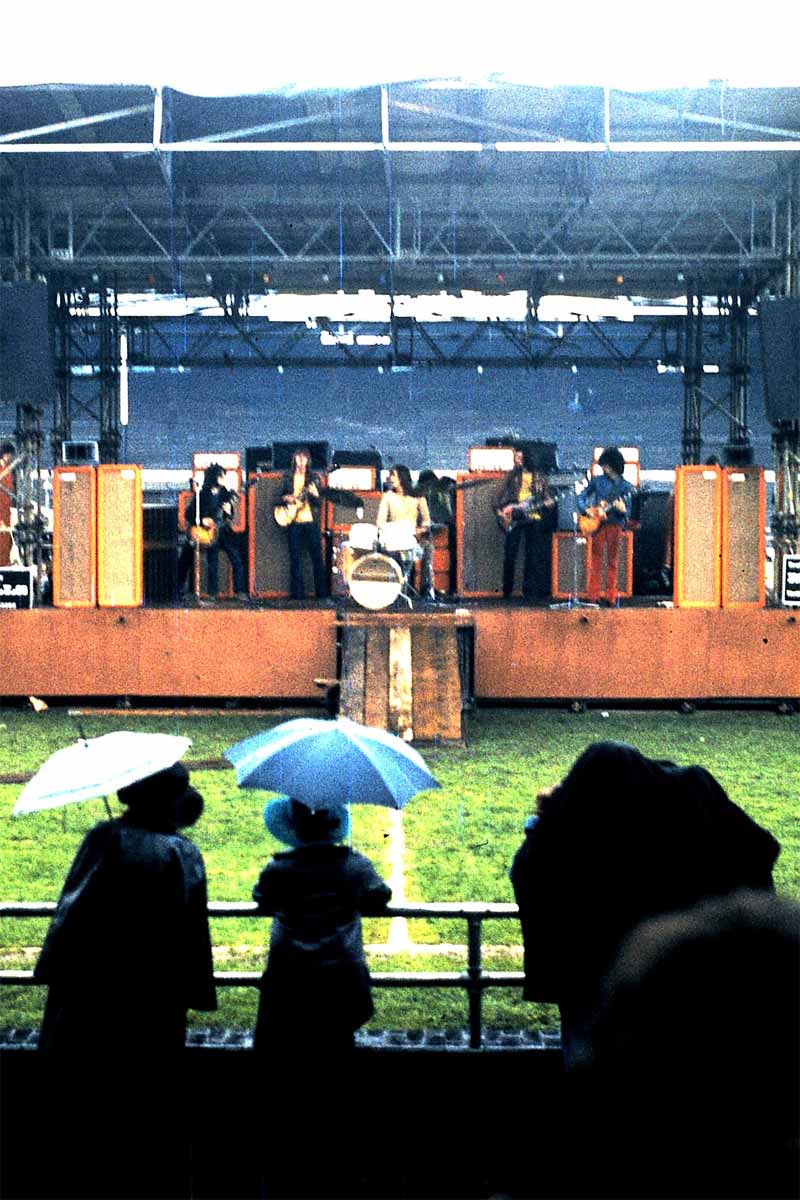 Fleetwood Mac, with rain © John Moon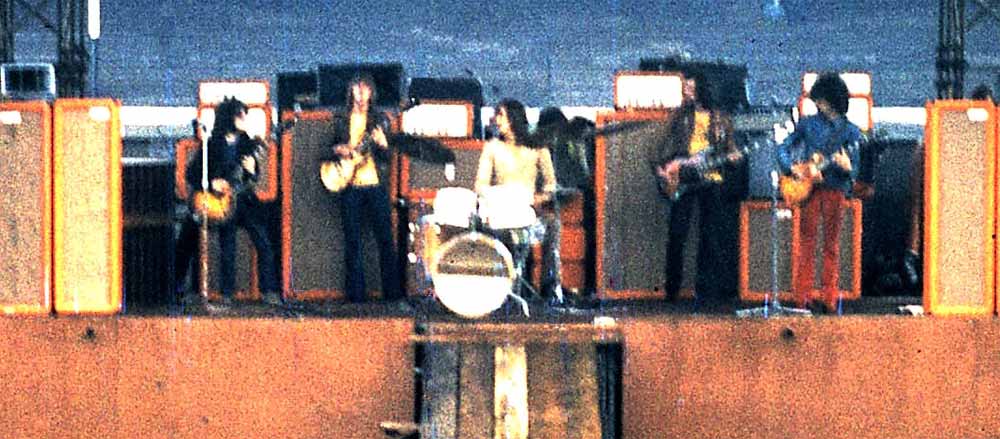 Fleetwood Mac © John Moon
---
12 Hour Happiness Nottingham Racecourse Nottingham, Nottinghamshire .
July 12th 1969.

The Nice, Eclection, Yes, King Crimson, Juniors Eyes, Edgar Broughton Band, Idle Race,Status Quo, Caravan , Streets Of Sadness

Compere John Peel.
We don't know if this was organised by the same promoters as the May event, looking for more information on this one
If you have photos, recollections, set lists, newspaper reports or tapes of this event then Contact us.
---
The Nottingham Festival Of Blues And Progressive Music.

Saturday

July 25th 1970

The

Victoria Embankment

Nottingham.
---
Family

Taste

Atomic Rooster

Mungo Jerry

Anno Domini

Aztec City

did not appear .

Press Article 1970
---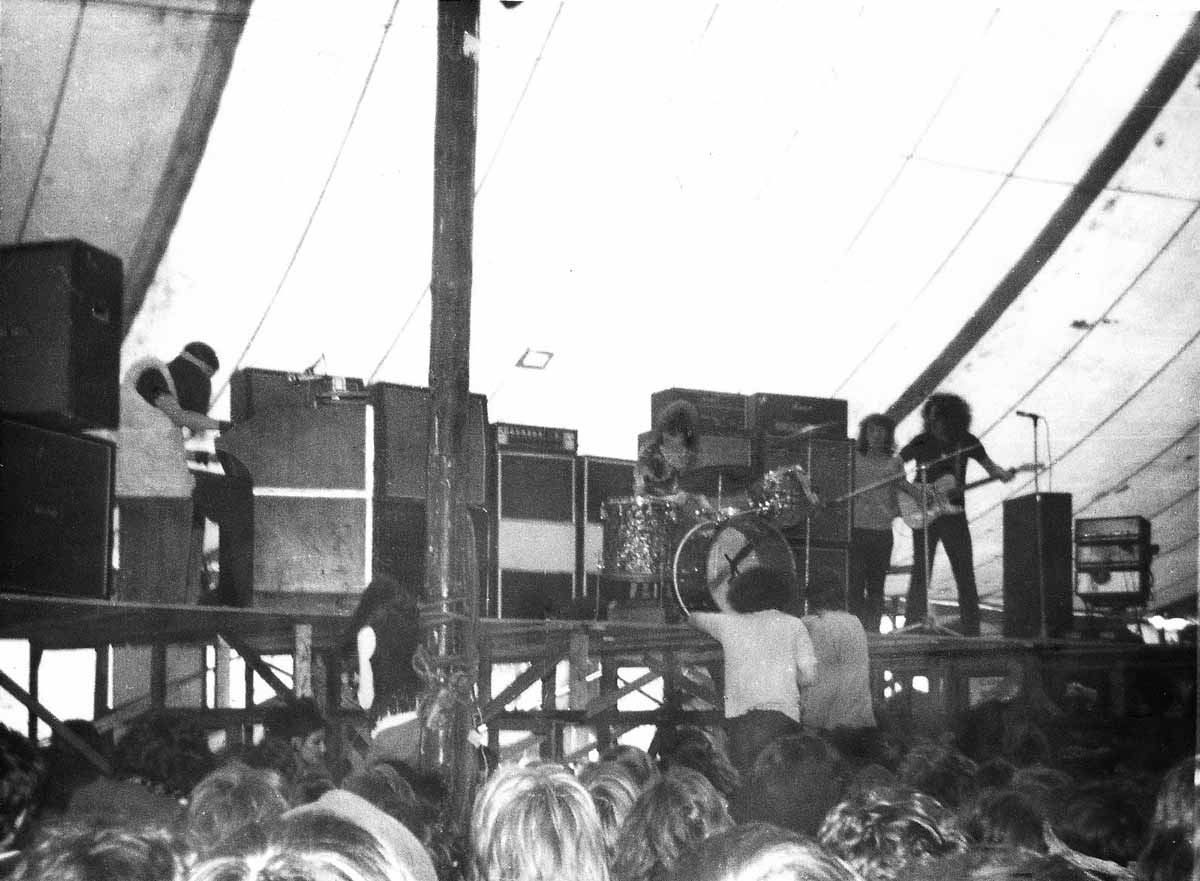 Atomic Rooster : Nottingham Festival 1970 © John Morris

Cheers,

Richard Maltby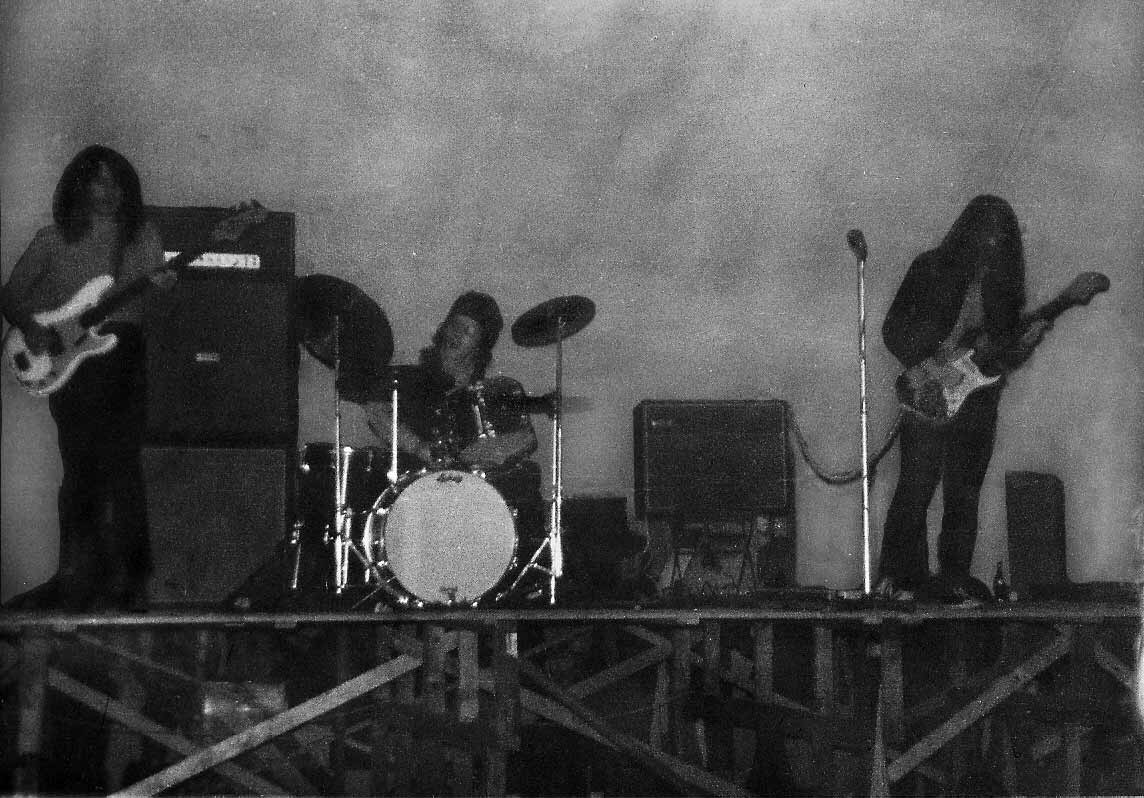 Taste: Nottingham Festival 1970 © John Morris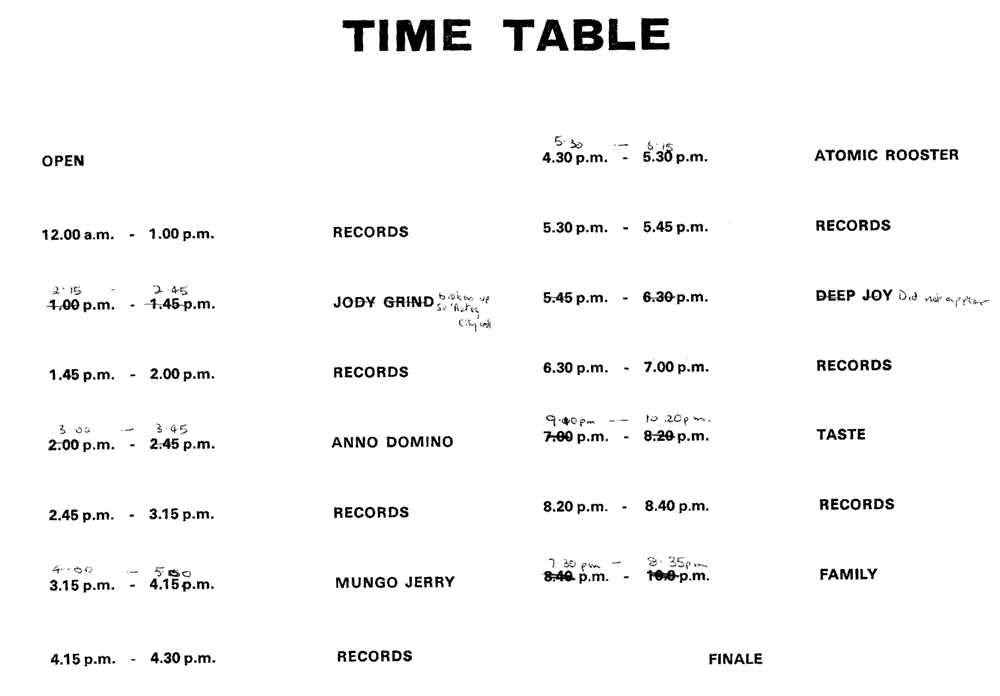 Courtesy Jes Griffiths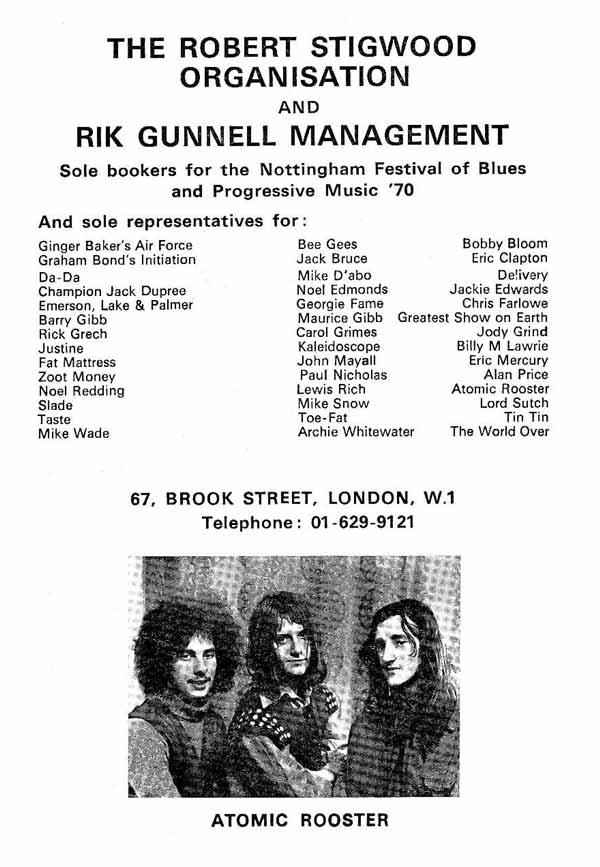 Courtesy Jes Griffiths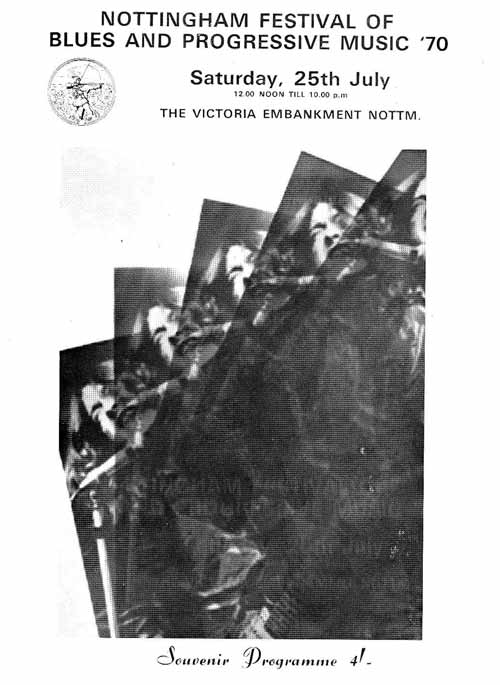 Courtesy Jes Griffiths
---
Any info to add ?
Contact us