The Archive.
---
This page is best viewed at 800x600 res with Netscape Navigator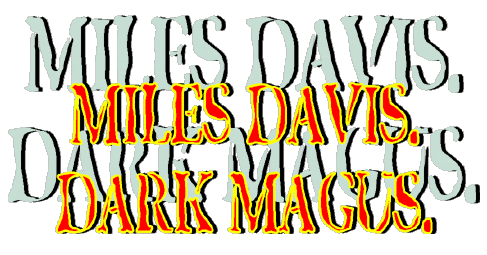 ---
Miles Davis in Australia.
1988 tour

Miles Davis:trumpet , keyboard
Kenny Garrett: alto, soprano , flute
Joe "Foley" McCreary: lead bass.
Robert Irving: Keys
Adam Holzman: Keys
Benny Rietveld: Bass
Ricky Wellman: Drums.
Marilyn Mazur : Percussion
This was Mile's only Australian tour and we were lucky to get him at any time let alone when he one of his best bands of the later period. I was lucky enough to live in one of the cities he played in, as Queensland , Western Australian and Tasmanian Miles freaks had a long way to travel if they wished to see him play.

These pages try to cover the brief visit to the antipodes with reviews and details about the availability of recordings of the tour . It seems strange, but it appears that no radio or TV interviews were conducted , but at least we do have the peerless FM broadcast of one of the entire Melbourne shows to listen to into our dotage.
There have been a couple of shows from the Australian tour that have circulated amongst tapers over the years.The best of the two is the Melbourne concert which was broadcast by The Australian Broadcasting Corperation on Fm . This was the full show of 180 mins , and the quality was top notch.
In addition , the second Sydney show is available as a SBD , a bit muddy, but a very nice gig. It does not appear that anyone taped the missing shows, although there could be sbd's in mouldering in the vault somewhere.

Melbourne Concert Hall. -5-2-88.

In A Silent Way
Intruder
Star People
Perfect Way
The Senate
Me and You
Human Nature
Wrinkle
Tutu
Movie Star
Splatch
Time After Time
Heavymetal Funk Suite
Don't Stop Me Now
Carnaval Time
Tomaas (encore)
Burn
Portia

Sydney Entertainment Centre 4-27-88.

In A Silent Way
Intruder
Unknown composition
Star People
Perfect Way
The Senate
Me and You
Human Nature
Wrinkle
Tutu
Movie Star
Splatch
Time After Time
Heavy Metal Funk Suite
Don't Stop Me Now
Carnaval Time
Tomaas
Portia

---

---