The Archive
Best viewed at 1280x 1024 resolution.
Updated Jan 2015
---
"A Day in the Country"

The Knighton Festival

Radnorshire

August 23rd 1970

Gareth Kell- gateman - with organisers Chris Plant and Elwyn Powell
---
The Move

Pete Brown and Piblokto

Roger Bunn's Enjin

Forever More

Clark Hutchinson

James Litherland Brotherhood, Alexis Korner

Killing Floor

Paper Bubble

Persian War

Magi.

DJ Pete Drummond
Amazingly , within weeks of this page going online , one of the festival organisers, Chris Plant , sent us this highly detailed account of how he and his friend Elwin ( generously helped by many others ) put the whole thing together
Knighton Festival
23rd August, 1970
The idea was first kicked around by myself and a friend by the name of Elwyn Powell, who had previously run a mobile psychedelic disco called the Retinal Circus (after a poetry book we read about). The disco was renamed, in a style so Sixties, Uncle Albert and his Amazing Left Testicle for the one night of a disco competition in nearby Shrewsbury (we didn't win, but at least we weren't lynched).
Anyway, back to the main plot. I started writing to various people that we liked: I still have a letter from Spike Milligan saying he was sorry but he couldn't do it! We even had the cheek to phone up The Roundhouse in London, where we knew The Incredible String Band were rehearsing a concept show called "U". One of these early enquiries which did bear fruit involved The Strawbs, but more of that later. Other early developments included the roping in of Alexis Korner, father figure of the British blues boom, without whom modern music wouldn't be the same…. and a very wonderful man to boot. I have fond memories of going to tea at his house tucked away in a field up the valley and discussing our plan. He took us so seriously even though, looking back, we were just enthusiastic teenagers. Chart regulars The Move were booked at this stage, not because we were great fans but through awareness that we were going to need a big name to headline if we were to get the rest to happen. Also we were in contact with a Shrewsbury duo called Paper Bubble, who had been given publicity through working with the Strawbs. Local bassist Stuart Macdonald was interested in bringing along his band, Killing Floor, who had released two very fine blues albums at that time. Also set up at this early stage was the band Clark Hutchinson, whose one album released at that point had been heaped with of gushy praise and provided with sleeve notes by John Peel.

Killing Floor bassist Stewart MacDonald with local lass Gillian Thomas
Stroked out crowd members

The whole plan at times seemed to be likely to come to nought until an accident of fate put it into overdrive. David Moore, another school friend, had been doing some building work in a nearby village for a guy named Neil Bond. Neil had acquired a house guest when this person broke down in their car near his house, came in to use the phone… and, as I remember it, seemed to have moved in. This person had been bassist with poet Pete Brown's band Piblokto, a well known underground act, and his name was Roger Bunn. Dave Moore told him about our plans, he liked what he heard… and he told us he could involve some people he knew who would give us a great line-up.
All of this was, to state the obvious, a long time ago, but as I recall it, this was the real kick-start point.

We now started holding regular meetings as Knighton Contemporary Arts Society aiming to raise money through the festival to set up an Arts Lab in the town. The group's numbers had now swelled considerably and we had a town councillor on board to add clout. With his help we acquired the site where the town's Community Centre now stands and persuaded a local haulage firm to give us free use of two articulated trailers as the stage.

The meetings were, as I recall, fairly anarchic affairs which usually concluded with a session in a local pub. On one memorable occasion we were in one inn upcountry when a group of hairy individuals came across to us, admitted they'd been eavesdropping on our talk about festival plans, announced that they were a band from South Wales who were "getting it together" in a nearby cottage and asked if we'd like to come and hear them. We did just that and, yes, they were good, but no, we couldn't fit them into a by now crowded bill. We promised to get in touch if a space became available but never did. As for them, they named themselves Racing Cars and had a Top Ten hit with a song called "They Shoot Horses Don't They?".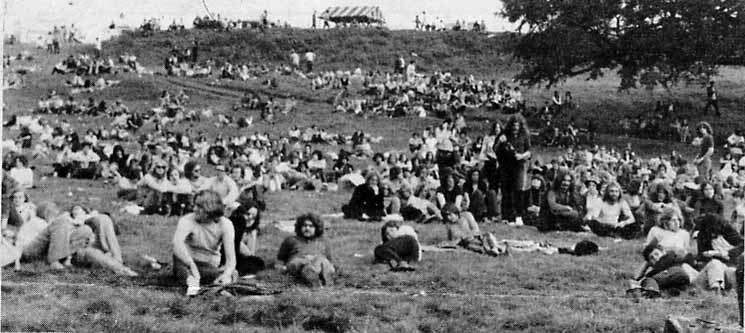 A portion of the crowd
The line-up was now pretty well fixed. Via Roger Bunn we now contracted Pete Brown and Piblokto (Pete was a well known poet and lyricist for supergroup Cream), Forevermore (members of which went on to form The Average White Band), James Litherland's Brotherhood and Roger Bunn's own band Enjin. As compere we now had Pete Drummond, a well known Radio One DJ.

There were now practical things to sort and I seemed to have become secretary of the committee so it fell to me to do some serious organising. Mobile toilet units, tents, perimeter fences, a caterer, back stage bar, sound equipment…. I was busily organising the lot when I should have been revising for my A Levels. At about this time we did a bit of fund raising in the time honoured form of a jumble sale. Nothing very memorable about that you might say…. except that one customer was none other than Paul Rogers of rock legends Free, brought along to meet us by his mate Stuart Macdonald. Paul took away a pretty floral design dress for his girlfriend. We didn't charge him.
Many things went stunningly right for us in our preparations, largely thanks to the help of many people in the town, not to mention our long suffering parents. One thing went badly wrong.

At quite a late stage The Strawbs, a happening band featuring superstar Rick Wakeman, responded positively to a much earlier enquiry of mine. It was too late to fit them on the bill but they were keen to offer their services for a minimal figure. We decided to put them on at the Music Hall, Shrewsbury the week before the festival. This was probably a mistake considering the pressure we were by now under. We booked Roger Ruskin Spear and his Giant Kinetic Wardrobe (an ex-Bonzo Dogs Doo Dah Band member with a support band of robots!!!) as support, got the tickets and posters printed, and then turned back to organising the festival. On the night disaster struck when the band's van broke down on the way ( this being long before mobile phones, we did not know this until much later) and the heroically generous duo Paper Bubbly filled in gamely until we finally had to admit to the audience that the Strawbs had been waylaid. Hardly had the hall cleared when the Strawbs screeched to a halt outside and offered their humble apologies. I wonder if Rick Wakeman still recalls being berated by an angry teenage girl (now my wife) for dropping us in it… The audience, or as much of it as we could round up from local alehouses, was reassembled and the stars of the night played their hearts out to a half-empty hall.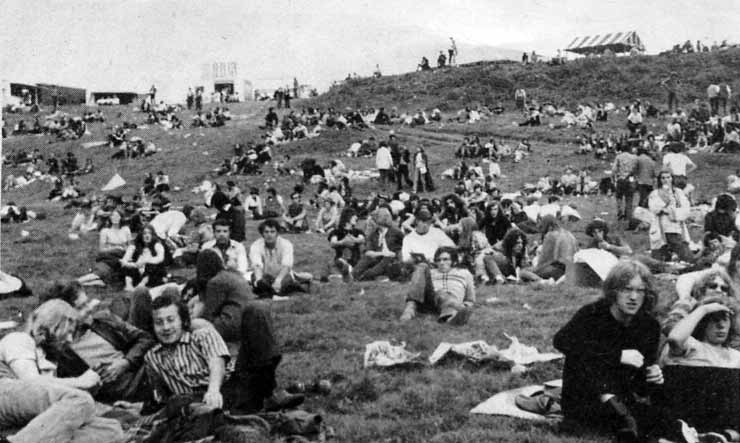 In the weeks leading up to the festival, Elwyn, myself, Dave Moore and possibly some others were interviewed for BBC Wales TV and filmed pacing up and down the site. I was dragged out of bed during my Saturday morning lie-in by my mother to be interviewed on the phone by BBC radio. I remember vividly the long pause when asked about our attitude to possible drug taking at the event. It was too early in the morning and my attitude was less than clear.
British Rail had, we discovered, scheduled a special festival train from Shrewsbury. Things were getting heavy, man… The flat bed trailers were delivered and we realised that they needed a canopy. A team of local builders came to our rescue by rigging up a scaffolding frame to which they fixed canvas. Stage lighting came courtesy of a local amateur dramatics group. Looking back, we have so many people to be thankful to for giving time and skill to what must really be seen as a true community effort.
And so to the big day. Sad to say I remember virtually nothing of it, having been awake through the night before and probably having reached something like breaking point anyway. I remember Clark Hutchinson being a very spaced set of individuals who never got to play as they wanted to go on late once they saw that we had a strobe light. I remember the caterer threatening me with legal action because the public was using the back stage bar. I remember the Move arriving in a wave of arrogance and demanding immediate payment or they would leave. I remember giving in to sleep well before headliners Piblokto and The Move took the stage. I remember waking to find the stage being dismantled and the audience having long gone. In short, I remember the build up to the festival as one of the most exciting and eventful periods of my life but the day itself as a blur of exhaustion.

The Melody Maker review estimated the crowd as 2000 strong and noted that there was "a relaxed atmosphere that brought out the best in the bands". Forevermore and Piblokto were particularly raved over but Roger Bunn, whose drug intake by the time he took the stage would have put most of us out cold, was dismissed with the words "ran very roughly". The conclusion quoted Pete Brown as saying "This festival, compared with the others, was like a patch of ointment on a big festering sore" and suggested the reader "forget the biggie events". Within days I was off to college in London and though I continued gig and festival going, I never again took part in the organisation of one. The Arts Lab never happened… but then we only just broke even.

I continue to be a music-obsessive and when I lived in Hong Kong, for many years I wrote music reviews for the South China Morning Post. When World Music happened I had a regular radio spot on RTHK playing anything from African to Indian to Japanese records. While I was in Hong Kong, a teaching colleague one day mentioned her DJ brother Pete and, knowing that my colleague's maiden name was Drummond-Hay, I put two and two together and was right. I've since met Pete on numerous occasions and sadly have to report that he doesn't even remember being at Knighton. Something about if you remember the Sixties you weren't there….?
Christopher Plant
Running order

Mime and poetry session

Persian War

Brotherhood

Forever More

Roger Bunns Enjin

Pete Brown and Piblokto

Alexis Korner

The Move

Killing Floor
Hi,
I really enjoyed reading your report of the festival. I was a member of a duo called Persian War who got to play on stage during the afternoon. We had seen an ad in the NME inviting new groups to apply. So we turned up and had our biggest gig. We were sort of a strange, and very poor, copy of ISB – playing guitar, anglo accordion and a host of instruments that we had made ourselves from an old carpet sweeper, plastic bags, kids instruments and a bunch of nails hung from a string. I don't suppose we were remembered for very long afterwards, but we did get a nice comment from the DJ who described us as the weirdest thing he'd ever seen – our last song was about the various worms that infest human bodies. Sad that we didn't get a mention anywhere.
I always remember the festival as being calm, druggy and lots of fun. After our stint we lay out front and watched the other bands. AT one point someone asked me to look after a small grey kitten on a piece of string. She never came back, but the kitten turned out to be the perfect present for my wife who was present and couldn't be at the festival. Alex (the kitten) lived with us for nearly 20 years and some of her great grand kittens are still around.
It was that sort of festival.
Anyway, thanks for putting the site together – it brought back wonderful memories.
Malcolm
---
Only just found this site!!. I was a swansea sixth former -and four of us drove in a new sunbeam rapier to festival, wonderful drive-arrived early
.met welsh roadies cracky and nodge(cracky dressed like a ding a ling?)
very friendly day
will try find pics i took-inc some very cool pete brown/killing floor \forevermore\mogul thrash\pete brown\move
all amazing!!
could'nt stay til very end-was this first gig of move with lynne??
Dynevor
We are looking for MORE eyewitness accounts of these events
---
Please feel free to contact us and contribute towards building pages about each festival by Contacting us. We try to reply to all messages, but sometimes it takes a while .Usually we wait until we have enough new material to warrant a page upgrade , so posts may take quite a while to emerge on the page .
---
Return to Archive