---
Another virtually forgotten one day festival, The first to be held in Scotland .
Over 5000 attended and were entertained by :
| | |
| --- | --- |
| Advert courtesy of John | String Driven Thing at Inverness 1970 |
This was the first and last festival held in Inverness in the 70s , although 5,000 was a fairly good crowd to draw presumably it wasn't a financial success,perhaps insufficient punters showed up to make the venture worth repeating .
Taste
Savoy Brown
Black Widow

String Driven Thing

If
String Driven Thing
Atomic Rooster
Brinsley Schwarz
Hot Cottage

Savoy Brown onstage at Inverness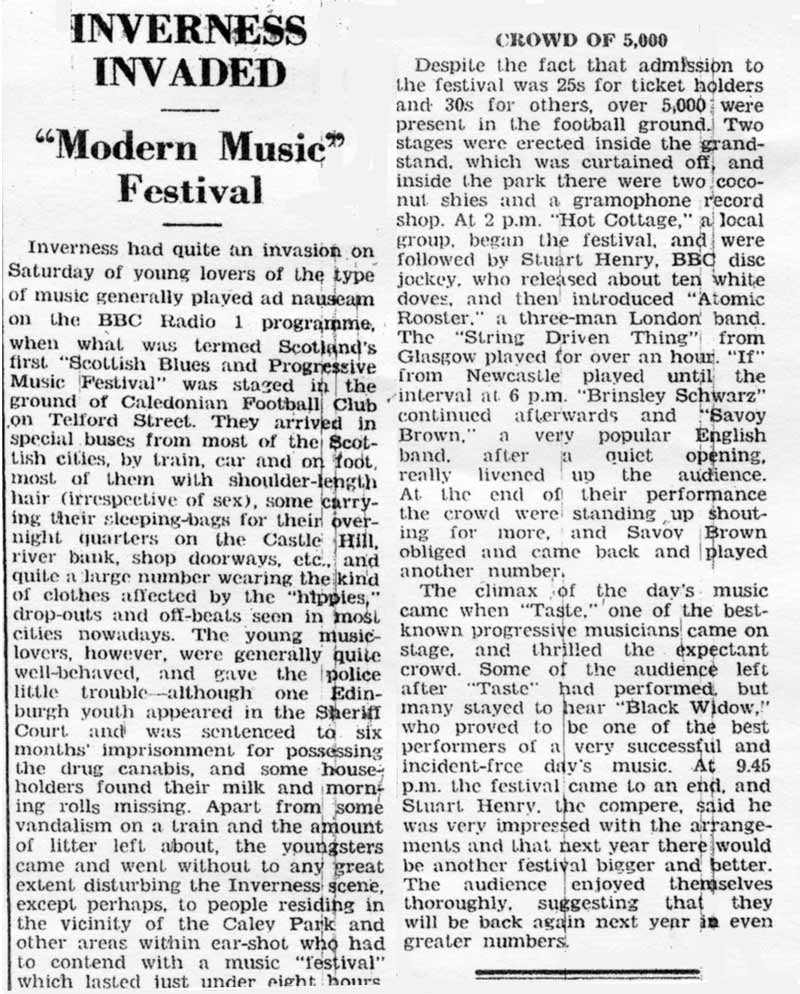 Review kindly provided by John
---
I was at this festival and "Black Widow" also appeared.
I was always interested in the equipment, stage sets etc. There were two small stages protruding from the front of the stand, in the
stadium, with a platforms adjacent to each stage only on the side between the stages. The groups van reversed up to the other (outer)
side of the stage (typically transit van) and whilst one group was playing the other was setting up - the platforms being used to support
one half of pa and the van roof being used to support the other half.
(The groups used their own pa systems)
My favourite group of the day was Taste. Note that in those days we called them groups as opposed to bands.
Regards, Ian Smith
---
I was at this concert ,at caley park football ground I went to see one of my favourite bands Taste, word had it on the day Taste arrived by helicopter . I remember Rory playing through his AC 30 Amp - my god they were so good ,stuff like Sugar Mama etc ,but also on that day I see Hot Cottage played I was best friends with the lead guitarist Duncan Campbell and also Lal Macleod who played bass .I think the weather was good that day ,but what also stands out for me is I locked the keys of my Ford Anglia car inside and had to force entry with the help of the police .I can remember seeing Savoy Brown as well but thats about it ,
Happy Happy memories .
Hamish Mackay.
---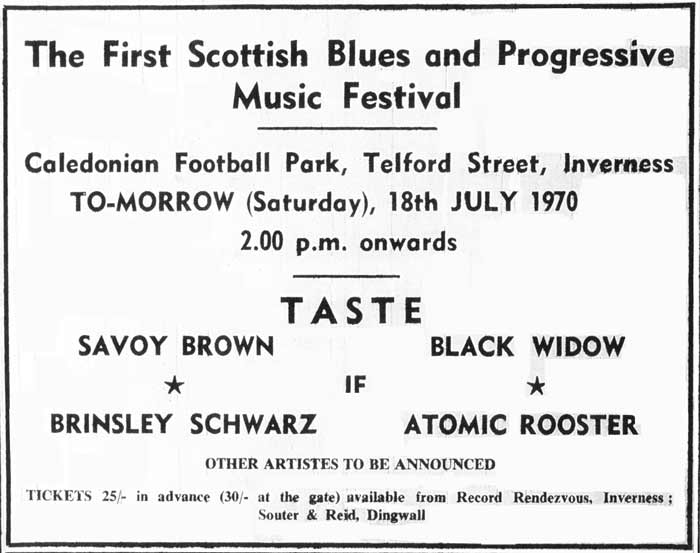 Advert kindly provided by John
Hi there,

Just found info on your site regarding this festival in Inverness in 1970.
I attended this with some friends,it was held at Inverness Caledonians FC original ground, I think at Telford Street Inverness?
Weather for the day was good and although I do recall a couple of scuffles , the crowd was generally in good spirits.Highlight i'm sure for the day, for me anyway, was Taste. It was the first of three occassions i was lucky enough to see Rory Gallagher play live.

Regards,

Brian
---
Hi
Just to let you know Black Widow also played - but were not allowed to use their "sacrificial" naked lady which was the climax to their live set.
Also if I remember correctly the festival ran way over time and we were given a choice of a Savoy Brown encore or Taste playing their set.......thankfully Taste won...and I don't know if Black widow were meant to be headlining but they played last.
I was sixteen - no alcohol or strange tobacco that day so I wish I could remember a lot more about it.
Brillliant site BTW.
Thanks
Stewart Grant
---
Hi,

Bit more info about the Inverness Festival held in 1970. It was held at the former Inverness Caledonian football ground (which is now a retail park) and I believe there was a crowd of about 8,000 attended. I was there and I do not recall it as being wet on the day so poor attendance probably was the reason it was never repeated. Main problem in the early seventies was that travel to Inverness was not the easiest with poor road links to the South leaving it pretty isolated and people less inclined to travel than they are now, however it must be said that at the time there was a very progressive music scene in the town.

One of the bands on your list, Hot Cottage, was a talented local three piece band made up of the following personnel:

Lal Macleod - Vocals and Bass guitar - on the left of the picture
Duncan Campbell - Lead Guitar - in the middle of the picture
Jimmy Oag - Drums - on the right of the picture

They were very into the progressive music of the day and played throughout the North of Scotland before moving south to Edinburgh. I knew the guys but unfortunately over the years have lost touch with them. I came across and old publicity picture of them which I have enclosed for your info.

Best regards
Ken McKie