The Archive.
Updated July 2012
---
Rock On The Tyne

August 29th-30th 1981

International Stadium

Gateshead.

Tyne and Wear

UK.
Saturday August 29th 1981
Ian Dury and his ubiquitous Blockheads © Kevin Geraghty-Shewan
Our correspondent in the field, Kevin Geraghty-Shewan , reports on the first days proceedings ........
Rock on the Tyne was between my first and second years at University and in a summer when I was quite hard up due to having to pay rent on a property in Manchester over the summer that I wasn't even living in. This may have been why we only went on the Saturday although there may have been other reasons such as the bill on the Sunday was comprised of people I had already seen or wasn't bothered about seeing. However I suspect that the main reason I went was to see up and coming band U2.

They had been due to play at Salford university in the final term of my first year but circumstances meant they pulled out a week for the event. I had just become involved with the ENTS people and we were gutted to find that we went from "U2 plus the Radio 1 Roadshow" to "Radio 1 Roadshow plus......" lots of names were thrown at us as replacements but we ended up with a band that was also on that Saturday The Polecats!

The stadium was on paper ,an ideal venue for a festival as it was quite close to a main road and public transport, however I found it quite soulless inside and the stage had been positioned opposite the main stand, which was a good idea for people who might want to sit and watch the bands but from the point of view of sound it was a nightmare. The sound bounced back from the stand and caused an awful echo - something I pointed out to the host as he stood on stage wearing a garishly coloured stripey jumper!

images courtesy Kevin Geraghty-Shewan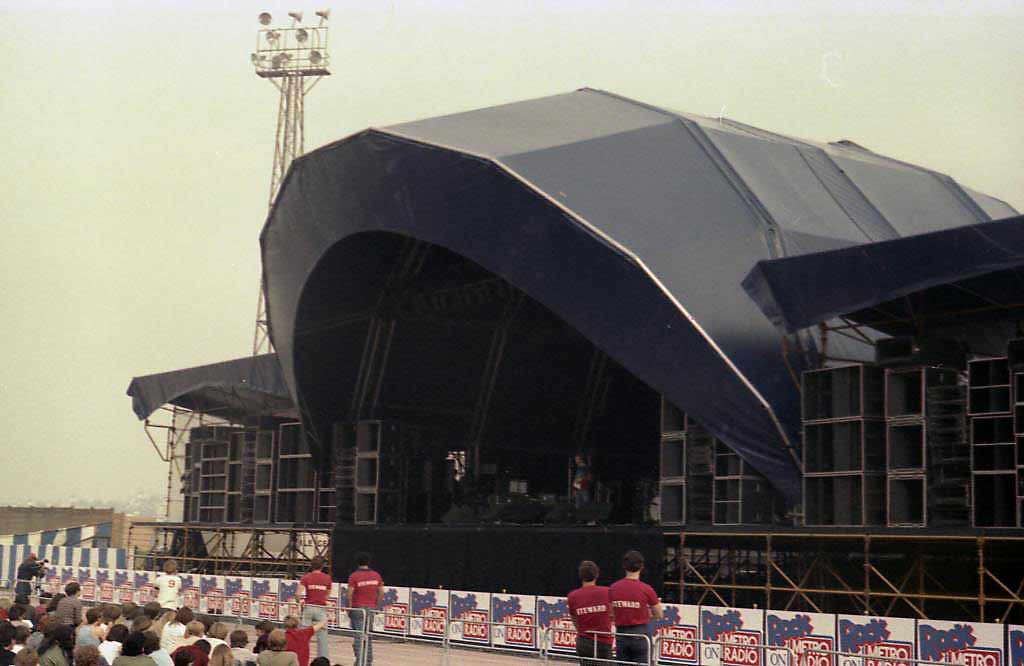 Stage, complete with stripy clad presenter person © Kevin Geraghty-Shewan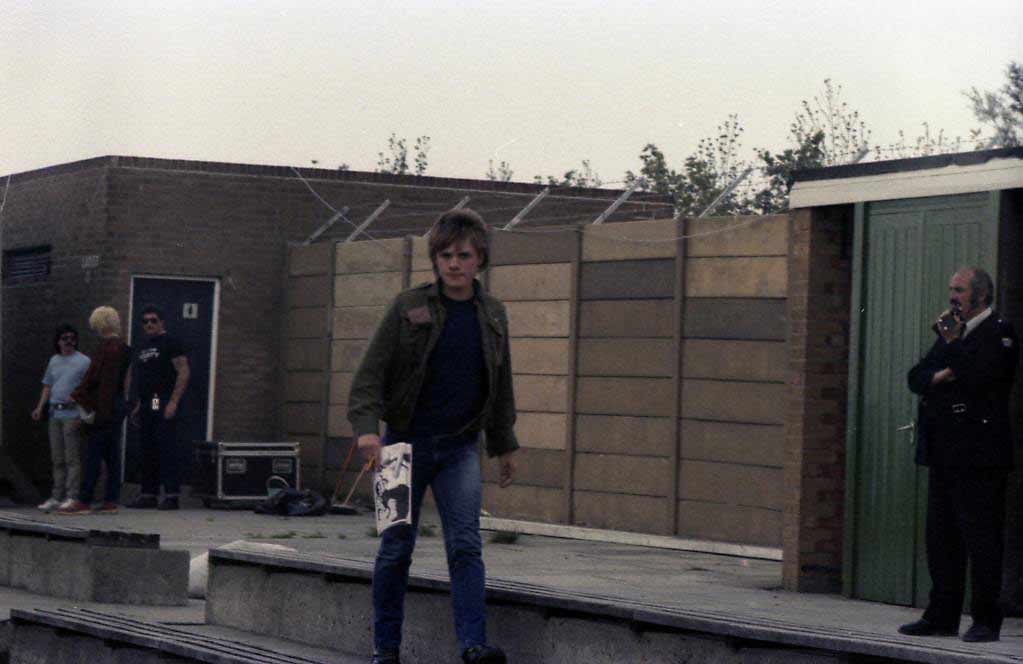 U2 drummer Larry Mullen Jnr with program © Kevin Geraghty-Shewan
At one point we saw a couple of the band at the wall that surrounded the back stage area and went over to talk to them. We got the two that were there to sign the program and then convinced the drummer to take the program over to the remaining members of the band to get them to sign it too! In the background of the photo is Colin Rowell who was Stage manager at the City Hall In Newcastle who had obviously been drafted in to run this event as well.
I don't remember a lot about U2's set to be honest, they were much better a few months later when they appeared at Salford to make up for pulling out the first time round but I did watch that from the organ pit at the front! All I remember was that during one of the songs Bono climbed up onto the PA stack. I think their appearance probably suffered from being during the day without a light show and being unknown to a lot of the crowd.
Ian Dury on the other hand was absolutely fantastic and the highlight of the day. Elvis Costello on the other hand was really dull - he was going through a country phase and had re-jigged all the old songs he played to fit and there was a huge bit in the middle of the set of new stuff. We must have stayed till the end because I remember him playing What's so funny about Peace, Love & Understanding but we'd wandered away from the front by this point, I've got a picture of him from the back of the crowd and everyone looks bored!
I think it finished quite early but I have no idea how we got home, maybe I'd driven or my friend had - who knows!
Bye for now
Kevin Geraghty-Shewan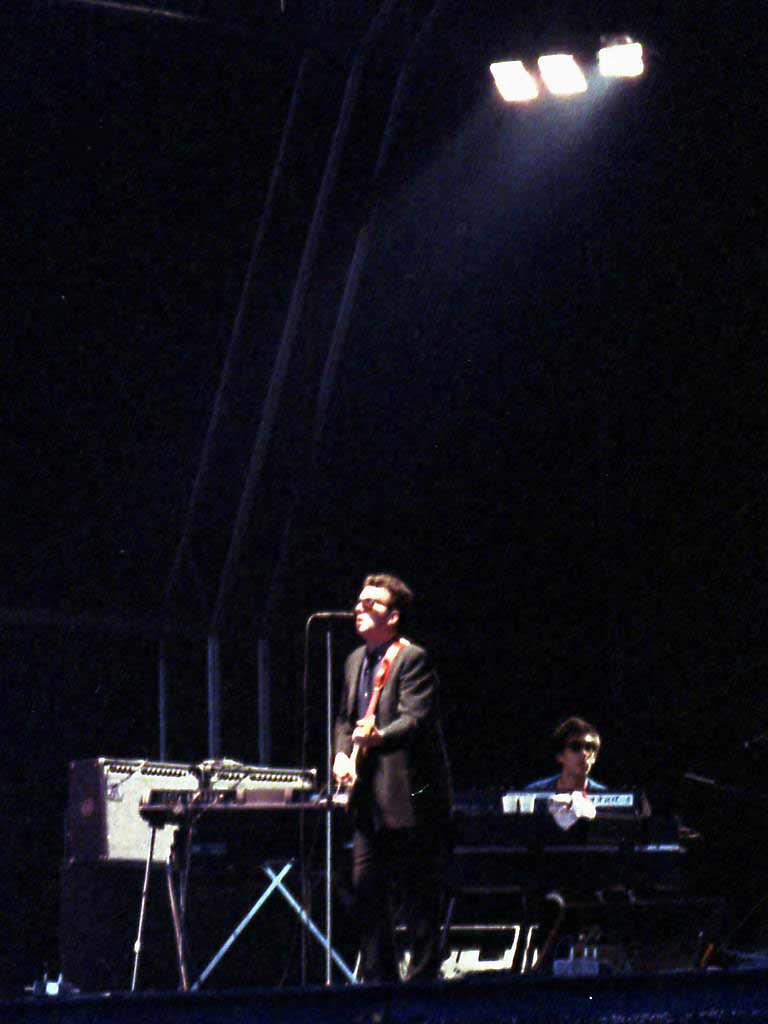 Elvis C © Kevin Geraghty-Shewan
| | |
| --- | --- |
| U2 © Kevin Geraghty-Shewan | |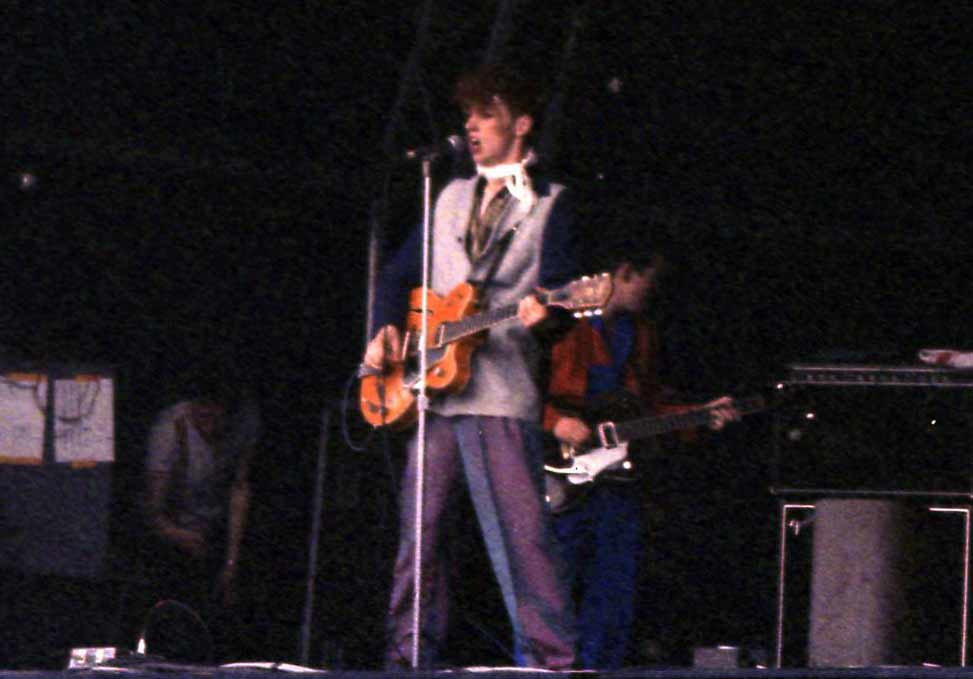 A Polecat © Kevin Geraghty-Shewan
Sunday August 30th 1981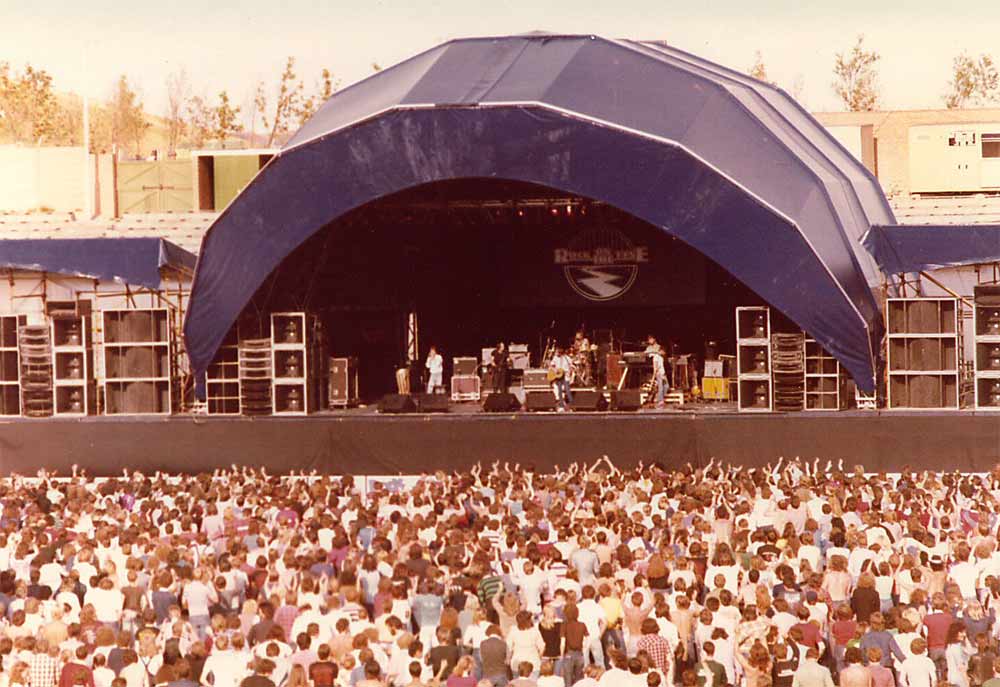 Lindisfarne entertain the troops at the Sunday show © Jonathan Brown
---
Another stadium concert , this time an athletics arena, seating 11,000 , but capable of accomodating many more punters when the whole arena is used, This show was a brave attempt to hold a major event in the North of England ( an area that had been starved of major outdoor events for most of the 70s) and to provide a varied bill that encompassed both new wave and old school blues rock acts.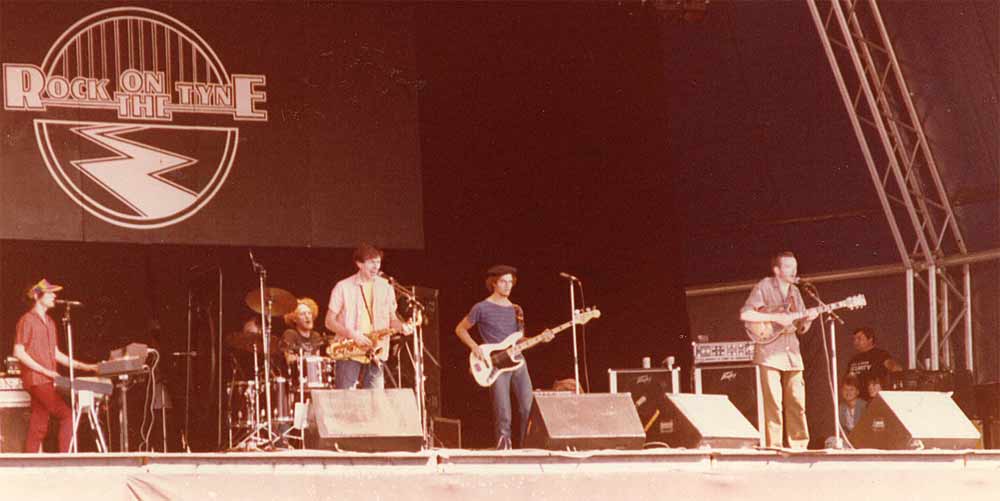 Ginger Bakers Nutters © Jonathan Brown
This was the biggest festival ever held in the North East at that time, but unfortunately. either the acts featured were not in a big enough league to sell out this venue ,or local rock enthusiasts just could not be bothered ( or could not afford ) to go out at nights .Its estimated that between 10- 15,000 attended over the two days, which probably lead to a financial loss for the joint promoters ,Barry McKay , Metro Radio and Gateshead Council .

Ironically U2, a relatlvely unknown act in 1981 , were second on the bill in 1982 to the Police ,at the same venue ( although that show did not sell out either ....and that was only a one day show) .

Also on the bill were local band Busker , who perfomed two numbers between the performances by Ginger Bakers Nutters and Lindisfarne .

Ticket courtesy Jonathan Brown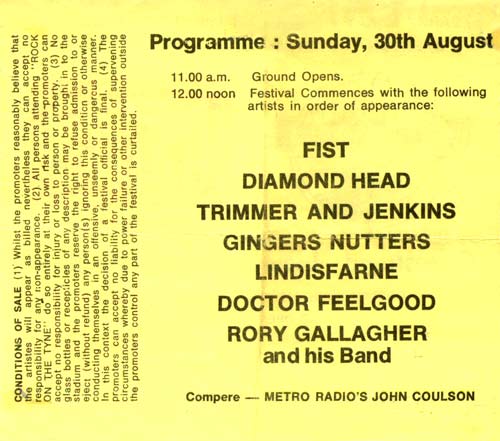 Ticket courtesy Jonathan Brown
| | |
| --- | --- |
| | © Jonathan Brown |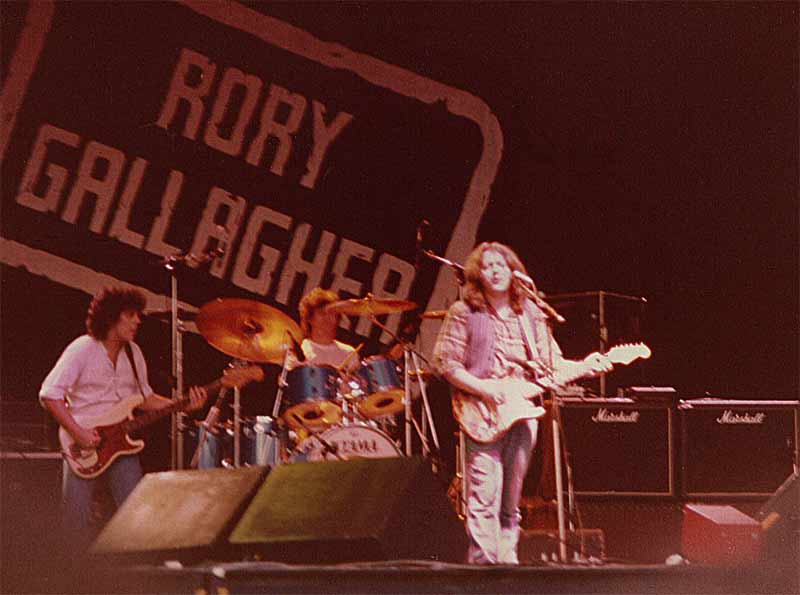 Rory , a bit heavier round the waistline, but still wearing the checked shirt © Jonathan Brown
The music press expected that the show would sell out, as 27,000 punters had bought tickets to see Lindisfarne when they performed a week of shows in Newcastle just a few months earlier. Their predictions did not come true and this event, set on the same weekend as Reading , only ran for two years.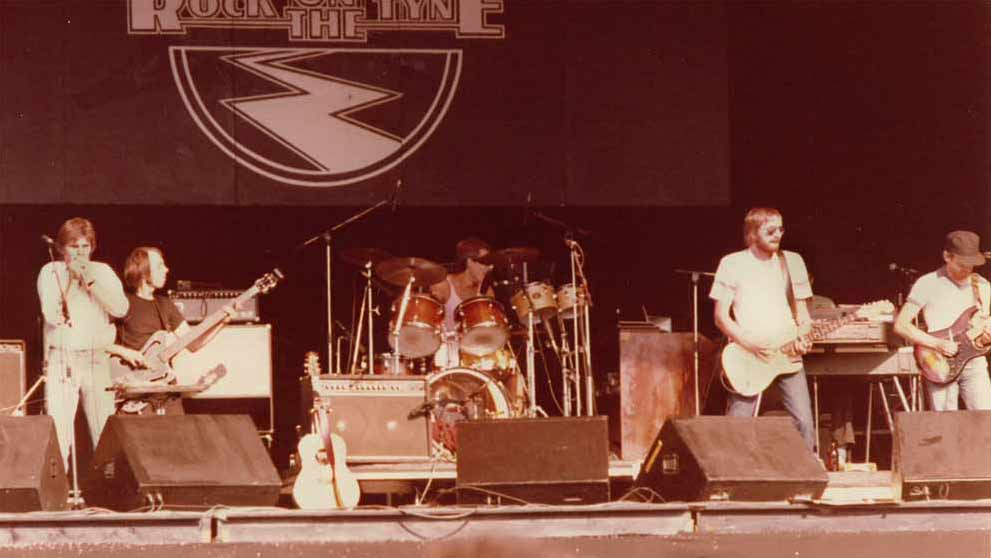 Lindisfarne yet again ! © Jonathan Brown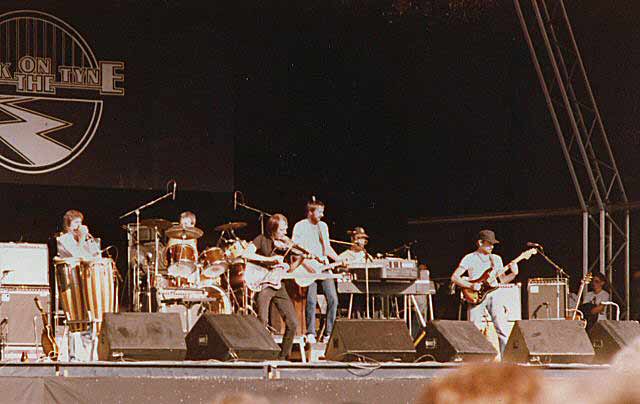 And again ! © Jonathan Brown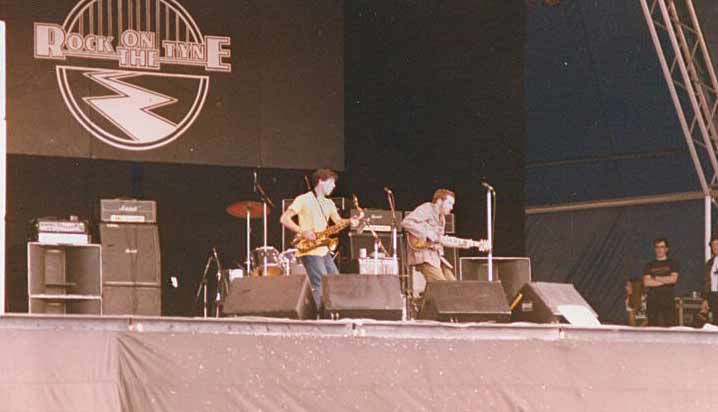 Trimmer and Jenkins © Jonathan Brown
---
Elvis Costello and the Attractions

8-29-81 Rock On The Tyne

Little Goody Two Shoes
Accidents Will Happen
Strict Time
Man Out Of Time
Why Don't You Love Me (Like You Used To Do)?
Clubland
.I've Been Born Again / King Horse
Tears Before Bedtime
Watch Your Step
.Big Tears 11. Human Hands
The Beat
The Long Honeymoon
High Fidelity
New Lace Sleeves
The Town Where Time Stood Still
Temptation
Town Cryer
From A Whisper To A Scream
Watching The Detectives
Oliver's Army
Mystery Dance
I Can't Stand Up For Falling Down
(What's So Funny 'Bout) Peace, Love And Understanding?
Big Sister's Clothes
U2

8-29-81 Rock On The Tyne

With A Shout
11 O'Clock Tick Tock
I Will Follow
An Cat Dub
Into The Heart
Another Time
Another Place
The Cry
The Electric Co
I Threw A Brick Through A Window
Stories For Boys
Out Of Control

encores:

Diamond Head

8-30-81 Rock On The Tyne

Lightning To The Nations
Sweet And Innocent
Heat Of The Night
Waited Too long (intro)
To Heaven From Hell
Don't You Ever Leave Me
Play It Loud

These are all probably audience recordings.

Looking for artwork for both
Rory Gallagher Band
8-30-81 Rock On The Tyne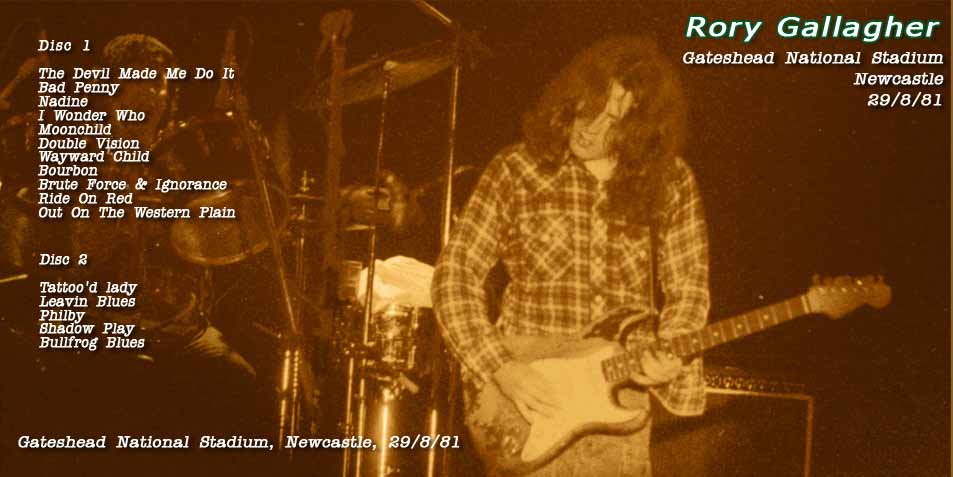 As we see by the photos taken at the show itself, this cover does NOT depict Rory at Gateshead
---
Festival Welfare Services report.
Estimated attendance 10-15,000 over 2 days.

This was a well organised 2 day festival with very good facilities. It was co-promoted by Gateshead Stadium, Gateshead Council and a local promoter. All basic facilities were available on site - including plenty of toilets, water supply and shelter in the grandstands.
There was a bar open on the grandstand for limited hours during the day and this seemed to work well. Mainly beer and lager was being sold in cans, but there was no can throwing at the stage, It was a very well behaved audience, mainly of local people, although there were also people from Scotland and some visitors from abroad.

The promoters stage arrangements ran very smoothly and there were no delays, so the music ended in time for people to take public transport home afterwards. About 100 people stayed to camp on a very small campsite beside the stadium. They were charged one pound fifty a night and had access to toilets and washing facilities at night and the campsite was patrolled by the police and security services. The Samaritans also had a base on the campsite.


In the arena, information was provided by Metro Radio, who also provided the stage D.J. They operated a smooth system for getting messages for people announced over the PA and had a notice board outside their tent in the arena. Their local people were able to deal with enquiries about transport and local facilities. St John Ambulance provided first aid cover throughout the 2 days, but saw very few casualties. The Samaritans also had a "quiet" tent in the arena but didn't see many people, partly as a result of their tent being inaccessible behind a crowd barrier on the terraces.
Weather was fine throughout the weekend and the atmosphere at the festival was very good. Police were present, but made few arrests, mainly for theft from the campsite. It was a pity more people didn't attend the festival, but low numbers could be attributable to the festival having to compete with the Reading Festival being held the same weekend and the ticket prices being high ( twelve pounds for the weekend)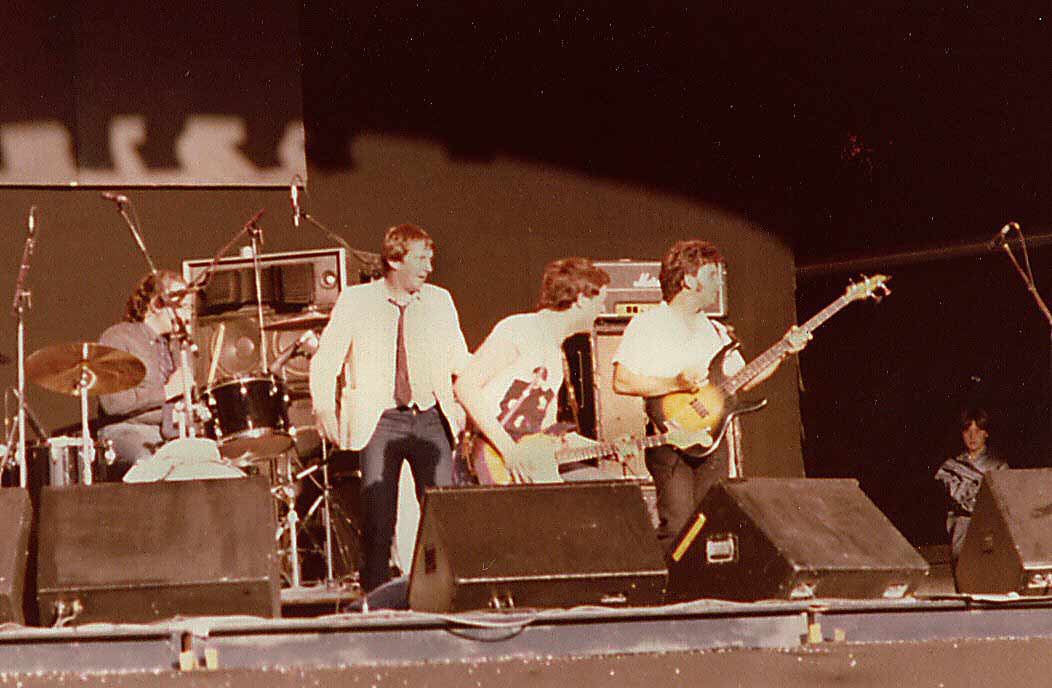 The highly esteemed Dr Feelgood © Jonathan Brown
It is hoped that the organisers will hold the festival again, as it was a very well organised event and a very good venue.
---
Recollections
Busker is me, and whichever muso's are available at the time, so the others were session players on my massive Geordie hit at that time, '' Home Newcastle '' It was the top selling song in Newcastle for 8 weeks ( about 40-50,000 ) and kind of stole the thunder locally from Lindisfarne's getting back together and collaboration in the aformentioned festival. I was surprised to get a late invitation onto the gig from their manager Barry McKay, but not surprised when our sound-mix was crap and theirs was great. I sang my single and a track called, '' Rockin' when the boat comes in '' from my supposedly forthcoming album.
---
---
If you have photos, recollections, set lists, newspaper reports or tapes of this event then Contact us if you can help.
---
Return to main archive