The Archive.
---
Big thanks to our sponsor Neil !

For information on today's festivals see eFestivals.co.uk
Thanks to Fumbles webmaster for confirming the date of this festival http://www.fumbleontheweb.com/years/1973.htm
Last update January 2011
---
The Clitheroe Pop Festival.
Clitheroe Castle. Clitheroe .1970-73.
Hi
Your excellent site brought back a lot of memories of growing up in Clitheroe and going to the festivals at the castle. But not all the
information seemed quite right and checking with some friends failed to fill in all the gaps (if you can remember the 60s/70s, you weren't
there, etc...). So, being back in Clitheroe last weekend I did some research at the library, where the clunky microfilm reader and the
collected volumes of the Clitheroe Advertiser & Times took me back in time...
The definitive story (according to the Advertiser):
---
Poster courtesy Pete

Third Ear Band ,Michael Chapman, Kevin Ayres & The Whole World ,Dr Strangely Strange.

June 6th 1970.

Local bands in the afternoon competing for
prize for "most promising combo". They were Bodicea (sic), California Grass, Revolution, Saints and Sinners, Strange Brew and (the winners) Time After.

Then the pros in the evening: Third Ear Band, Dr Strangely Strange, Kevin Ayers & the Whole World, Michael Chapman. The event ran from 2.30-11.00 and entrance was 10 shillings. Apparently about 2000 fans turned up - sadly I wasn't one of them. The Advertiser noted in a strange, flowery review (quite at odds with the normally very dull house style) that "One South Walesian youth landed up in Blackburn Infirmary suffering from the effects of LSD".

Pete
howdy -
I was born in Lytham, Lancs and came to two editions of the Clitheroe pop festival - missed the 1971 edition (which I believe had Edgar Broughton and Roy Harper amongst others) - the first in June 1970 had Michael Chapman & Band (fabulous), Kevin Ayres & the Whole World and Dr Strangely Strange and at least one other act from the Blackhill enterprises agency (may have been the Third Ear Band but I can't remember so far back). the weather was beautiful that afternoon.
Nigel Cross
Hi thanks for your site I found it very interesting as I played at the first one not sure of the date now but I can tell you that the band that followed us on stage were Barclay James Harvest playing songs from their album "Once Again" absolutely blew me away and have been a fan ever since.

Tony Ellis
---
Poster courtesy Pete

Roy Harper, Mogul Thrash, Blonde On Blonde, Kevin Ayres & The Whole World ,Gasworks, Seth Bromley's Band, Bodicea , Tam Lin

June 5th 1971.

Seth Bromley's Band, Tam Lin, Gasworks, Bodicea, Barclay James Harvest, Blonde on Blonde, Kevin Ayers and the Whole World, Roy Harper. Over 3000 fans - including me - paid 70p for that lot. No money wasted on publicity - a tiny advert in the previous week's paper said only "Roy Harper and others".

Pete

I'm sure there was a 71 one, as I recall that we were big Kevin Ayers fans and he came back for a second year!.
Dave Dingle
---
I went to three of the four festivals – '71, '72 and '73. I had a real battle trying to persuade my mum to let me go the first one. I wasn't long turned 14 and she feared the worst (sex, drugs, drink, kidnapping, certain death etc!). Fairly recently widowed she was not surprisingly keeping a very close eye on her youngest son. Mind you I'd be the same with my lad of a similar age now!! The trade off deal was that my mate Dave's dad had to pick us up before it went dark. Fortunately it was very close to Midsummer Day, so at least it wasn't going dark at 6pm or whatever! Getting such lifts was a fairly big thing then, as the phenomena of "Mum and Dad's Taxi service" was still some years off. With this circa 8.30pm curfew we consequently missed the headline act - Roy Harper. Fortunately I was to see him a few years later at Preston Guild Hall - well worth the wait. I've also recently re-discovered his work and I'm baffled as to why he never seems to get mentioned in the same breath as people such as Syd Barret, Nick Drake and John Martyn – I really think he's in the same league, but that's just my opinion!

Anyway, back to the memories. We caught the Ribble Transport bus from Preston to Clitheroe. In those days (pre the 1974 local government reorganisation/county boundary changes) the bus even ventured into what was then Yorkshire for a while - obviously I survived the experience though. Arrived about lunchtime and I think the gist of the day was for local bands to do the early slots, with more well known acts hitting the stage in the late afternoon. Seem to recall one of these bands being "the Seth Bromley Band" (you just knew they weren't going to make it with a name like that eh!). Whilst taking a break between bands we went for a walk in the town. Vividly remember being approached by a hippy type girl of about 18 asking if we had any acid. I mean, even at the time I thought "do I look like I've got any acid" - I must have looked every bit my 14 years – I might as well have been wearing my school uniform!

It should be remembered that the festivals were fairly low key events, attracting only a few thousand people to each one. The status of bands booked could perhaps be considered as a parallel to the English Football League of the time – most of the bands being very much of the second division, with perhaps a few pushing for promotion status. Looks like the Blackhill Agency (of Pink Floyd, Harvest records label, and Hyde Park festivals fame) provided many of them. This was also an era where even the big festivals only had one stage, unlike the "don't like the act on one stage; well catch one on another" situation you have these days, with the likes of Glastonbury and Leeds/Reading etc. You had to wait for a band to strip down all its gear and for another to set up, possibly an hour or more then between shows.

Others have mentioned the Edgar Broughton Band being there, but if they were we missed them, and I definitely don't remember them being advertised or billed. Dave and I were big fans of Harvest record label acts via the "Picnic – a Breath of Fresh Air" sampler. The Broughtons were a featured band on this 'double LP' and I'm sure we'd have tracked them down had they been playing.

Somewhere in the attic is a copy of a magazine printed in advance for this event. It was a special edition of a local (Blackburn/Preston) version of Frendz, IT or Oz magazine – underground magazine style. Seem to recall it featured interviews with Harper and possibly Ayers. (the name of the publication was Albert :ed )

First of the big acts that day were Barclay James Harvest who turned up in their hire van from Oldham. Then, as now, I was an absolute fan of any band that used a Mellotron and I thought they were bloody wonderful. This made up for us missing them a few months earlier (my first ever gig) when they pulled out of their support slot with Caravan due to sound problems. Also think BJH were last minute replacements for the jazz/rock outfit Mogul Thrash who I think had just spilt up.

I also think the Pye Records label band Blonde on Blonde were on this particular year, but it could have been later. I remember they were fairly well known as they had an album out with sleeve notes by none other than radio DJ Tommy Vance. I think Vance praised the way that BoB didn't rely on a "brace of Mellotrons" to enhance their act!! Also liked the way they mingled with the audience after their set.

Think the next act on was Kevin Ayers. Not long before he came on stage there was an appeal over the PA for someone to vouch for him at the festival gates as he didn't seem to have an artiste's pass, and he was obviously very reluctant to pay the 75p (or whatever it was) admission fee. This was not long after he'd dissolved his "The Whole World" band, although he MIGHT have still have had Mike Oldfield with him on bass (Oldfield not being much older than myself!). His set, with a small backing band, was mainly acoustic and pretty shambolic (perhaps not as sober as he could have been!?). Seem to recall some pretty odd ditties here and there such as 'English Country Garden'. Still, very enjoyable all the same.
Steve Connolley
---
Trees , Bridget St John ,UFO , Third Ear Band , Brinsley Schwarz ,MC5.
June 3rd 1972
compere Pete Drummond

Suddenly upon a lonely castle keep, came a wandering band of nomads and all day they listened to funky minstrels, and at the end of the day the friendly council paid the bill.
No - it's not a fairy story. Clitheroe Castle '72 might have been a festival-goers dream. The council gave the Clitheroe Young People's Recreation Committee the grand sum of £1,500 to set up an extravaganza in the castle grounds and they spent their money wisely to give a balanced show in which everyone could find something to enjoy.

Trees started the show and played folk songs and jigs for an hour and a half on the town's little green painted bandstand.

Bridget St John unfortunately suffered from under-amplification, but there was plenty of room at the front for those who wanted to hear her. She sang pretty songs to suit the day and ended with her single "It's Real" and the title track from her new LP "Thank You For."

UFO burst on the stage with all the dignity of a third world war and proceeded to thrust their sexual organs at anyone interested, whilst playing at full power a bit of Trogg-type innvendo-ladden rock. Still, a lot of people liked them.

Coming on at the freaky hour of twilight, the Third Ear Band bewitched everybody with music from Polanski's MacBeth. With swallows swooping above them they produced a more melodic sound than of yore.

Brinsley Schwarz played their own set then offered to carry on when the MC5 didn't arrive on time. Like wine, they improve with time and towards the end people were leaping about among the bushes. But they seemed to lack some vital ingredient - the music was pleasant enough but never reached a peak though Bob Andrew's work on electric piano was excellent.

Because everything was supposed to be unplugged by midnight MC5 could only play for half an hour but they came right out front and gave everyone a rocking finish to the day with good strong guitar breaks interspersed with corny phrases like "We've just got in from Detroit in the US of A."

---

Trees, Bridget St John, UFO, Third Ear Band, Brinsley Schwarz, MC5. Pete Drummond compered. About 3000 fans paying 60p in advance or 80p on the day. As others have noted,the MC5 were very late arriving and to my everlasting regret I got fed up waiting and went home.

Pete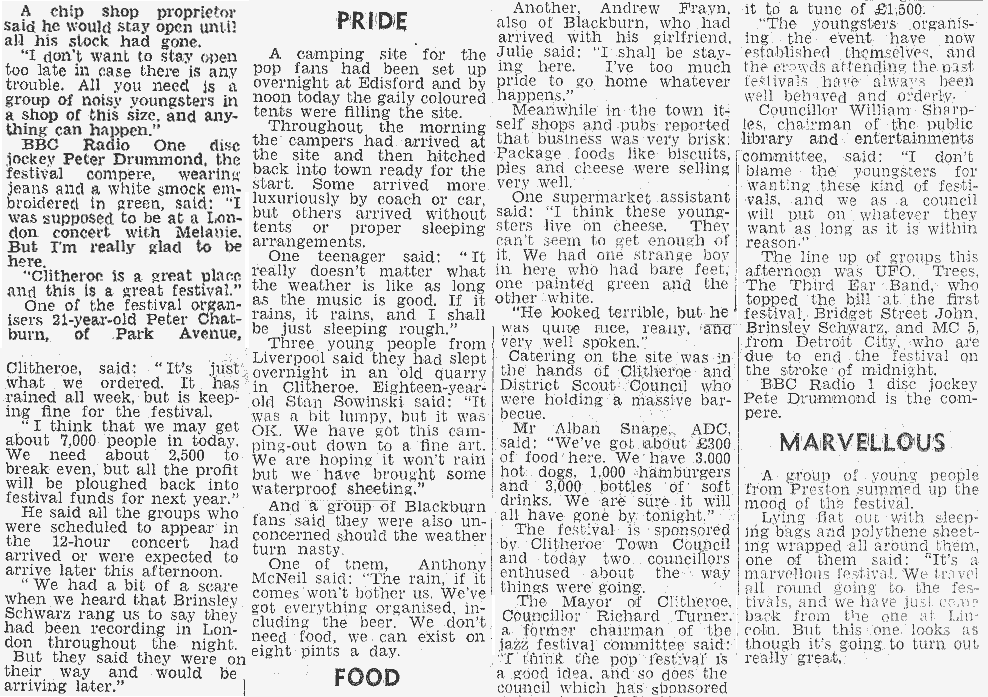 clippings courtesy Pete
---
The one that really burnt into my head was the June 1972 edition - grey cold dull day but it didn't quite rain - opening were trees (fantastic folk rock group with singer Celia Humphreys - very Fairport like), Bridget St John (on John Peel's Dandelion records), U.FO. with Pink Fairy to be Larry Wallis on lead guitar), Third Ear Band (with Simon House on violin), Brinsley Schwarz and top of the bill MC5. Pete Drummond compered and spun the discs.
The MC5 attracted a lot of bikers who hated all the quiet stuff - the MC5's car blew up at spaghetti junction and the hells angels had to go and pick em up (this was corroborated about 2 years ago by the MC5's english bassist) - in order to avert a potential mini-altamount, the organisers got the Brinslies to do another set - my memory now is of course severely distorted but it felt like they played about five versions of 'Brown Sugar' - finally the 5 arrived about 20 to midnight and kicked out the jams for about 5 minutes - the original singer and drummer quit soon after this gig and Sonic Smith and Wayne Kramer carried on till the end of the year with drummer Ritchie Dharma (who'd been in Chapman's band in 1970 and was later with Mick Abrahams) and english bassist as mentioned Derek ? but the Clitheroe set was still cool - remember them doing 'Rambling Rose' but god knows what else.
I always wished they could have got the Pink Fairies - ah well - good memories of this fest - always - well done to the cats at the clitheroe town hall for letting the kids have their say!
best
Nigel Cross
---
Seeing as I got through '71 unscathed I had little problem persuading my mum to let me go again in '72. Not quite as clear on travel arrangements this time, but I guess it was a bus there and lift home with a parent before the festival's end. I think Dave and I were accompanied with a pal called John this year and it may have been his old fellah on taxi duties. Pete Drummond was the compere and he was pretty well known as a Radio 1 DJ - almost up there with the legendary John Peel as regards status and musical taste. I've still got the local press cuttings from this year, from the 'on-the- day' special edition of the local newspaper, so my memories are helped by journalistic 'facts' (!).

The line up was as others have said - Bridget St John arrived in an old (even at the time!) big Rover car, a '100' model or similar. Don't recall her set at all, although I think I sat through it. Trees similarly washed over me. They were a little bit better known as they'd had a track a couple of years earlier on the CBS label's "Fill Your Head with Rock" sampler, which only cost about 30 bob, and every cheapskate young rock fan seemed to have a copy!

First band that made an impression with me that day were the Third Ear Band who were doing their Polanski Macbeth stuff. VERY atmospheric and really suiting the castle/medieval environment. Not much stage presence though – think it was the bassist that stood rock solid for a great chunk of the set with his back to the audience! Their music has stood the test of time really and wouldn't be out of place with a modern day lover of 'world' and ambient music.

Next on I think were UFO. Now this was what I was really into at the time. I always wondered who they had on lead guitar at this gig, and from this website I've found out that it was Larry Wallis from the Pink Fairies/future co-founder member of Motorhead with Lemmy. Another reviewer here doesn't speak that highly of them, but I reckon they really rocked the place. Great mock sex acts too, similar to what Bowie was doing with Mick Ronson the Ziggy Stardust tour. Unlike a band I mentioned earlier you just knew that this band were going to make it, and for a short while in the mid to late 70s (the Michael Schenker era) they were up there with the likes of Black Sabbath, Van Halen, Rainbow , Rush etc,

I think Brinsley Schwartz must have come on in the early evening. They weren't really to my taste at the time, although I came to appreciate their style of soft rock in later years. I was familiar with the legend of the Schwartz though – the ill-fated over-hyped trip to America. They had Nick Lowe on bass and didn't some of the other guys form Graham Parker's Rumour band? Suppose it would be really easy to Google/Wikipedia the gaps in my memories.

Sadly, due to the parental curfew we missed the MC5 – now that would have been a band to name check in future years and tell your grandchildren about!!
Steve Connolley
---
Paul Roberts Band (substituting for Spirogyra, who pulled out), Byzantium, Amazing Blondel.
2 September 1972.
An extra event tacked on to a Clitheroe Castle Fete. A grand total of 781 fans (I was the 1).
Pete
---
Fumble,Stackridge,Greenslade,

Sutherland Brothers and Quiver,

Longdancer, Byzantium, Suggestion ,Brain .

June 2nd 1973

Yes once again the festival season is upon us , and may they remain with us always - despite the statutory accompanying cloud burst -if they are as good as the one at Clitheroe Castle on Saturday .
But it didn't rain all the time- there was some sparkling sunshine too and some good in-between -the groups-music form DJ Pete Drummond. The setting in the Norman castle ground was picturesque and with an audience of about 3,000 the atmosphere was cozy.
Instead of holding up their hands in horror, the council is the only one in the country to sponsor a festival and the organizers , The Young Peoples Recreation Committee managed to to make a small profit to put by for next year.
Starting with a bit of country rock from Byzantium the bill built up in excellence . Longdancer had to fight two battles - with the PA and the weather. Unfortunately they lost because the gentle sound of the three acoustic guitars and a bass guitar is not likely to hold a soaking audiences attention .
The Sutherland Brothers and Quiver are something special, they must be to get people up singing and dancing in driving rain . The lads leaping about bare chested and the lady slithering on her bottom down a grass slide didn't need the shelter of a rain coat to appreciate songs like "The Pie "," Change The Wind "or "Sailing ". Peter Wood's piano accordion coupled with the happiness of Gavin and Iain Sutherland's voices made a really distinctive sound .
Greenslade needed the sun in order to succeed because they generate excitement rather than excitement and luckily it appeared in company with a rainbow. With at times three of the group. Dave Greenslade, Dave Lawson and bassist Tony Reeves on keyboards they conjured up magical joy.
They played all the memorable numbers from their LP -Sundance"An English Western", "Drowning Man" and "Melange" and managed to recreate them well considering they and all the other bands were using Wishbones Ash's PA specially loaned for the day.
Stackridge with their eccentric dustbin lid chorus line, Salvation Army style drumming and tootling flute keep their music simple but effective. Songs about "Dora The Female Explorer "or "The Galloping Gaucho" soon had an enthusiastic line of men in the audience dancing Tiller Girl fashion .
During "The Stanley" and "The Jig", excellently fiddled by Mike Evans even a security guard was seen to tap his feet.
Fumble brought the evening to a rocking and rolling close and the people of Clitheroe were left in peace until the next disturbance to hit the street- the weekly cattle market.

Penny Bosworth
| | |
| --- | --- |
| | |
| Phil gets loaded | Clitheroe crowd |
Photos courtesy Garry Bodenham © click on the images to see larger versions .
---
Hi
Travelling from Fleetwood..
I remember seeing the MC5 headline at the Clitheroe pop festival though I am trying to find out if it was this year 1973 or was it one either side of this date..I also remember UFO and Roy harper being on the bill oh and a couple of skinheads who got in and were beating up some hippies.
I still can't belive I saw the MC5 I must have been 16 then.Any info?
Thanks
Dave Black
---
First festival though was a really cool small one held at Clitheroe Castle in Lancashire, must have been 71, Kevin Ayers, Edgar Broughton, Brinsley Shwartz I think, I first heard Arlo Guthrie's Alices Restaurant Massacre over the PA at this one.
Tony Raine
---
Come '73 we all thought we were that much more mature, having reached 16. No curfew as such, but I think we left early as that was the time the lift home must have been arranged. Dave and I had extended our circle of friends by now and were accompanied by Al, Kev and possibly Andy (we used to pretend we had a band, although we couldn't play an instrument between us!). Remember walking round with bush hats on with band names written on in biro. It was pretty cool to name check bands such as Faust as they'd just released the 'Faust Tapes' album for 49p on the Virgin label. Also 'cool' to give the impression that you at least listened to (if not necessarily enjoyed) the likes of Henry Cow, Gong, Soft Machine and Can.

Perhaps my main memory of the day though was the weather it pissolutely abed it down! As I've said I'd reached 16 and was chancing my luck in the pubs. Think we must have missed most if not all of Longdancer's and Sutherland Brothers and Quiver's set (or were they still just the Sutherland Bros at this point?),drinking halves in the local hostelries that must have been blatantly ignoring our underage looks! Longdancer were on Elton John's Rocket Records label, and they're perhaps best remembered as providing an apprenticeship for Dave Stewart of Eurthymics fame.

Definitely caught all of Greenslade's performance. Of the daft things that stick in your mind I remember that the bassist nearly came a cropper on the rain soaked slippy stage. As I've said, I'm a huge fan of the Mellotron and hence they didn't disappoint with their set which relied heavily on this instrument. They might have even benefited from performing during a rare sunny spell!

Apart from that I don't recall much else from a band performance point of view. I see from other reviews that Byzantium were on, but we either missed them due to the rain or they were on after we left. Did see them round about this time as support to Status Quo at Preston Guild Hall. An OK band, but nothing particularly new or memorable though (Byzantium that is – oh, go on then – same goes for the Quo!).

Seem to remember Fumble being advertised, but looks like we missed them. They were sort of the UK's answer to Sha Na Na – ie a proper retro Rock and Roll act, long before being retro at anything was fashionable! Ironically they in turn were slightly ahead of their time as the whole rockabilly thing became quite the flavour of the month as a splinter genre from the punk rock era of the late 70s. Playing Clitheroe must have been a bit of a comedown for them as they'd just recently finished touring the States and Europe with David Bowie – playing in much bigger venues.

This site does record that Stackridge played in '73. I'm a bit vague about this as I thought it might have even been the year before. Anyway, I definitely saw them. They had a fantastic take on prog/folk rock, mixing it in with typically British deadpan humour/whimsy, and a brilliant stage act complete with hand held dustbin lids being crashed together at one point. They might have even been using a Mellotron!

As for general recollections –
I visited the site with my family about 5 years ago. And like a lot of things and places you experience in your childhood or youth it wasn't as big as I remembered it. Particularly small looking was the tiny bandstand – how did the bands get all their gear on there? I mean there were big drum kits and pianos and Mellotrons and Hammond organs and Leslie speaker cabs and Marshall stacks and wedge monitors and so on. I'm still in a pub/covers band myself (eventually learnt to play bass guitar) and I bet we could barely fit on it now, even with our small set up. Guess there must have been some sort of extensions to form a bigger stage – certainly appears so from some of the photos here.

The festival site was also right on the edge of the town centre. I seem to remember on-site catering was a bit patchy (non existent?), but the proximity to the town and the use of a 'pass-out' system (hand stamp) meant it was easy to get to the local shops, pubs etc.

As I mentioned earlier there were massive local government shakeups including boundary changes in April 1974. I believe the council that had previously supported the festival was part of this upheaval and its successor was not sympathetic to continuing the festival. Therefore 1973 was to be the last of these festivals, and Lancashire was never to see its likes again.

Steve Connolley
Blackpool
February 2009
---
In 1973 the local government reorganisation did away with the Clitheroe Town Council which had been underwriting these events financially -
though all seemed to manage to make a small profit. The new Ribble Valley Council didn't seem to be interested in carrying on the
tradition. But I do think there was at least one more event. I can remember seeing both Ducks Deluxe and Starry Eyed and Laughing at the
Castle - and they're not on any of the above bills. I had a quick trawl through 1974's Advertisers but couldn't spot anything. Does anyone out there know more?
best wishes
Pete
---
Any info to add regarding this and the other Clitheroe festivals? , apparently the MC5 headlined on June 3rd 1972 , supported by Roy Harper and UFO and possibly Barclay James Harvest - can anyone provide any more info on this event ?