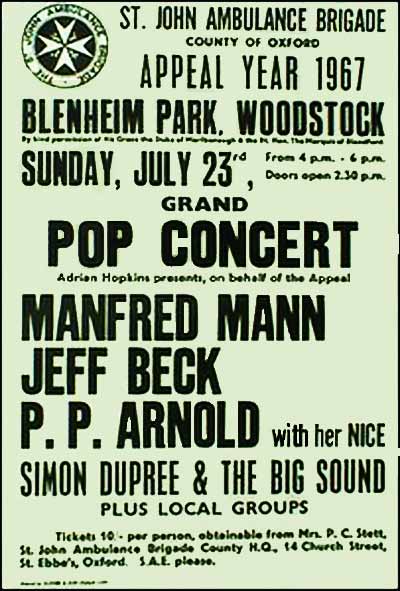 was there at Blenheim Palace for the outdoor event. Adrian Hopkins was a local entrepreneur who ran the coolest Mod club, The Bridge Hotel Wheatley, Oxford. Our Friday and Saturday night music haven. (Adrian went on to work for Chrysalis Agency; I last saw him introducing Steeleye Span in Sydney around 1979/80!). Anyway, Hoppy always used to ask us who we'd like to see play in Oxford. We had begun to ask for the Floyd, Traffic, Small Faces, Creation...a big swing away from Adrian's usual diet of club Soul and Ska. Adrian put on the Blenheim event, one of his first locally with the London Rock acts, and also shoe-horned one of the Oxford bands he represented, the Crisp, onto the line-up. It was a beautiful summer afternoon.
I stand to be corrected on this, but I recall that Manfred Mann might have been a no-show. Either that or they were forgettable! Man, memory plays tricks, as I recall that the Small Faces played instead...but that may have been another day, another dream.
Anyways, Jeff Beck was riding the charts with 'Hi Ho Silver Lining' at the time, which I loved, but his stage show was straight Rock/R'n'B with Rod Stewart on vocals. In fact. It was all Rod Stewart as far as stage presence goes. The Nice did a great set prior to PP Arnold taking the stage, and I recall they played 'Thoughts of Emerlist Davjack' in their set. Really good band. Simon Dupree were Bridge Hotel favourites so went down well with everyone. The following weekend I was off to the Ally Pally Love-in. Glorious.
But really, Adrian Hopkins was a star to us. He delivered so much music to the Oxford area. He ran the Bridge, Oxford Town Hall, and then the Falling Angle club during the mid to late '60's. We would hurl good natured abuse at him at the Bridge when he used to sit on a stool mid stage, pint in hand, and tell us who was booked to appear there in forthcoming weeks. His response was always 'Fu** off – I've got yer money!'. When he walked onstage to close the Steeleye show in Sydney years later, myself and another ex-Oxford mod Terry Embling waited until Hoppy paused for breath, and shouted as one..."Fu** off – I've got yer money!" He nearly pissed himself laughing when we caught up at front of stage. Legend.
Ian Macintosh