The Archive
Last update September 2011.
---
Open Air Pop Shows.

Alton Towers .

Staffordshire .

May - August 1969.

A series of open air Pop concerts held in the grounds of Alton Towers , a well known Staffordhire theme park . The park was the summer residence for the Earl of Shrewsbury and his family, but it fell into decline due to financial isses.

When these concerts were held, the estate was in the hands of a group of local businessmen and the house was more or less a shell. It wasn't until the 1980s that it was redeveloped into the successful theme park that most Brits would be familiar with .

It would appear that the shows were held as an attraction to pull in extra punters as admission was to both the concert and the grounds themsleves.
---
| | | |
| --- | --- | --- |
| | | |
| | | |
| --- | --- | --- |
| | | |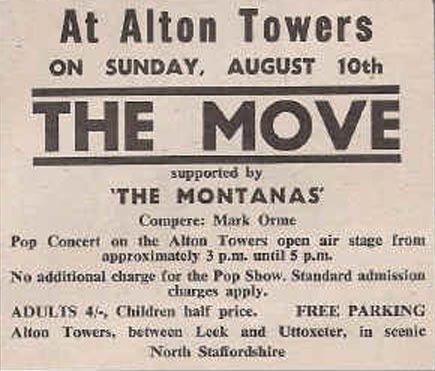 We are looking for eyewitness accounts of this event
---
Please feel free to contact us and contribute towards building pages about each festival by Contacting us. We try to reply to all messages, but sometimes it takes a while .Usually we wait until we have enough new material to warrant a page upgrade , so posts may take quite a while to emerge on the page .
---
Return to Archive