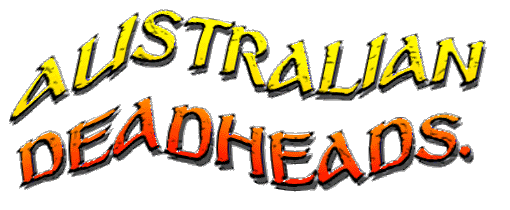 Welcome to our traders /contacts page,for Australia, New Zealand and Asia .If you would like to be included on this list, send us an email and we will sign you up asap.
Traders & Contacts
last updated April 2007.
There has been an influx of Melbournians contacting me in the past few months , apologies for the tardiness in addding your details to the list .
New April 2007 .
Anna Page
Melbourne VIC.
Just returned after 21 years in the states.
Enjoyed countless GD shows between 86 and 95. In addition to plenty of other jambands and good old classic rock/ folk concerts.
Have some decent stuff to trade. Interested in making contact to reminisce about "the boys" and find out about the Melb. Music scene.
---
---
Chas Hutchinson
Have been a deadhead since the 60's,add me to your list as iwould like to communicate with fellow heads of all ages.
---
Great Offwhite Dude . Adelaide.
Trades Dead, Panic, A-Z others.
---
Ian Fry.Adelaide.
Trades Dead, Panic,Zero and others.
---
Kailas Elmer. UK ( ex Adelaide) .
Trades, Dead, Phish Panic , others.


---
Dylan Behan .Canberra.
Trades, Phish , some Dead.
---
Bradley Dilli.:Melbourne.
Trades Dead.
Homepage & list-http://www.geocities.com/rainforest/1925/traderhome.html
---
Phil Cotterill. Sydney.
Trades Dead , WSP and others.
---
Nick Bagnall. Auckland. NZ .
Trades Dead and others
---
Toby Chamberlain.
Trades Dead. Canberra.
---
Steve Jackson. Brisbane.
Not currently trading much, but happy to meet up with other heads in the Brisbane area..
---
John Hardaker Sydney.
Posted on official dead homepage, not known if he trades or not..
---
S Morita. Japan. moliken@pa.airnet.ne.jp
Interested in Dead, links to website with japanese links.
Check out his website on our links page
Suzuki Family. Japan.
Dead
---
Ryoji Shirai
Japanese Kinks fan with lots to trade.
---
Peter Bersani. Christchurch. NZ.
ex US head, he's seen lots of shows.
---
Jennifer Morrison
Another Adelaide head ,tourhead in 90's Into Dead, Leftover Salmon, Zero.
Home page : http://www.ripple.org
---
Eric Daniel.
Sydney.
Mainly interested in gd, but venturing into KVHW, Zero,Phish etc and generally trade cd-r's, can trade analog, but not DAT.
---
JIM SYKES -changed e-mail address.
Brisbane.
Trading Dead, Phish, String Cheese Incident, moe., Dylan, WSP etc: interested in new Shorten download sites
---
Gene Litinsky
unknown location
---
Chris Law
Sydney. -newbie who wants to trade dead.
---
Josh Arzt-
Melbourne. Ex Us Head, has a reasonable collection, wants to meet other heads in Melbourne.
Joshua Arzt unohoo@one.net.au
---
Mark Bryant
Melbourne, wants to trade tapes and meet other Deadheads, work email, so watch what you say in any messages..
"Bryant, Mark A (AU, PDD)" mab87445@GlaxoWellcome.co.uk
---
Tim Horpinich
Melbourne. 2/243 pascoe vale rd . essendon. 3040.
Trades Dead.
---
Maddy Atkinson.
Melbourne
trades Dead, JG/JGB, Phish, Hendrix, Crosby, Young and SF 60s
---
Dion De Vittorio
Adelaide
Newbie, Dead, etc.
---
adam wolinski
Melbourne
Dead .
---
Louis Lissarrague
Newcastle
Dead
---
---
New!
Matt Day. -Melbourne
Dead . WSPanic and folk.
---
---
---
---
---
---
---
---
---
---
---
---
---
---
---