The Archive.
Created December 2007 Updted Jan 2012

The Reading Rock Festival.
Richfield Avenue.
Reading
August 28-30th 1981.
---
Photos and Recollections.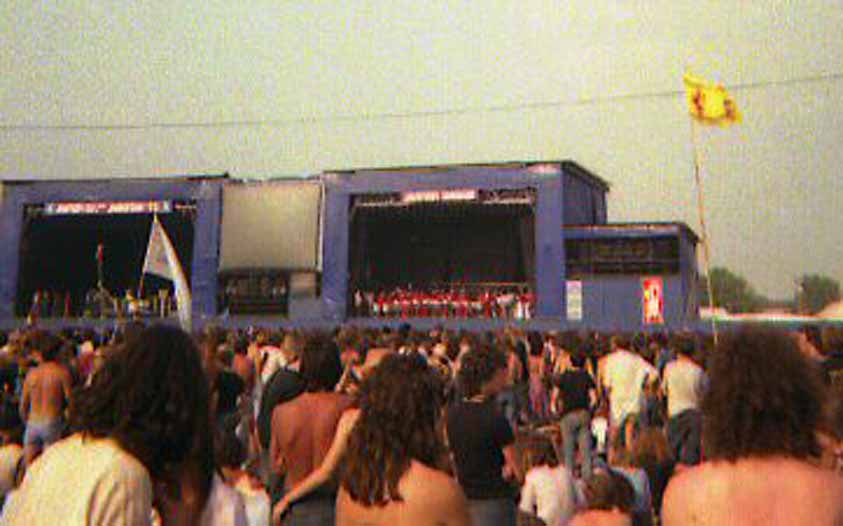 Desperados onstage Reading 81 © Theresa
Can we get a witness ?
We need more info on this and the other Reading festivals, we are now in the curious situation of having better documentation on some of the earlier festivals, so c'mon headbangers, get yer photos out and fire up whats left of the aging braincells .Send your recollections and scans to us NOW ! !!
---
An English eccentric goes bathing in the Thames © S Vaughan

Da campsite © Phil Teague

38 Special sporting various hats © Phil Teague

Atomic Rooster © Stephen Vaughan- visit his Flickr site to see more.
Phil Teague made these notes regarding the running order of bands and what he thought of them at the 1981 festival.
Fri 28/8/81
Didn't bother with the first few bands, then:
Lightning Raiders; Saga; Telephone (all fairly forgettable)
Budgie @7:45pm (very good - got crowd going)
Steve Hacket @ 8:45 (good, but a bit out of place really)
Girlschool (enjoyed the first 20 mins, then they got a bit boring) -
finished @11pm

Sat 29/8/81
Arrived back from the pub at 2:15pm, just as Atomic Rooster were finishing
Vardis
Lionheart (very ordinary)
Chicken Shack (quite good)
Samson; Rose Tatoo; Billy Squier (average)
Trust (went down badly - didn't even get an encore)
Gillan (OK, got two encores)

Sun 30/8/81
First 3 groups included Afraid Of Mice & Reluctant Stereotypes
The Enid (best set of whole festival - got great ovation, but didn't play an encore)
Desperados (got canned initially, but a fair reception after)
.38 special (very good)
Wishbone Ash (didn't come over as well as on the recent tour, but enjoyable)
Greg Lake (with Gary Moore) @7:30pm (excellent set)
Nine Below Zero (not up to much)
The Kinks (OK but a bit boring in the middle of the set) - finished 11:15

The Enid © Phil Teague
Ref the question who dropped out. Alex Harvey died shortly before the festival and Atomic Rooster took thier place.
I was wanting to see Alex Harvey so was absolutely gutted at the news.
Atomic Rooster were very good from what I recal with the lead singer, dont know his time, taking time out to be sick part way through a song.
Hope this helps

Simon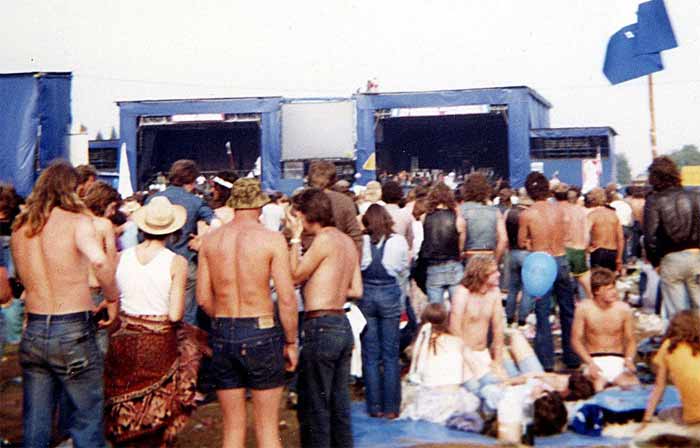 Good view innit ! This photo nicely illustrates the perils of large festivals, especially if you are of short stature
Hi
The 1981 Reading Rock Festival was my first festival experience. I wanted to go to the 1980 Festival as I was, and am, a huge fan of UFO and many of the other classic rock bands that played that year. However, my mother refused as I was only 15, but said I could go when I was 16. On turning 16 in early February of 1981, the first thing I told my mum was that I was going to the Reading Festival. She said no, but after remembering that she had promised, she relented. So in August, I along with my best friend Paul got on the bus from Southend and headed to Reading. I remember along the way stopping at some town for lunch. We got off the bus and found a record store, where I purchased Sammy Hagar's Plain Jane single (the Red Rocker was my first ever gig in 1980 - went with my older brother).
On arriving in Reading we followed the crowd to the camp ground. It was beginning to get dark and as we pitched the tent - it was an old tent without a groundsheet - we realized that we did not bring a torch. So, I had the bright idea of using our gas stove as a light source. As I screwed on the stove to the cannister - hisssssssssssss - Paul got his matches out and started to strike them. By the time the stove and cannister were attached, Paul struck the match and the tent LIT UP. A bright, large flame caused by the stove dial being in the on position filled the tent. Being the quick thinker that I am, I shoved the stove into the dirt and turned the stove off. We both gasped a sigh of relief which had been previewed with a few colourful words and headed to the stages.

My memories of the bands that played (and some of this is contrary to other comments on your site - especially about Enid) are as follows:
Long Tall Shorty - came on stage and opened with a 'punk-ish' number. Straight away the crowd started booing and plastic containers of beer started to rain toward the stage.

Theresa and friends at the campsite © Theresa
This is the first time I had witnessed a band being (what my friend and Paul would call) 'canned' offstage. The problem with throwing these beer containers at the stage was that many of them landed short and would hit other spectators. So, these containers would be returned, with venom, from whence they came. It was cool to see from the other side of the field this rainbow of beer containers going back and forth.
Anyway, I digress. The front man/guitarist from Long Tall Shorty then turned to the crowd and said something like - "OK, we'll give you what you want" - and launched into a bad version of Paranoid. This increased the number of beer containers reaching the stage to the point where the band left. Lasting about 10 minutes, if that!
There was a Steel Drum Band - god knows why they were picked for the Reading ROCK Festival. Needless to say, when they started to play the beer containers flew. We were not a cultured bunch! A message came over the tannoy system asking for the crowd to stop as the drums were sensitive equipment and could be easily damaged. More containers rained down! This barrage stopped when a 20 ish blonde in a leopard skin bikini stood up and started to dance seductively. The mainly male audience around her came to a standstill. The barage stopped and she stopped dancing. This happened, I shit you not!
Saga - a great performance. I knew of them and enjoyed them immensely. Even a guy near us said "for people dressed up like a bunch of ponces they play real good."
.38 Special - The best band at the Festival - AMAZING
The Enid - it was a hot weekend (for England). The Enid came on and started playing. Within 5 minutes they had me asleep. Not due to the fact that their music had a lullaby effect, but because they were boring. I paid the price when I woke up with a bad sunburn.
I also have one other memory and need help with this one. On, I believe the Sunday, the local paper had a pull out special about the Festival. On the front of this special there was a picture from behind a section of the crowd looking at one of the stages. Lo and behold, in the middle of the crowd, front and centre, was Paul and me from the back. I want to get a copy of this picture and have been meaning to call local libraries in Reading to see if they have it on file anywhere in any format. I live in BC, Canada now. If anyone knows where I can get a copy of this I would be very grateful.
All in all it was a great experience and something I will never forget.
Cheers
Clive Lovett
Pity the poor support Band ....

Our band was called Long Tall Shorty and we had evolved from the Mod Revival of 1978/79 so we were never really going to fit into what had now become a Heavy Metal Festival but we did have a slight glimmer of hope as 9 Below Zero had played there the year before and gone down a storm. We
had a similar style, playing early 60's R and B and kind of thought that
we might be tolerated among some of the older people in the crowd.
The reason we got the gig was because our manager was Jerry Floyd, the DJ at the Marquee and because of him we used to play the Marquee Club in Wardour Street every month to pretty big crowds. For the previous couple
of years we had been given guest tickets to the Festival and it had always
been a dream of ours to play somewhere like that. In fact before we did
appear there, I had stood on the side of the stage watching people like
Rory Gallagher and another band I remember were Girl the previous year who got canned off. They were all "pretty boys" from North London and the
singer went out with Britt Eckland who was standing next to me on the
stage while they were doing their thing.

The day we played in 1981, it was a glorious sunny day and a band called Twelfth Night had been added at the last minute to open the Festival. They were kind of Prog Rock, a bit like early Genesis and I don't remember much about them apart from thinking how sad it was that a bunch of young blokes were playing that sort of music! We had got there earlier in the day and done a soundcheck and when the time came for us to go on, we climbed the ramp at the back of the stage with anticipation. Our first song started
with the drums before the guitars were supposed to come crashing in but
someone, somehow had taken the plug off our guitar players Vox amp and
because I used to pose with a guitar that was plugged in but wasn't very
loud, the song started with rather a whimper than a load of youthful
energy. A stage hand came rushing over to assist and there was a slight
delay while someone put a new plug on the amp but our first song was met
with total silence which was quite bizarre as I'm told there were about
12000 people in the arena at that point.

Anyway, we were now ready to go and for some bizarre reason that I have never understood to this day, I was looking out across the field and right at the back, a few hundred feet away, I saw a biker swinging a chain
around his head and I muttered something like, "what a bunch of wankers"
into the mic as an intro to the next song. As we started playing, a few
things were lobbed at us and we decided to have a bit of fun. In fact
before we went on, we had decided if we weren't going to go down well,
we'd try and incite a bit of crowd unrest so as to be remembered for
SOMETHING! I must point out at this stage, we were the youngest band to
have ever played the Festival until then and we were all quite fiesty in
those days.

Back to the gig though and to incur the wrath of the crowd,
our drummer came to the front of the stage, I got onto the drums and we
started doing a piss take of Paranoid by Black Sabbath. That truly had an
effect and we were now being pelted with all sorts of stuff, cider
bottles, stones and flints, half a brick (!!) and all manner of other
missiles. Our bass player got hit on the shoulder by a wrapped Cornish
Pasty so I jumped out from the drums and grabbed it for my lunch later in
the day. After the song finished which to be honest none of us really
knew, the sound of the missiles hitting the stage was amazing and all the
stagehands had run out of the firing line, in fact when we came off a
little later, the majority of them were standing in the backstage area to
avoid getting hit. As a little encore and to try and wind the crowd up a
bit more, we started the chords to the Who's, Substitute and then all
grabbed mic's singing, We Are The Mods, while lobbing things back into the
crowd. It sounds childish now but our band had an average age of about 16
or 17, but it was a bloody good laugh at the time!

While all this was going on, Girlschool had a massive Neon Sign at the
back of the stage on this hydraulic thing and the glass was getting
smashed and a band called .38 Special had one of those old Hammond Organ
things on very spindly legs. I remember seeing that collapse, the legs
literally folded out and it fell to the stage in a cloud of dust. We
really, truly had a Mods/Rockers pitched battle and thought it was great
fun and hopefully anyone who was there who was pelting us enjoyed
themselves too.

When we came off stage and back down the ramp to the backstage bit, we saw all these stage hands cowering down the bottom and a couple of them who used to work at the Marquee, exchanged a few laughs with us before heading back up to the stage to clear up the mess. Our manager came
rushing up with tears in his eyes, he was really crying his eyes out, but
a few reporters, one from Radio Reading, another from the Evening Post
etc, asked to interview us back in the dressing room. The line of their
questions was "that must have been disappointing", but we were all
laughing and joking and told them at least we would be remembered for
something, anything other than being mediocre!

The rest of the day we spent ligging round the record company tents
backstage, nicking beer, getting ejected, going to the next tent, nicking
beer, getting ejected and on and on. Girlschool turned up acting like
superstars, each member in a convertable American car but no one really
took them seriously because let's face it, the bill was pretty crap that
day and they were only playing venues like the Electric Ballroom so were
hardly suitable for headlining a festival. We all fancied the guitar
player, Kelly, though but the fairy tale ended as none of us were able to
pull her.

Regards
Tony

Gillan Reading 81 © D Mitchell

anyone identify this dude ? © D Mitchell

More Wishbone Ash © Stephen Vaughan

38 Special again © Phil Teague

The crowd catch a few rays © Phil Teague
My strongest recollection of Reading 81 is the Kinks playing on the Sunday and being truly awful. After they had finished playing the campsite had an unusual amount of mini riots and other disquiet as people vented their frustration after an anti-climatic closing act.

Kind regards

Hilary Mudge
---
Hiya

This is a great website which I'm going through at the moment - great memories of my teenage years at the festival.

I think you have missed a couple of banda from 1981 - Dark Star who were 2nd or 3rd to play on the Saturday
And Twelth Night who opened the Friday/

This was my first Reading Festival - I remember being caught in the middle of a massive can fight on the Friday in front of the main stage
And on the Saturday night, somebody stole an ambulance and drove it into the middle of the crowd! There was also a fourth day indoor
Festival at the Reading Hexagon for those who had not yet had enough (if memory seves me well Tygers of Pan tang may have headlined
but if anyone knows better ...

keep up the good work

Yours

Andy Downes
---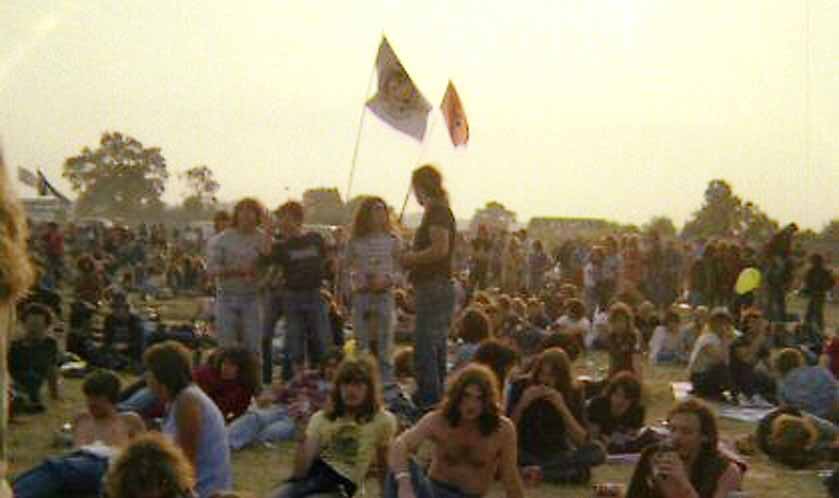 © Theresa
In 1981 I was a young 18 year old about to experience my first ever Rock festival.
I had been attending rock concerts & frequenting pubs since the age of 16 but a three day rock festival was something else entirely. I loved watching bands and I loved drinking so the prospect of doing nothing but that for three whole days was a dream come true. I was both excited and a little bit apprehensive about what to expect.
My two mates & I were so naïve we didn't even contemplate getting a tent (a pretty important requirement for a festival although I did go one year without one!) until about a week before and then, wanting to ensure we would have enough space, we bought a large army tent that could easily hold eight!
It wasn't until we arrived at the camp site we realised we had no idea how to assemble it and it was only with the help of an older friend who we happened to see there that we managed to put it up.
We arrived on the Thursday, purposely a day before the festival officially started, to enable ourselves to acclimatise and become acquainted with our new surroundings.
It was also an excuse to start the drinking a day early! Again, showing our naivety, we had bought enough cans of food to open a mini-market. They were stored like a pyramid in the back of the tent and there they stayed for the duration of our stay whilst we made do instead with the corner café, the chippy & the local curry house.
I don't think they had that many food stalls on site in '81 but I could be wrong.

The streets surrounding the site were paved in denim & leather and the unmistakable scent of patchouli and marijuana wafted in the air.
Unfortunately we spent so much time frequenting the pubs and drinking that we only saw less than a dozen bands that first year and what bands we did see are a blurred memory due to the excessive intake of alcohol & illegal substances. This may seem like a bit of a waste but the atmosphere in these pubs, full of fellow rock fans was awesome. They usually had a jukebox on or even a local band performing.

Hmm, that looks like the stage on fire .....© Theresa
I do remember the two of us returning to the camp site the first night with no idea where our tent was (we had already lost our one mate) and being in a very intoxicated state we grovelled around in the dark (we didn't have anything sensible like a torch) in desperation shouting to anyone who would listen "Has anyone seen a blue tent?". Eventually we stumbled across some guys who had a camp fire going who told us, obviously sarcastically, it was just over there. We went off in the direction they pointed to and lo and behold it was where they said. But rather than then go to sleep we were that thrilled we had found our tent we decided to go back to the camp fire guys and thank them. Needless to say, we lost the tent again!
Every time we went to a Festival after that we always made sure to pitch our tent next to a distinctive landmark.
Of the bands we did see, Gillan I seem to recall put on a really good show. I was a big Purple fan back then & had recently seen Gillan in concert so I was familiar with most of the set list. I remember being surprisingly impressed by Steve Hackett. I have never really been into ambient/prog rock type music but he made such an impression I bought a few of his albums when I returned home. I had been a big fan of The Kinks since my early teens so this was probably the highlight of the three days for me. They played a mixture of newer stuff with some of their sixties classics but I don't think they went down as well as they might have. Nevertheless, I certainly can't recall the mini riots that apparently occurred afterwards according to one reviewer.

I'm sure I must have seen Wishbone Ash, Nine Below Zero, 38 Special & Greg Lake but I cant really remember them at all. I do seem to recall a Steel drum band although the drugs may have kicked in by then!. I really liked The Enid at the time (God knows why) & Chicken Shack so I'm sure I must of enjoyed their sets despite them being on quite early in the afternoon. I am a bit embarrassed to say I did quite like Billy Squier's set although I have no idea why because I have never been a fan of that American radio-friendly type music.

Having recently seen the line up for '81 I couldn't understand why I never saw Alex Harvey because I was big fan back then but someone reminded me he had died a few days before the festival started so I'm sure I would have been very disappointed by that.

I don't think the line up was fantastic but then we never went just for that. It was the atmosphere more than anything. The weather was great too & it was sunny every day. Other memories of that year was getting wasps drunk by trapping them inside plastic beer glasses (there was a record number of stings that year I believe!), people jumping in the Thames & a few beer can throwing incidents but nothing too serious – it was usually in the direction of some unfortunate support band.

I have very fond but hazy memories of my first Reading Rock Festival and although I went a handful of times after this, for many reasons, this was one of the best.
Regards
Robin H
PS – I lost my camera in the gents toilets on site so if anyone has got it can I have it back please

Gordon Rowley of Nightwing
---
Nightwing
ALEC JOHNSON/GUITAR-VOCALS...
KENNY NEWTON/KEYBOARDS-VOCALS
GORDON ROWLEY/BASS-VOCALS
STEVE BARTLEY/DRUMS

Steve
i am the drummer in nightwing and i remember the gig well, we were there as special guests of 'gillan' as we were their support for that year on their euro and british tour.

there is a nightwing biog on our 'my space' site,at www.myspace.com/nightwinguk...
also on our official site...
www.nightwing.uk.com

your site is great by the way....i was a 15 year-old] punter at bath in '70, bickershaw and lincoln festivals....weeley too if i remember rightly...those were the days!
all the best,
steve bartley

Right :Kenny Newton
---
Theresa having a good time © Theresa

Somehow you've missed the opening act which was Twelfth Night. I remember it well as it was the first time I saw them and it was the first time that Geoff Mann sang with them. Most of their stuff was still instrumental but they did play 'Sequences' which became the crowd favourite in the following couple of years.

Mac (Malcolm McDonald)

---

Hello,

All my brain cells are intact, despite my first and last blowback that weekend.

My recollection is of Nine Below Zero. I wasn't there to see them, and I wasn't interested (I was there for Gillan, Steve Hackett and Girlschool). Neat boys in smart suits and ties stepped onto the stage, and the crowd didn't seem to know what to do. Except perhaps hate them. And then the boys started to play, so well and so bluesy that the crowd warmed and warmed and finally cheered them. The highlight of my Reading: the triumph of good music over primitive allegiance.

Regards

Malcolm W

Ps why do I recall Hawkwind playing? And someone in sparkling lycra or its predecessor wielding a great big hammer to the tune of 'Silver Machine'? I know that I was very, very drunk and probably quite stoned, but surely not so much that I would have invented that? Ah, that's why: five years telescoped into one. 1986. Just drunk, then.
---
Hi

On hearing from my Dad (Andy Robinson) that Harry Pendleton was his old jazz band manager back when he played Trad Jazz in London the 50's, I went down ticketless on the Sunday, and managed to blag my way in back stage.

Harry was having lunch with the Lord Mayor, but stopped what he was doing to meet with us at the Tent entrance. He talked about his son wanting to get into the same business and the problems come with organising rock festivals. He asked me to get my old man down to meet him for lunch asap.

Harry allowed us out front to the VIP area right at the foot of the stage. I got to meet Bruce Foxton which was great. Nine Below Zero got the crowd really going; a brilliant fast and furious set. I remember standing next to a well dressed (suit + waistcoat + cloth capped) Johnny Lydon!!

The Kinks had real problems getting going and nearly lost it by playing new numbers that did not go down well. Its was not until they played their hits that they managed to save the day. I remember a nice sunset over Reading whilst Waterloo Sunset was played.


Cheers

Dan
---
Reading 1981 Pages
---
Can we get a witness ?
We need more info on this and the other Reading festivals, we are now in the curious situation of having better documentation on some of the earlier festivals, so c'mon headbangers, get yer photos out and fire up whats left of the aging braincells .Send your recollections and scans to us NOW ! !! Contact us
---
Thanks to photographer Alan Perry for allowing us to use his excellent photos of Reading 1980, you can purchase copies of these pix at his website where he has oodles of top photos of metal bands from the 70s to date.
Reading in the 80s to date- Fat Regs excellent site covers Reading from 1982 onwards
---
The early festivals.
You can find out the complete line ups of the first festivals if you follow the links below .
Festivals 1965-1990
Most of these have fairly complete documentation .But new contributions of any sort are always welcome regarding any of the festivals.
---
This site is non profit making , its a site for die-hard fans- and run as a source of information for those interested in Rock music of the past .We are completely against the sale of bootlegged artefacts , especially musical ones .We attempt to obtain permission to use articles and photos wherever possible, but on occasions , due to the age and obscure origin of some items , we have not been able to ascertain the owner of the copyright .It is also possible that occasionally we are sent material from sources that assert that they own the copyright of material, but their claims are spurious - If you see any material on the site that you believe you own the copyright of - please send us an e-mail with proof that you have ownership of the image and we will remove the offending item from the site immediately.
Contact us