The Archive
Last update April 2009.
---
Lincoln Racecourse.
May 8th 1971.
---
Funkadelic/Parliament.

Groundhogs

Arthur Brown's Kingdom Come

Tea & Symphony

Duster Bennett.

Not the festival held by Freddie Bannister, but another creature altogether , most press sources do not mention Funkadelic, but our eyewitnesses assert that they were there.

This is entirely possible, the band were supposed to be playing 15 dates in the UK- only ten of which are documented . They were in the UK at the time .We managed to find this poster which has them playing an unknown civic centre on the 7th, and they played the Roundhouse in London on the 9th, they certainly could have been in Lincoln for the 8th and may have been a last minute addition to rhe bill.
---
Funkadelic were there alright ! Ticket , press report and photo courtesy Colin Moss of local band "Scapa Flow"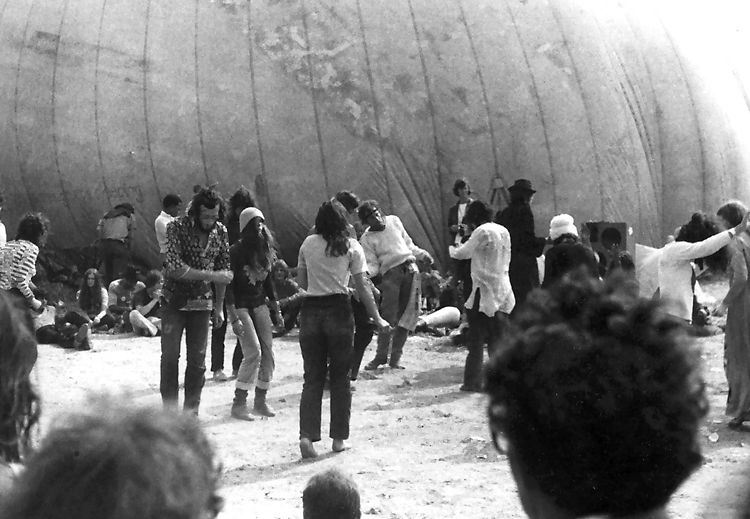 The Inflatible tent that was used at Lincoln , this pic is from the Isle of Wight festival 1970
Funkadelics Head-lining, also on the bill was the Groundhogs and Arthur Brown's Kingdom Come. The Groundhogs were kicking a football around and I kicked it back to them. That's one of my 15 seconds of fame.

Bob

---

I was at the Lincoln Racecourse Festival in '71.
It was organised by a fellow called Jim Kirbyshaw who ran the local record shop TF Much.
He hired the huge inflatable tenty-looking thing (with airlocks 'n stuff to get in and out) that had been one of the alternative venues at the Isle of White festival in '70.

Great day,music not up to much-2nd and 3rd level bands,y'know,one album on Harvest and then back to working for the Trent Water Authority as a clerk. Groundhogs OK,but they'd moved beyond the broad canvas of Thank Christ For The Bomb and driven up the cul-de-sac of the riffage that was Split/Cherry"fuckin'" Red.

However....
Funkadelic were something completely else
I'm still recovering 38 years later.
Jimi--Uncle Tom.
Sly--Oreo
George Clinton--The older,darker brother that i was lucky to have.

Cheers,
Chris Moir.

We are looking for more eyewitness accounts , photos and reviews of this event
Hi,

I have good reason to remember this one day festival as it was the first gig I ever went to.

Funkadelic definitely headlined and, if my memory serves me correctly, they got to the stage by making their way through the audience and they were all wearing nothing but nappies!

One act that definitely played was Duster Bennett and even now, nearly 40 years later, he's what I remember most about that day.

Best wishes,
Bob
---
Please feel free to contact us and contribute towards building pages about each festival by Contacting us. We try to reply to all messages, but sometimes it takes a while .Usually we wait until we have enough new material to warrant a page upgrade , so posts may take a while to emerge on the page .
---
Return to Archive