The Archive.
Updated September 2009- New photos of the Dead , the site and Family
For best results view at 1280 x 1020 or higher
Big thanks to our sponsor Neil !

For information on today's festivals see eFestivals.co.uk
---
THE HOLLYWOOD FESTIVAL.
Madeley, Newcastle-under-Lyme,
Staffordshire,
May 23rd and 24th 1970.
---
The Grateful Dead. Part 2.
---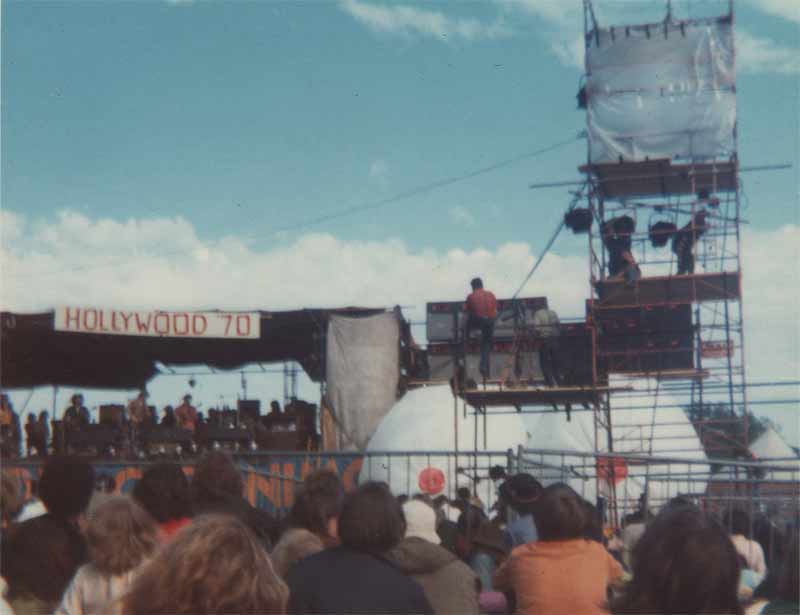 The Grateful Dead onstage at the Hollywood Festival 1970 © Sylvia , courtesy of Garry Marsh
Reviews from unknown Music papers: Thanks to Simon Phillips for providing these clips and the accompanying photos
Critical reaction to the Dead's first ever performance in the UK was mixed, to say the least. It seemed , as ever, that people either LOVED them to bits, or thought they were DIRE.
Some things they just don't change...

The Grateful Dead disappointed me . I hasten to add a lot of people really dug them. They looked very nervous when they started and the sound just wasn't that good. Their three part harmonies were pretty suspect. There were long pauses between each song and the overall presentation was strangely amateurish.
They did things like Hard To Handle and Good Lovin'. They looked amazingly tense and uncomfortable for a band with such as strong reputation. They may have been one of the first West Coast bands, but as far as I was concerned , judging them by this gig , it looked like a lot have overtaken them now. To be fair ,they played a very long set and things got better as they went along.
The audience seemed quite happy. I seemed quite bored.
---
| | |
| --- | --- |
| Grateful Dead , of course was the name on everybody's lips and they didn't disappoint. Playing at fearsome volume they demonstrated to the full that American knack of relaxation. They are at their best stretching out and improvising and during their three hours at Hollywood there were many magical moments. Particularly from Bob Weir , surely the most inventive second guitarist in rock and Jerry Garcia whose soloing was pungent and immensely sure -footed . The two drummers meshed superbly , whether playing a couple of deceptively simple duets or providing a surging torrent of backing rhythm and Phil Lesh is a great bass player. | |
Among the best numbers were the far reaching Dark Star , a cowboy song delivered by Weir and Pigpen's version of Good Lovin', the old Rascals hit . In fact their vocal work was really outstanding -and they are primarily an instrumental band.
---
Then we all sat under the broiling sun for an hour whilst the roadies set up Grateful Dead's rather tatty equipment. Despite bringing a whole removal van full , they ended up using a bare fraction of it , which annoyed the promoters who had warned the Dead they wouldn't need all that stuff.

Perhaps it was sunstroke setting in, but the Grateful Dead seemed disappointing . They were incredibly loud , Garcia's guitar work was very polished but for a lot of the time he and rhythm guitarist Bob Weir seemed to work against each other . Their repertoire varied from close harmony CSNY type work to solid rock , at times sounding like the Mothers Of Invention .
Its probably a shame that there's been the big myth surrounding them ,if they'd have come on incognito with no pre-conceived ideas to live up to we'd probably have raved .
---
Grateful Dead at Hollywood
Stills of the Dead taken from standard eight film shot by Bob Colover
Hollywood festival menu
Many thanks go to Garry Marsh for his fantastic archival material which has enabled us to construct most of the site. Also to Martin Williams for his oral history and colour photo of the stage and site ,Simon Phillips for all the Grateful Dead archival material and Bob Colover for the film footage .
---
We have been endeavoring to collect audience or sbd tapes of the performances at this festival , so we can effectively review the performances, provide set lists and band line-ups. The intention is to also display as many personal histories of the festival as possible.
If you can contribute in any way, with tapes, reviews from the music press, photos or personal histories, please Contact us.
---